Imagine a pop-up restaurant that holds 56 people, has two daily seatings and a reservation waiting list of 60,000. Now imagine being the last person on that list. That may be the very definition of optimism.
Noma, the Copenhagen eatery that industry magazine Restaurant named Best in the World four of the past five years, assembled such a list for its five-week pop-up in Tokyo. I wasn't one of the 60,000. I was one of the lucky few who nailed a reservation.
Which is how, on January 9, I got to be the very first customer seated for the very first meal on the very first day.
So kick me.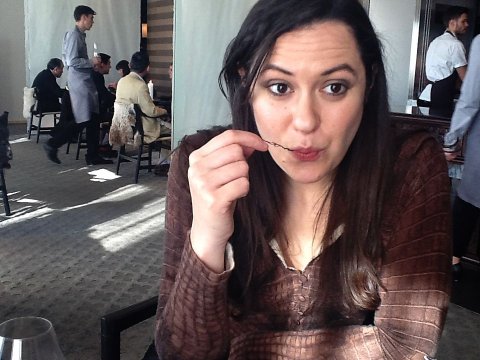 Noma's 37-year-old chef and founder, René Redzepi, is the high wizard of "New Nordic" cuisine. Using traditional Scandinavian techniques like smoking, pickling, curing and fermenting, he and his small, dedicated team transform native ingredients into something entirely new and, more important, delicious. "The idea is to force creativity by setting limitations," Redzepi says.
This is edible theater: The plating is scenery, and the menu forms a sometimes whimsical narrative. What he describes as "snacks"—deep-fried reindeer moss, fermented grasshoppers, roasted lettuce juice—has been so groundbreaking and inspirational that the inevitable backlash has begun. This month Redzepi's "Great Scandinavian Craze" topped New York magazine's Trends We're Tired Of list. ("I'm tired of hearing my name myself," the genuinely humble Redzepi told me.) Another critic called him the "personification of nature worship," which he described as "an ardent belief system among top-tier chefs that seems to skirt the distinction between gastronomy and religion."
The philosophy of this Danish demigod informs not only his cooking but the management of his restaurant. Rather than building on his success by spinning off an airport franchise, Redzepi mothballed Noma for three months and flew his entire staff of 60—from sous chefs to dishwashers—to Japan. Years in the making, the pop-up was a daring gambit. "We really had the potential to look like idiots," concedes Redzepi.
He took on the challenge of Tokyo because it was foreign to him and has such a rich food culture. "Even though we're considered a success, you sometimes can be so comfortable in your success that you stop seeing opportunities and stop seeing possibilities. The pop-up is a shake-up."
Tokyo's Mandarin Oriental Hotel gave Redzepi and his team its Michelin-starred restaurant Signature on the 37th floor. They were allowed to skim off the lush purple velvet upholstery and crystal chandeliers and furnish the space in spare Danish style. The prime asset of the room is the view of Mount Fuji, 60 miles away.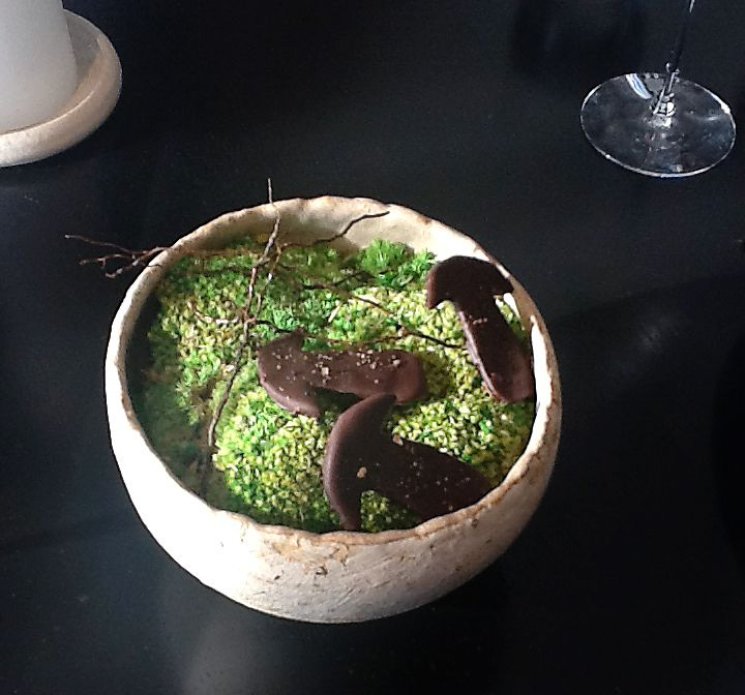 In Focus
A 14-course meal at Noma's pop-up restaurant in Tokyo includes langoustine speckled with black ants, shaved monkfish liver and cuttlefish "soba" with a bowl of pine broth and rose petals.
Launch Slideshow

7 PHOTOS
'A Needle to Its Brain'
The Danish-Japanese fusion is evidenced not just in the food and decor but in the personnel as well. As I enter the dining room, I'm greeted warmly and bowed to by dozens of Noma and hotel staff, all in Noma's signature pale-gray uniforms.
After being seated and given a moment to gaze out at the spectacular vista, I'm presented with a wine glass of fragrant juice: apple infused with pine and a Japanese citrus called sour kabuso. Noma offers wine, but juice pairings are an innovation Redzepi came up with eight years ago. Today, they're so pervasive that even Evolution, the juice of Starbucks, suggests "pairings" on its website.
With great ceremony, the first of my 14 dishes arrives. And it's a shocker: a langoustine on a bed of ice, the tail shell peeled back to expose the raw flesh, which is speckled with large black ants. I gamely take a bite. To my horror, the tentacles wave frantically. Steadying myself, I ask one of my servers, Redzepi himself, if the shellfish is still alive. "It feels alive, but it's dead," he assures me.
"How?" I ask, hesitantly.
"A needle to its brain. For three to four minutes after the langoustine is killed, it moves as if it were electric."
This little guy seems to be running on AC current. Which is not exactly comforting. It's kind of off-putting to see my meal trying to high-five me from the plate. I close my eyes and bite into the ant-y tail. It's...delicious! Almost like lobster ice cream. With salted ant jimmies.
I ask James Spreadbury, Noma's manager, if the ants are farmed or wild. "Wild," he says. "From the Nagano Forest. We find them under tree stumps."
As I await the next course, I glance around the room and observe a similarly stunned reaction from diners at other tables. I'm relieved by what comes next: citrus segments with tiny, pickled Okinawa chilies in a puddle of roasted kelp oil. They don't budge an inch.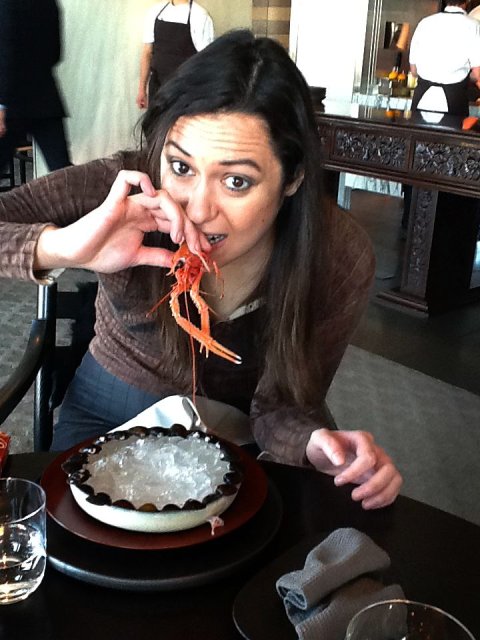 This is followed by shaved monkfish liver that's frozen and served on lightly grilled toast. It comes on a pale-gray napkin that matches the Noma uniforms. I am urged to eat the liver quickly before it melts. I do, and take a sip of palate-cleansing juice. The apple-pine perfectly complements Course No. 4, cuttlefish sliced into ribbons that mimic soba noodles. My server hands me a bowl of pine broth and rose petals, and advises me to dip each "noodle" in the sauce before I devour it.
The fifth course appears to be a slice of banana pie, but was, as you probably guessed, freshwater clams and wild kiwi paste on a sea kelp pastry shell. The staff is particularly proud of the clams. There are 45 per tart, and 13 people spent eight hours shucking them. The amazingly complex flavors linger, continually changing like one of Willy Wonka's everlasting gobstoppers.
Mads Kieppe, the sommelier, explains the difficulty of pairing wine with the clams. "I wouldn't drink anything for five minutes after eating it," he cautions. Kieppe pours me another juice: cooked turnip spiked with yuzu and black currant shoots. This is floral and not sweet. Kieppe and the chefs spend much more time on the juice pairings than the wine combinations. Each juice is developed for a specific segment of the meal and is almost like a parallel broth course.
Redzepi is proudest of his creamy steamed tofu, which comes studded with wild walnuts. "Tofu is an ancient tradition that is very difficult to make," he says. It's not difficult to eat, however.
A cube of dried scallops with beechnuts and kelp looks not unlike a Rice Krispies square. It disappears on my tongue instantly. I chase it down with cucumber seaweed juice.
My vote for the prettiest dish goes to the sliced pumpkin dressed in cherrywood oil and salted cherry blossoms. This comes with a matching pumpkin and green gooseberry juice worthy of the flagons Harry Potter drinks at Hogwarts.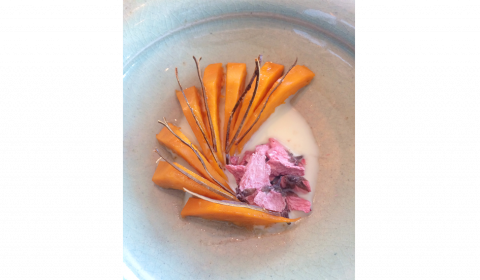 A black ceramic plate is placed dramatically in the center of the table. On it are three black "garlic flowers," a homage to the Japanese art of origami. I'm helpfully instructed to pick up the flower (basically a folded fruit leather) and eat it tip to stem. The fermented garlic paste is mild and slightly sweet. It has the chewy texture and flavor of black licorice. The diner at the next table, ramen king Ivan Orkin, calls the flowers "grown-up candy."
White root vegetables are served in a white bowl accented with a red preserved egg in the center, echoing the Japanese flag. Kieppe pours me a mushroom mocktail that he says is "in between a broth and a tea." I wonder if the White Rabbit said the same thing to Alice.
To this point, everything has been either cold or room temperature. Here comes the very first hot dish: a roasted whole wild duck (head and feet included) with a sauce of matsubusu berries, the color and pungency of blueberries. The breast meat is sliced on the body and is pulled off easily with chopsticks.
The servers whisk away the carcass and say that it will return shortly, "transformed." In the meantime, I get a steaming cup of broth with a tasty turnip.
The duck returns, looking drawn and quartered. It's been re-roasted and hacked apart. The head, halved lengthwise, stares up at me, tongue poking from its bill. Guess I've entered the guys' part of the meal. I long for the pink rose petals.
Dessert begins with a sweet koji water and juniper berry concoction. Then an extraordinary bowl of what my server calls "rice" that somehow involves the lees of sake. A sorrel sauce on the bottom makes this dish a conscious tribute to the Danish-Japanese alliance.
What seems like a fitting finale is not a finale at all but a prelude to a series of treats. A molten sweet potato is covered in caramelized raw sugar, wild kiwi sauce on the side. I fight the urge to lick my plate. A fairy-tale landscape of moss is topped with chocolate-dipped fermented mushrooms and delicate twigs of wild cinnamon. The Noma team foraged for the mushrooms and cinnamon in the woodlands of Aomori, in northern Japan.
The guests leave the dining room happily swooning. The staff is exultant. I ask Redzepi, the visiting Prince of Denmark, which Hans Christian Andersen tale this adventure reminds him of. He mulls his answer for a beat and quips, "Well, of course I thought of The Emperor's New Clothes, but I don't know, it's too early to say. Ask me in five weeks."