Many restaurants pride themselves on preparing a certain signature dish to perfection.
Some eateries take this to extremes and challenge customers to put their money where their mouths are—daring them to devour as much as fast as they possibly can.
Newsweek reveals some of the craziest challenges U.S. restaurants have set their customers.
The Kookamonga Challenge
Kooky Canuck, Memphis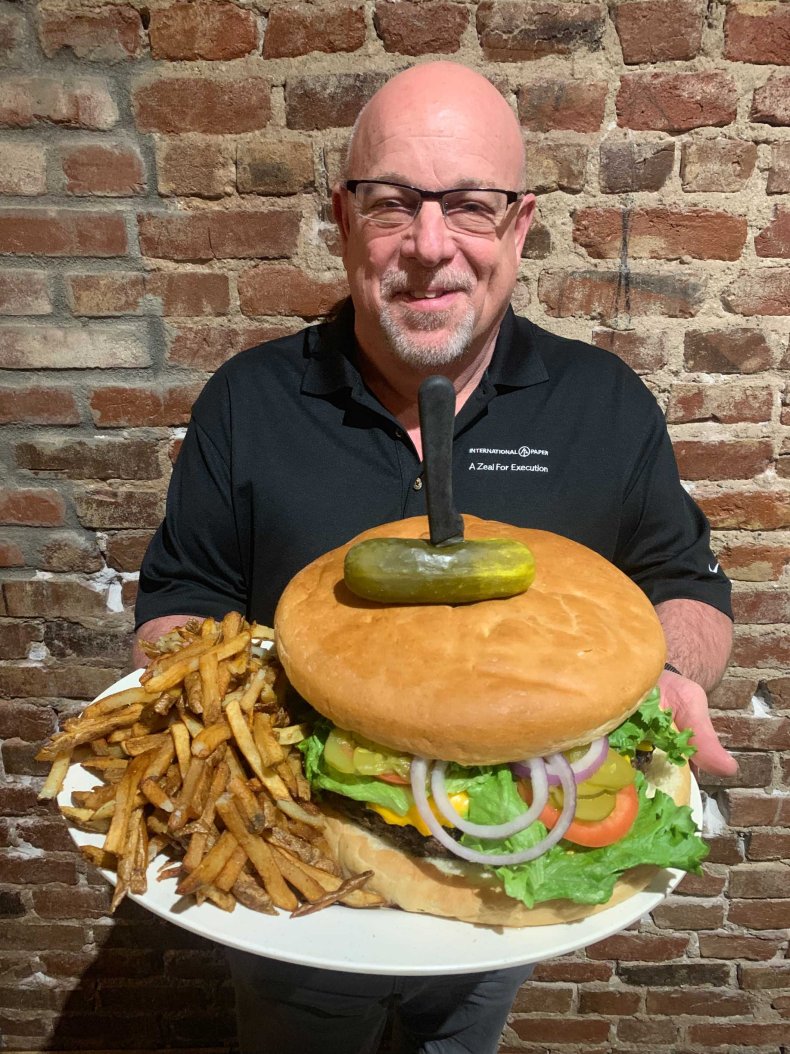 The imposing Kookamonga Burger constitutes 4lbs of beef, a 2lb bun and 1.5lbs of extras, and customers are challenged to finish all this in one hour.
If this is achieved with no help from others, the victor will receive the burger for free, in addition to claiming their prized place on Kooky Canuck's Hall of Fame
"To burn off the calories in one Kookamonga burger you would have to do high impact aerobic exercise for 25 hours or ride a stationary bike for 17 hours," the restaurant warns.
Kodiak Arrest
Humpy's Alaskan Alehouse, Anchorage
A Kodiak Arrest comprises "seven crab nuggets, 14" of reindeer sausage, 4lbs of Alaskan king crab, side dishes, and our famous wild berry crisp ice cream."
If anyone completes this challenge within 60 minutes, they not only win a spot on Humpy's winners' Hall of Fame, they also receive an "I got crabs at Humpy's" T-shirt.
The reigning champion is Jefory C, who clocked at an incredible time of 12 minutes 10 seconds. Humpy's site states: "Jefory was a wonder to watch."
The Brahma Bull Challenge
Rib Line, San Luis Obispo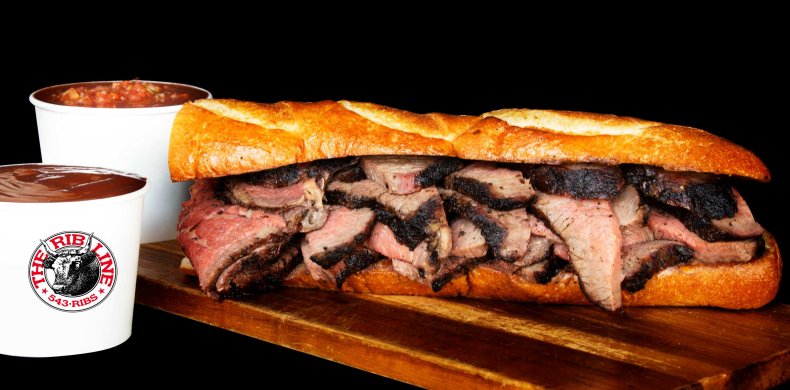 The Brahma Bull BBQ challenge consists of 3lbs of tri-tip sandwiched between a 1 lb sourdough loaf, topped with the challenger's choice of BBQ sauce or salsa.
One person must attempt to finish this big beefy baguette within 42 minutes to win. The current record holder wins a free lunch at Rib Line for as long as they hold the record.
The 110 Reuben Challenge
Izzy's, Cincinnati
The 30-minute challenge is to clear more than 1 lb of corned beef, a giant potato pancake, a mound of sauerkraut, Swiss cheese plus a giant bun from a plate.
Victors will receive their meal for free, a T-shirt and a spot on Izzy's fabled Wall of Fame.
The Kitchen Sink
San Francisco Creamery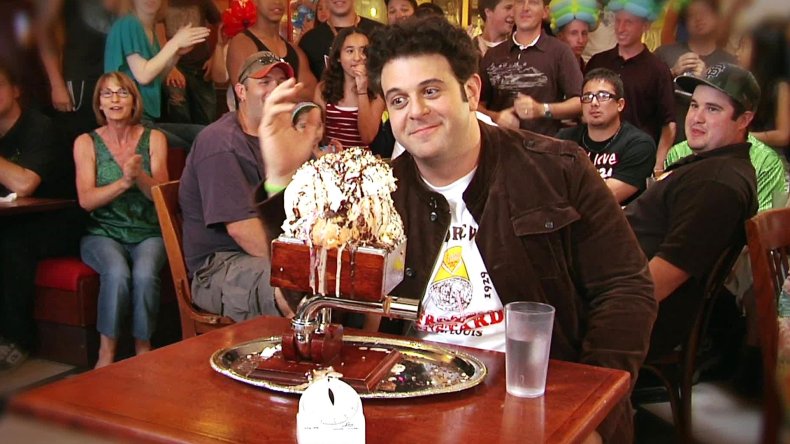 The gigantic sundae, served in its own specially made sink, contains three sliced bananas, scoops of up to eight flavors of ice cream, eight servings of toppings, "mounds and mounds" of whipped cream, chopped toasted almonds and cherries.
San Francisco Creamery annually sets a sundae eating contest, with the contestant who finishes this gargantuan frozen feast receiving a year's free ice cream.
Whoever beats the current record time of 20 minutes, 37 second set by Jamie "The Bear" McDonald in February 26, 2014, will also have their portrait placed in a special frame inside the restaurant.
The Unforgiven
Red Rock Saloon, Milwaukee
The ominous-sounding Unforgiven is two half pound burgers topped with cheese and bacon, deep-fried chicken breast, egg, lettuce, tomato and onion strings, a basket of fries and six TCB ghost pepper wings—with a heat index of more than 1 million scovilles.
If this entire massive is despatched within 30 minutes, the competitor walks away with a free T-shirt and a free meal.
Southwestern Exposure
Beth's Café, Seattle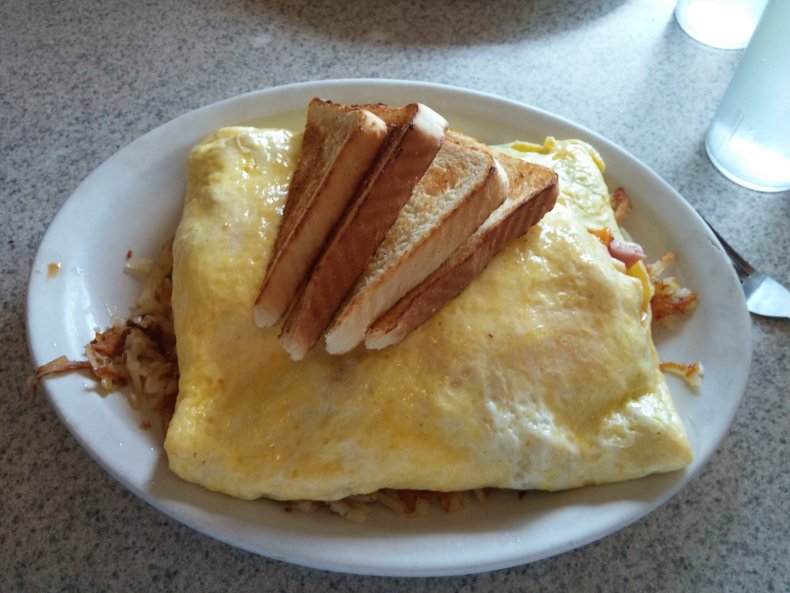 The legendary dinner's specialty is a 12-egg omelette, complete with a full 5 lbs of extras including three-bean chili, salsa, sour cream, cheddar cheese, plus vegetarian or meat chili, hash browns and choice of toast.
This challenge, as featured in the TV show Man Vs Food, is to simply eat the entire plate of food, with no time limit or prize on offer.
The 72-ounce Steak Challenge
Big Texan Steak Ranch, Amarillo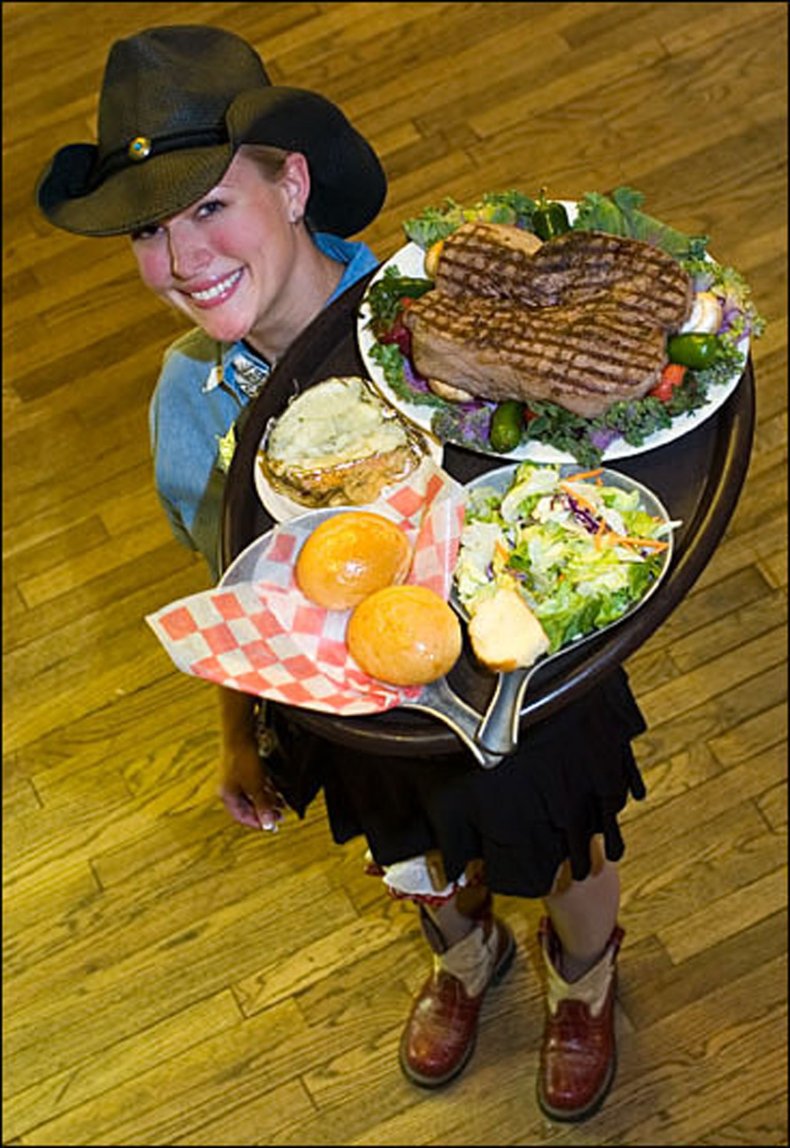 72-ounce Steak Dinner Challenge, 4 1/2lb of top sirloin, baked potato, shrimp, salad and bread roll. Customers must complete the challenge within an hour to receive the entire dinner for freeBig Texan
The 72 oz Steak Dinner Challenge includes a shrimp cocktail, baked potato, salad, with roll, butter, and the huge steak itself.
Big Texan Steak Ranch rules stipulate the entire meal must be completed in one hour and "you lose" if any of the meal is not consumed.
Other details include the fact challengers are allowed to cut into the steak and take one bite, to ensure the steak is cooked to their satisfaction.
Casino Monster Challenge
Dover Downs, Delaware
This behemoth is four half-pound burgers, cheese, fried onions, pickles and onion rings all sandwiched between a buttered bun.
The bet is to finish off the $26 Monster Burger, plus fries and a milkshake, within 45 minutes, with the meal available for free to those who manage the challenge.
MAC Daddy Pancake Challenge
MAC Restaurant, Waikiki Beach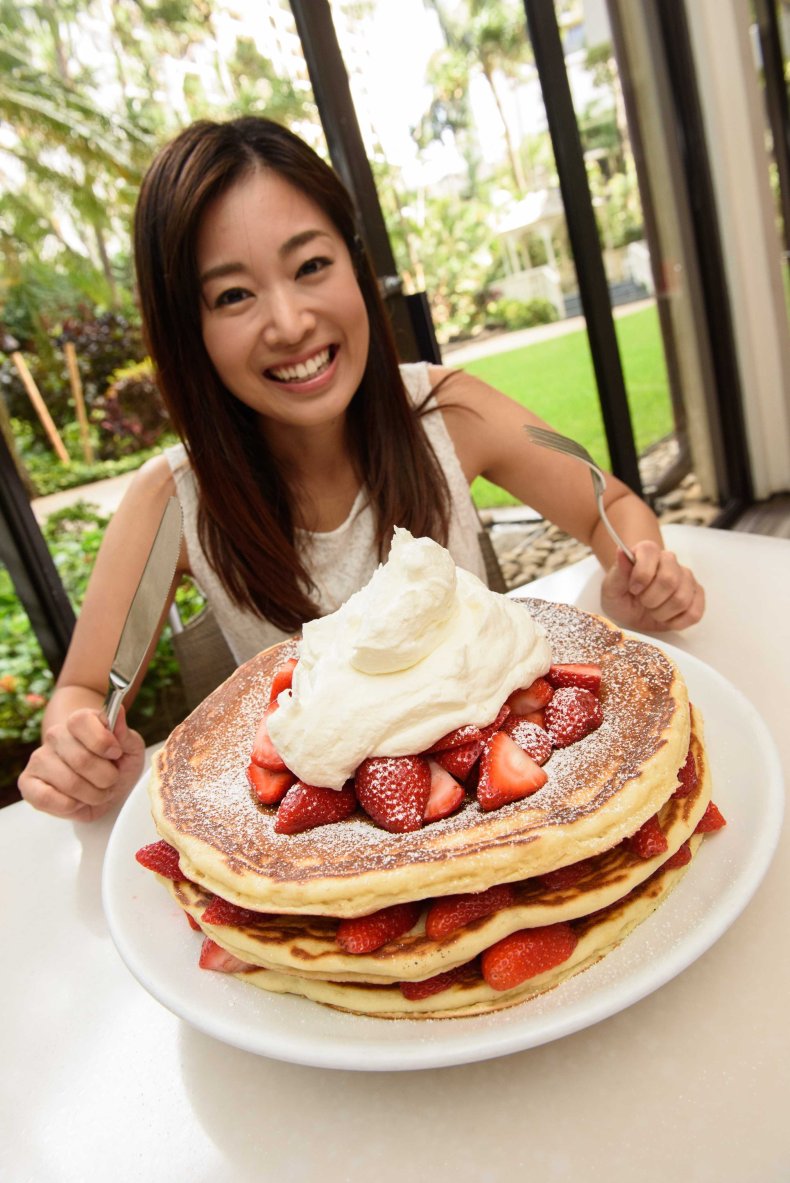 The MAC Daddy is three stacks of thick fluffy 14-inch pancakes—weighing in at 5 lbs— with the participant's choice of signature toppings.
One person is then challenged to consume the entire plate within 90 minutes.
If successful, the pancakes are free and winners receive an official shirt and photo on MAC's Wall of Fame and website.
Goliath cupcake Challenge
Kirby's Kupcakes, Arkansas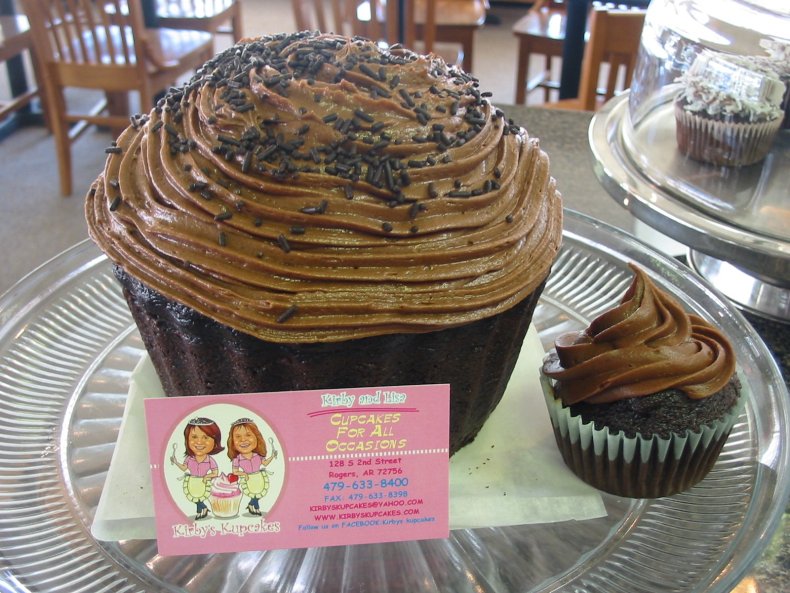 Kirby Kupcakes offers up a monster cupcake—equivalent to 22 regular cupcakes—for free, but only if every crumb is consumed within 30 minutes.
The rules stipulate while the cupcake must be chocolate, the frosting can be changed.
There is then a 5-minute waiting period to ensure sure the cake stays down, with Kirby's noting "this seems to be where the real challenge lies."
Carnivore Pizza Challenge
Big Pie in the Sky, Atlanta
This dish is far removed from its Italian incarnation, as Big Pie in the Sky's creation is an 11lb meat-heavy pizza.
The challenge is for two people to be allotted one hour to eat the entire pizza, each paying $50 to try, with a $150 cash prize if they succeed.
The restaurant adds only seven teams have won the wager to date, with a pair holding the record time of 33 minutes.