'Restaurants on the Edge': Hosts Dish About New Netflix Makeover Show
Restaurants with great views are rarely very good. They skate on the merit of their locations, ignoring the other important tenets of hospitality, like attractive design and good food. If Gordon Ramsay, Chef's Table and Queer Eye collided, it would look a lot like Restaurants on the Edge, a new food and travel show on Netflix.
In each episode, designer Karin Bohn, chef Dennis Prescott and restaurateur/chef Nick Liberato give a perfectly located but mediocre restaurant a makeover. Season 1 took them to St. Lucia, Austria, Hong Kong, Malta and Costa Rica, where each had roles in turning the restaurant into a success.
We talked to the Restaurants on the Edge team about their experiences on Season 1.
There are so many bad restaurants in great locations. How did you, or the producers, go about selecting these six?
Bohn: Great question. The producers had a big part in this. We were specifically looking for restaurants with a great view but needed help, and places that had terrible reviews on Yelp and TripAdvisor. We worked with some tourist boards, so we got some local input too.
Liberato: We had a wish list that myself and the other executive producers had. Now that Season 1 is available to watch, people are sending me photos of their restaurants from all over the world and asking me how they can be on Season 2.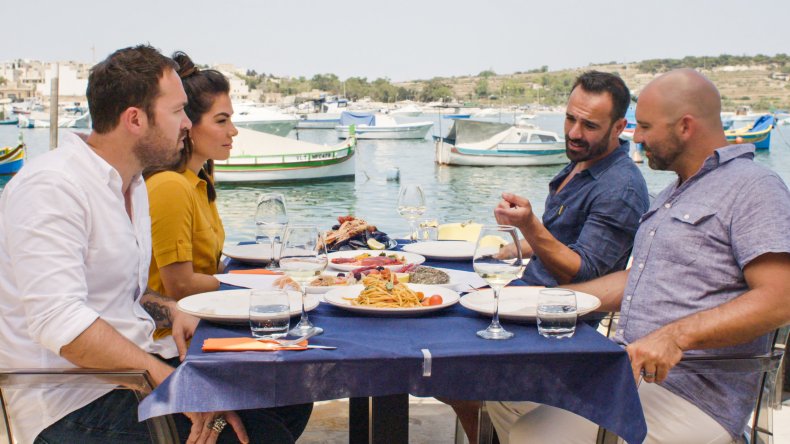 Dennis, you had to eat some pretty odd things on the show, especially in Hong Kong. What is the strangest thing you've ever eaten?
Prescott: I have the benefit of traveling full time, and I eat things that are often challenging. Hong Kong was a smorgasbord of every sight, sound and flavor. Anything you can imagine is served on a stick. I ate snake soup with five different kinds of snakes in it. But the intentionality around sustainability was cool. When they use an animal, they use the whole animal. And I found that inspiring.
How did you end up choosing these particular locations?
Bohn: It depended on who would cooperate and who was willing to do the show. Because it was a new show, we had a lot of people who were really nervous and hesitant.
Liberato: When you start a new show, there's a lot of people who didn't know what it was, and they wanted to see content or they wouldn't participate. So that was a struggle at first.
Were there any restaurateurs that show approached that said, "Thanks but no thanks"?
Bohn: We actually had some people who didn't want to be on the show. One of them pulled out at the eleventh hour.
Karin, what are some of the most beautifully designed restaurants you've ever been to?
Bohn: I just got back from Los Angeles, and I died when I was at the Proper Hotel. The lobby and the lobby bar is fantastic. It's the pinnacle of design.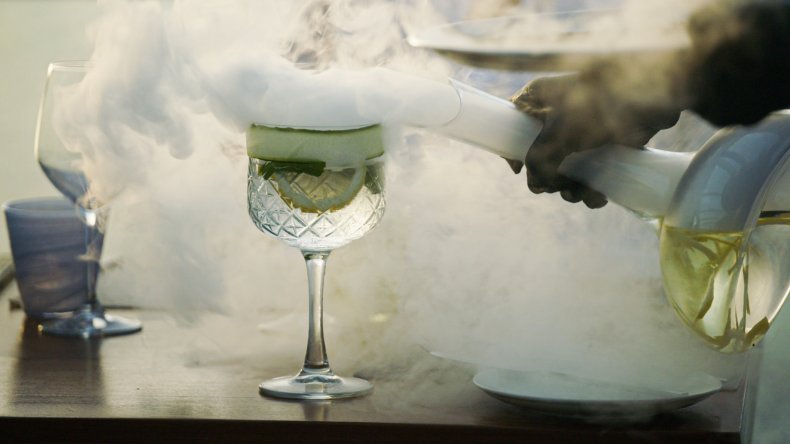 Of the six restaurants you tried to improve, which one was the most challenging in terms of your particular role on the show?
Bohn: Definitely the place in St. Lucia. We did so much construction to that place. We ripped off the roof even. A lot of the workers didn't speak English, and some of them were doing construction with tools like a rusty machete. And we had to get it done in a few days.
Liberato: For me, Hong Kong. It was my first trip to Asia. The restaurant space wasn't really a restaurant setup, as there were only a few tables on the terrace. And it rained profusely there at the time. It was uncomfortably humid. At the end, we got a better understanding of the place, and it all worked out. It takes someone with outside eyes looking in to see how a place can be improved.
Prescott: St. Lucia was a challenge. It was a tiny kitchen with a staff of one person whose name is Fluffy. He wanted to elevate his mom's recipes. And the challenge was ingredients. Getting access was really hard. In Hong Kong, getting to know ingredients that were unfamiliar to me was a challenge.
For people unfamiliar with a place—like travelers—are there any obvious signs that a restaurant is going to be mediocre before the food hits the table?
Bohn: Whenever we'd go look at the restaurants, one common thing was that they were always empty. That's a clue right there. From a design perspective, all of them looked unkempt and disorganized. The décor hadn't been touched in years. They were just not inviting. For me, that was great, because I had my work cut out for me.
Liberato: How clean the bathroom is. That's a true sign of their integrity.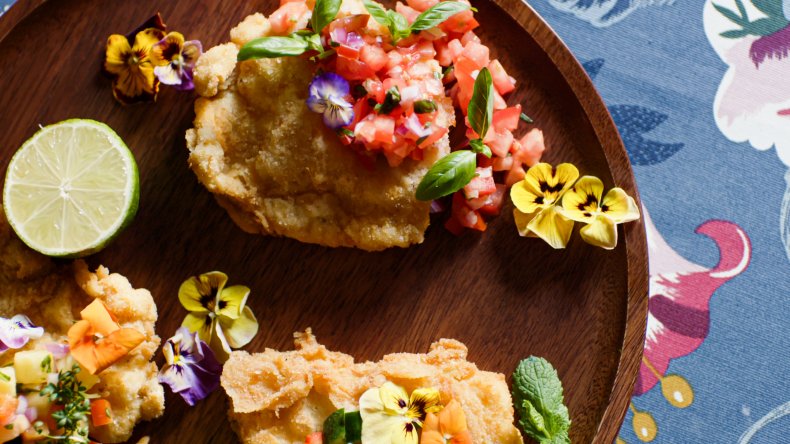 How do you balance your criticism and suggestions so as to avoid the restaurateur taking it personally or getting insulted?
Bohn: I like to ask a lot of questions. So before sharing my options directly with the restaurant owners, I would ask them first what they thought of the room. I got lucky because they all would look around the room and point out things they didn't like. So I could agree with them and add more.
Liberato: Everyone on the show was so open and kind to us. People who have watched the show have started telling me that I'm like a life coach. I get nothing out of belittling anyone. I have a pretty good way of understanding how to approach a person and knowing who they are and how they're going to take it. One key is to let them talk. People will open up if you just shut up and let someone talk after you ask them a question.
And when you walk into a restaurant now, do restaurateurs cower or run away?
Bohn: [Laughs.] Not yet. The show hasn't been on long enough.
Liberato: Ha! I've gained so much respect for the restaurant industry all around the world. These are my people. No one cowers. Most of the time, my presence is quite welcome.
Prescott: Not yet. I tend to fly under the radar a bit.
What's the most underrated restaurant city in North America?
Bohn: I'm going to be biased because Vancouver is my hometown, but the food scene here is top-notch. Even when I travel to other cities, such as Toronto or New York, I always come back and say the food is so good in Vancouver.
Liberato: I'm going to say Philadelphia. I left there 20 years ago, and there were some great places that laid the groundwork. And now I go there and I feel so proud of the city for how the dining scene has evolved.
Prescott: I'm from Canada, and it's hard for me to not say Montreal. Also, Nashville has one of the best restaurant scenes around.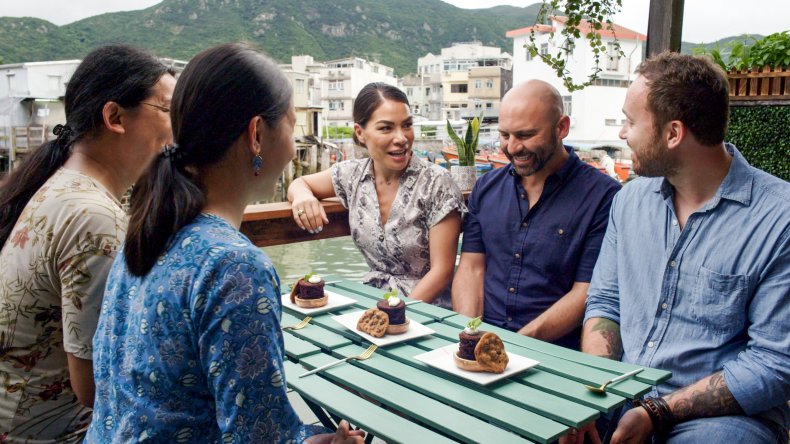 If you could travel anywhere in the world just to eat one dish or at one particular restaurant, where would it be?
Liberato: Tough one. Noma in Copenhagen. Alinea in Chicago would be another choice.
Bohn: I love Italian food so much. All the carbs! So I would definitely go to Italy. But I have to say, going to Malta in the first season was such a cool experience. The food there is incredible. I think I had the best carbonara in my life.
Prescott: There's a place outside of Nairobi called Talisman. Every time I go to Kenya, I eat at this restaurant. I just had this amazing connection with this female Kenyan chef, and this restaurant reminds me of that experience. It was the first time I realized that food was universal and that it is such a great connector for us.
When you go to a restaurant now in your free time, do you instinctively want to start making changes in some way?
Bohn: Oh yeah. Especially if it's bad. I actually did a cold call to a restaurant last week and offered to help them out. They had very dated décor. It's right downtown Vancouver and a great location. But if they remodeled, they'd be instantly busy.
Prescott: I definitely look at restaurants differently than I ever did. I used to be a musician, and there's something very similar: At concerts it was impossible for me to not look at everything, from the equipment to the light plant. Now I do that with restaurants.
Liberato: No one ever invites me over to their house to eat because they're afraid I'm going to do just that.
---
David Farley is an award-winning food and travel writer, penning pieces for Newsweek, The New York Times, The Wall Street Journal, and National Geographic Traveler, among other publications. He's the author of Underground Worlds: A Guide to Spectacular Subterranean Places and An Irreverent Curiosity: In Search of the Church's Strangest Relic in Italy's Oddest Town, which was made into a documentary by the National Geographic Channel. He lives in New York City.