Which Restaurants Require Face Masks? Olive Garden, Shake Shack, and More
Starbucks has become the latest chain to announce that it will require its customers to wear face masks, from July 15. While many restaurants and coffee shops across the U.S. are requiring that their employees wear masks, few are asking the same of their customers.
Face masks are more widely required at other businesses, like grocery stores, although there are still few stores that have made wearing masks mandatory for customers. So far, Whole Foods, H-E-B, Costco, and Walgreens are the grocery stores that require shoppers to wear a face mask or face covering while in the store.
Other stores, like Trader Joe's and Walmart, don't have national policies and instead follow local guidelines for face mask policies. Similarly, some restaurants and coffee shops will require their customers to wear face masks depending on local guidelines.
However, independently-owned restaurants and franchise-owned chain restaurants may implement their own face mask policies that vary by location, so be sure to check with your local restaurant before heading out.
Currently, few national chain restaurants are asking their diners to wear masks nationwide, with Starbucks being the latest chain to do so.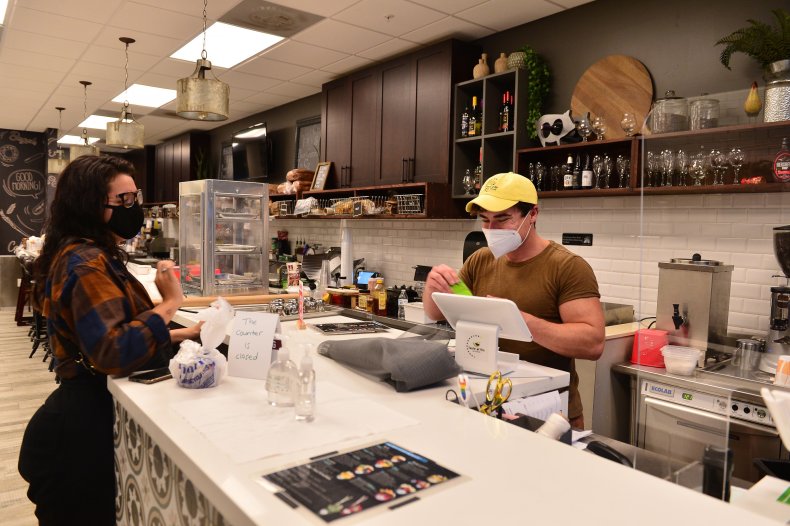 Which restaurants require diners to wear face masks?
Olive Garden
Shake Shack
Starbucks
Olive Garden
Olive Garden is asking its customers to follow a few rules to help ensure the health and safety of everyone at the restaurant. Diners at Olive Garden are asked to join a waitlist, not to congregate at the lobby or bars, give fellow diners space, use mobile pay, and wear a mask when not at their table.
Shake Shack
At Shake Shack, masks are encouraged for all guests and will be required whenever legally mandated by the county or state. Shack Shack diners are also required to remain 6 feet apart from other parties and are not permitted to have more than six people in their party. Additionally, guests with symptoms or a fever of 100.4+ will not be permitted.
Starbucks
On July 9, Starbucks announced that customers would have to wear face masks from July 15. At Starbucks locations where there is no local mandate for masks, customers who are not wearing a face mask will need to order at a drive-thru, for curbside pickup, or through delivery.
The U.S. Centers for Disease Control and Prevention (CDC) recommends the use of face masks and explains why they are important: "Cloth face coverings may help prevent people who have COVID-19 from spreading the virus to others. Wearing a cloth face covering will help protect people around you, including those at higher risk of severe illness from COVID-19 and workers who frequently come into close contact with other people (e.g., in stores and restaurants).
"Cloth face coverings are most likely to reduce the spread of COVID-19 when they are widely used by people in public settings. The spread of COVID-19 can be reduced when cloth face coverings are used along with other preventive measures, including social distancing, frequent handwashing, and cleaning and disinfecting frequently touched surfaces."