Restaurants Urge Court to Reject 'Ploy Tactics' as Delivery Apps Sue NYC Over Fee Caps
DoorDash, Uber Eats and Grubhub joined forces to take on New York City's proposed law that would permanently cap the commission rates the three food delivery giants are able to charge the city's restaurants to use their services.
The three companies filed an injunction to New York City federal court on late Thursday, arguing that the fee cap would harm their business model and constitutes government overreach. The businesses claim that the current cap imposed on them through July has resulted in hundreds of millions of dollars in lost profits.
Should the law pass, the three companies said they would have to rewrite restaurant contracts, reduce marketing in New York City, and raise the fees they currently charge users.
"This last-ditch lawsuit demonstrates that these billion dollar corporations will use every weapon in their war chest to overturn widely supported legislation and continue preying on New York City restaurants," Andrew Rigie, executive director of the NYC Hospitality Alliance, wrote in a statement to Newsweek.
"These big third-party delivery companies use their money and market domination to increase fees on small businesses. The Court should reject their abhorrent attempts to overturn this law so they can keep delivery fees outrageously high with ploy tactics that have been recognized by the City Council and the Mayor as harmful to local businesses," Rigie wrote.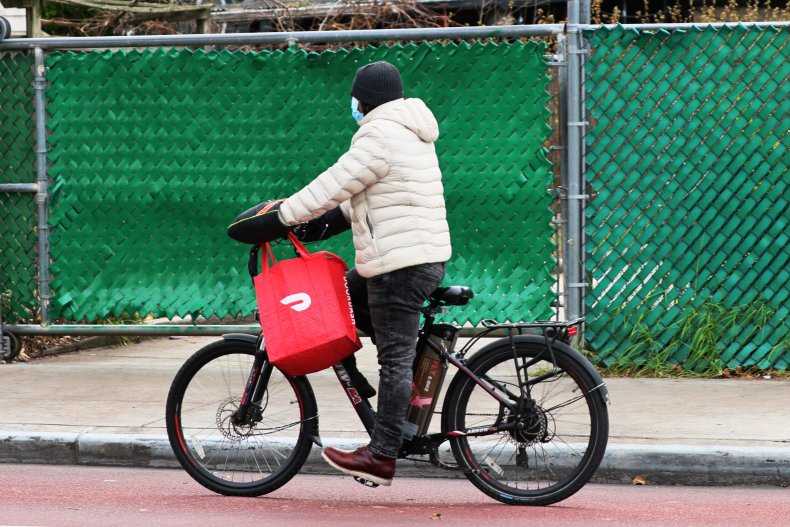 The apps can charge as much as 30 percent on their restaurant commission fees. As restaurants shuttered their doors amid the pandemic, the city placed a temporary cap on how much the three delivery giants could charge. However, last month, the city elected to make that cap permanent, barring them from charging more than 23 percent an order—15 percent for delivery, 5 percent for listing on apps and 3 percent for credit-card processing fees.
In response, the companies said the caps interfered with consensual business practices, saying that they override contracts negotiated between the companies and the restaurants they work with.
"The ordinance is unconstitutional because, among other things, it interferes with freely negotiated contracts between platforms and restaurants by changing and dictating the economic terms on which a dynamic industry operates," the lawsuit states. "Left unchecked, the ordinance sets a dangerous precedent."
New York City's move to cap the commissions represents an overall movement within the greater United States to curb the power of gig economy apps. Uber, Lyft and DoorDash spent $90 million to avoid the classification of their drivers as employees in California, which would have required them to afford new benefits. The companies face similar challenges in Massachusetts, with battles emerging in New York state and Illinois.