A TikTok video portraying an Amazon employee sleeping on packages during a shift has sparked debate among viewers, with some joking about it, others expressing disapproval and some showing empathy for the worker.
The video, which was shared for a second time since its first time going viral in September, has garnered 1.6 million views since it was shared January 14. TikToker @rigo.a_ shared the short seven-second clip to the social media platform.
Commenters had differing opinions from, "Poor thing was probably fired after she woke up," to "How [are] you blaming Amazon because you don't know how to have a good sleep schedule?"
In the video, the words "Work at Amazon they said" are displayed on the screen and said aloud in a voice overlay. The TikToker filmed their supposed co-worker sleeping on the other side of a conveyor belt as packages went by. The video zoomed in, and the woman had packages in her hands as she was laying on a bunch of other packages inside a large cardboard container as she wore a mask and slept with her eyes closed.
According to Statista, the annual net revenue of Amazon in 2020 was $386.06 billion, a jump from $280.52 billion in 2019. The website also reports Amazon employed 1,468,000 people worldwide as of September 2021.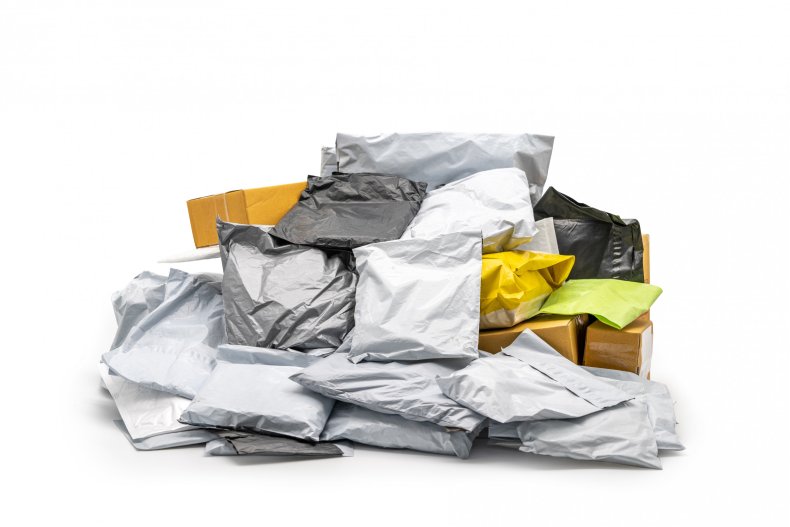 The video is captioned: "#amazon #asleep #funny #fyp #fypシ #foryou #foryoupage #xyzbca #sanbernardino #ca #ont5 #amazonsucks #unsafe #horrible #workconditions #underpaid."
Over 92,000 people liked the post, and over 2,000 people had comments about the video. Some made jokes, while others brought up working conditions.
"No wonder why my package is late," someone joked.
Other jokes came rolling in as well. "It's called multi-tasking, sleeping, and getting that bag Lol," a TikToker said.
Some defended the woman in the video. "She is tired," a viewer said. "Doesn't mean she is lazy, she may be working long hours, two jobs, or have a baby who kept her up all night."
A TikToker brought up the point that the woman can't be blamed. "It's a very draining job," they wrote.
Another thought the woman was taking "her break, instead of leaving she took it there."
Others showed empathy for the worker who fell asleep. "Poor thing was probably fired after she woke up," someone said.
However, others didn't show any goodwill for the woman sleeping on the job. "How [are] you blaming Amazon because you don't know how to have a good sleep schedule?" someone asked.
"Sleeping on the job not good," a TikToker added.
One person pointed out how it's "concerning" that other people around are "business as usual, like it's an everyday occurrence that someone passes out."
Some had questions after seeing the viral content. "Is this why my stuff comes bent up and broken?" a user asked.
Newsweek reached out to Amazon and @rigo.a_ for comment.