Resurfaced Video Shows Bannon Joking That Brian Kolfage Took Build the Wall Money to Purchase Yacht
A clip from a 2019 We Build the Wall telethon has resurfaced, featuring former Trump adviser Steve Bannon joking that the organization's founder used donations to purchase a yacht—a joke that now could be true, after Bannon and the founder were arrested for their roles in the crowdfunding campaign.
"We're off the coast of St. Tropez in southern France in the Mediterranean," Bannon said in the clip. "We're on the million-dollar yacht, Brian Kolfage. And Brian Kolfage, you took all that money from Build a Wall."
Bannon appeared to make the comments in jest during a three-day telethon in June 2019 meant to raise money for We Build the Wall. Kolfage, a U.S. Air Force veteran, co-founded the organization in December 2018 to help fund more of President Donald Trump's proposed U.S.-Mexico border wall.
The resurfaced clip ends with Bannon, who eventually became involved with the organization's leadership, telling viewers the pair's correct location, which was Sunland Park, New Mexico, where a portion of the wall had already been built.
Newsweek contacted Bannon for comment through his lawyer, but did not hear back in time for publication.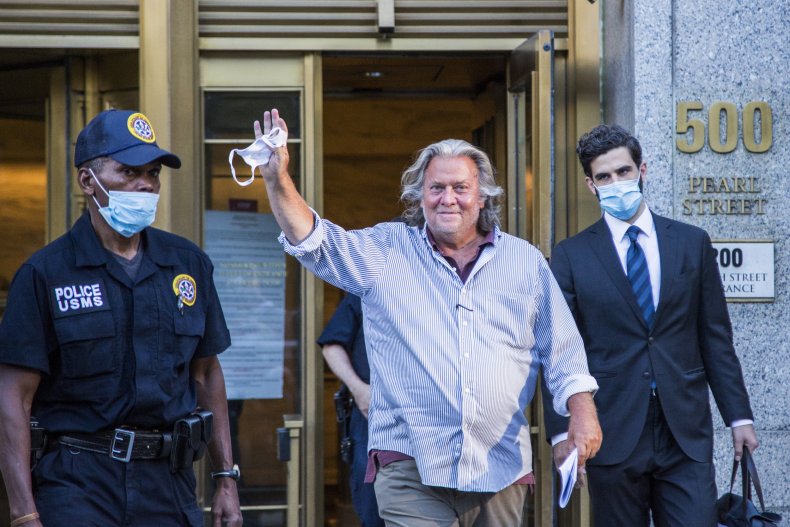 Bannon's comments resurfaced after his arrest on Thursday, when he was charged with criminal fraud on allegations that he helped funnel donor money from We Build the Wall to himself and Kolfage for their personal use. The organization had raised more than $25 million to go toward building Trump's border wall.
"As alleged, the defendants defrauded hundreds of thousands of donors, capitalizing on their interest in funding a border wall to raise millions of dollars, under the false pretense that all of that money would be spent on construction," acting U.S. Southern District of New York Attorney Audrey Strauss announced in a press release.
"While repeatedly assuring donors that Brian Kolfage, the founder and public face of We Build the Wall, would not be paid a cent, the defendants secretly schemed to pass hundreds of thousands of dollars to Kolfage, which he used to fund his lavish lifestyle," Strauss said.
Kolfage was also arrested and charged Thursday, along with Bannon and two other men who were reportedly in on the conspiracy to profit from the private wall-building organization. All four men were charged with conspiracy to commit wire fraud and money laundering, according to the press release.
Bannon's comments during the telethon are perhaps ironic, given that the former political adviser was aboard a Chinese billionaire's $28 million yacht when he was arrested.
Members of the U.S. Coast Guard pulled Bannon from the 151-foot yacht off the coast of Connecticut early Thursday morning, taking him to the Manhattan court where he pleaded not guilty to fraud charges, the Hartford Courant reported.
According to the federal indictment, Kolfage and Bannon worked out an agreement in which Bannon would allegedly pay Kolfage an upfront sum of $100,000, followed by $20,000 deposited to him directly each month, the Air Force Times reported.
Kolfage allegedly used the majority of his money to purchase a luxury car, jewelry, boat payments and cosmetic surgery, according to the Times. Bannon reportedly kept more than $1 million of the donated wall funds to himself.
The Air Force veteran had repeatedly insisted that 100 percent of the proceeds raised through the crowdfunding campaign would go "in the execution of our mission and purpose," according to the press release.
Kolfage tweeted in June 2019 that Democrats who had targeted him and We Build the Wall would "all be left looking at morons," just like those who criticized the organization for being a "'fraud & scam'" and "'impossible to build.'"
Newsweek contacted Kolfage for comment, but did not hear back in time for publication.
After the fraud allegations against Kolfage and Bannon were reported Thursday, Trump sought to distance himself from his former White House strategist and the organization.
"I said, 'This is for government. This isn't for private people.' And it sounded to me like showboating," Trump said about We Build the Wall. "It was showboating and maybe looking for funds, but you'll have to see what happens. I think it's a very sad thing for Mr. Bannon. I think it's surprising."