Resurfaced Video of Zelensky Getting Fictional Call to Join EU Goes Viral
Some believe that art imitates life, but a viral video containing Ukrainian President Volodymyr Zelensky may well prove the opposite.
The video is from the Ukrainian television comedy series called Servant of the People, which stars Zelensky as a former high school history teacher-turned-Ukrainian president. In reality, Zelensky was elected president of the nation in 2019 with over 70 percent of the vote.
The clip resurfaced after Zelensky filed a request Monday to join the European Union in light of the ongoing conflict with Russia. According to Reuters, the request was for a fast-track admittance to the bloc under a special procedure.
"Our goal is to be with all Europeans and, most importantly, to be equal," Zelensky said in a speech broadcast from the Ukrainian capital of Kyiv. "I'm sure that's fair. I am sure we deserve it."
In the TV show's clip shared on Reddit's r/interestingasf*** forum, Zelensky is walking with a briefcase when he receives a call from an unknown German voice. The voice asks if Zelensky, known in the show as Vasyl Petrovych Holoborodko, would like to speak with now-former German Chancellor Angela Merkel.
"My congratulations," the actress portraying Merkel says. "We decided to take your country to the European Union."
Zelensky's character replies with a resounding, "Oh, f***!" as triumphant music plays in the background. But after he says the Ukrainian people and country are thrilled by the news, Merkel says she originally meant to call the president from Montenegro instead.
A dejected Zelensky erratically waves his briefcase as he walks away, even yelling, "F****' Putin!" at one point before the clip concluded.
The post has been upvoted over 63,000 times.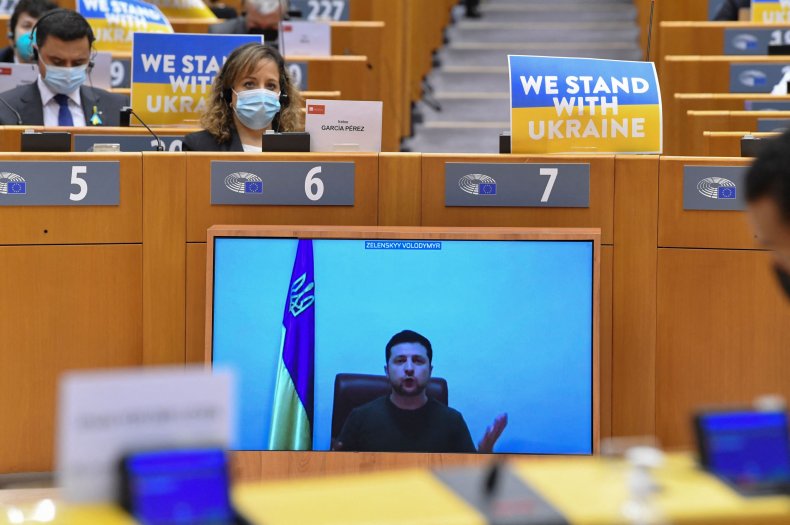 As far as Zelensky's very real request for admittance to the European Union, it remains unclear where the request will lead, although Zelensky noted how Polish President Andrzej Duda and Romanian President Klaus Iohannis support its admittance.
The comments on the Reddit video touched on the irony of a satirical comedy becoming more realistic than likely anyone ever expected. Some compared it to the predictions made in "The Simpsons" that eventually came to fruition.
As one user put it, "What the hell kinda universe we living in..."
"Simply from my friends and relatives left in Ukraine, I know Ukrainians have been wanting to join the EU since Orange Revolution in 2005," another user said. "Some of their presidents then, such as Poroshenko, even campaigned on promises that they'll get Ukraine into EU."
Others hoped that life imitated art as it relates to Ukraine's request to join the European Union.
"As a joke, i hope the EU does this too him too," one user said. "Then be like 'Nah, jk. Lol you're in.'"
There were three seasons and 51 episodes of the series. Production took place in the capital city of Kyiv, which has been a main target among Russian forces in the early days of the ongoing conflict.
Follow our live blog for updates on the Ukraine-Russia war.