Jeff Jarrett and the Resurrection of Impact Wrestling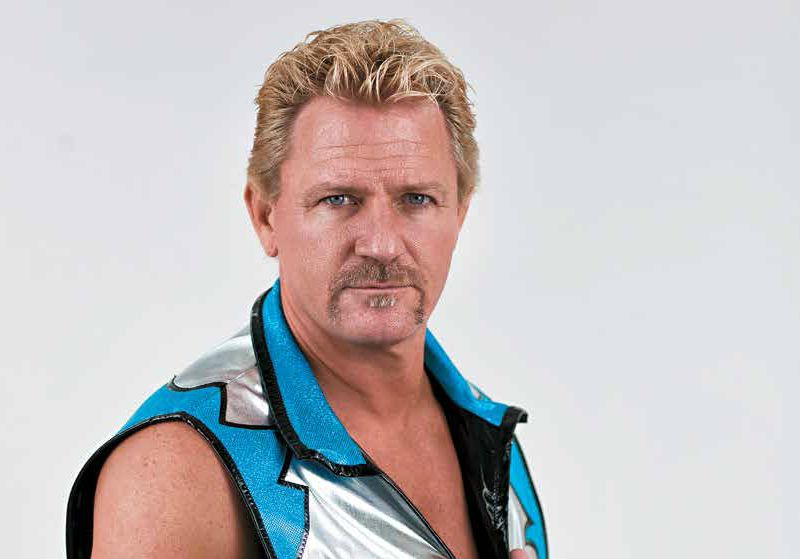 "Make Impact great again," says Jeff Jarrett, sitting across from me in a hotel boardroom overlooking London's River Thames. Even just 45 days ago, Jarrett never imagined those words would come out of his mouth.
Jarrett, 49, is back in power at Impact Wrestling, the company he created in June 2002 with his father Jerry Jarrett as an alternative to WWE, the global giant in professional wrestling. Jarrett resigned from his company in 2013 following years-long tensions with then-president Dixie Carter and went on to form another company, Global Force Wrestling, in 2014.
In a bizarre turn of events befitting the bombastic nature of professional wrestling storylines, Carter herself is now on the outs, having sold Impact—previously known as TNA Wrestling—to Canadian media organization Anthem Sports & Entertainment, which owns cable's The Fight Network, Impact's television home in Canada.
"From the very first meeting I had with them, it was very apparent to me how sound business-wise and structurally [they were] and where they wanted to go with things aligned with my thoughts," Jarrett tells Newsweek. "It was a pretty quick realization that we should work together."
Rocky Stewardship
Anthem finalized its acquisition of Impact in January following an embarrassing and tumultuous period for Impact in 2016. Under Carter's divisive stewardship, the promotion fell into hefty financial difficulties that necessitated intervention from marketing and production firm Aroluxe, Anthem and even Smashing Pumpkins frontman Billy Corgan, a lifelong wrestling fan who became president of the company for a brief period last year, to stay afloat.
Corgan made headlines last October when he sued Impact, claiming he made three payments to the cash-strapped firm under the provision that should Impact default on payments due to insolvency, he would gain control. Corgan lost his claim in court and later settled the financial dispute with Impact and Anthem, which, by this point, had begun taking steps to buy its broadcast partner.
Related: Exclusive: WWE's Triple H on Global Expansion and Donald Trump's Government
Anthem sees its acquisition of Impact Wrestling as a strategic move to ensure it still has content to broadcast on The Fight Network. The company's flagship show, Impact Wrestling, tapes year-round, providing Anthem 52 weeks of lucrative original programming. "It certainly wasn't part of our business plan in January 2016, but in January 2017, it's a cornerstone of our business plan," Anthem's executive vice president Ed Nordholm tells Newsweek.
Fans and wrestling industry pundits place Impact's spiral into near-insolvency square at Carter's feet. A Nashville music PR professional, she invested heavily in Impact in its early days through her friendship with Jarrett and eventually took over the company as president and CEO. But critics believed she was out of her depth running a professional wrestling organization. Impact had faced issues long before 2016, including reports they had failed to pay talent and production workers on time. Another report was that Carter criticized one-time broadcast partner Destination America in an email sent in error to the network's programming chief that was intended for someone else.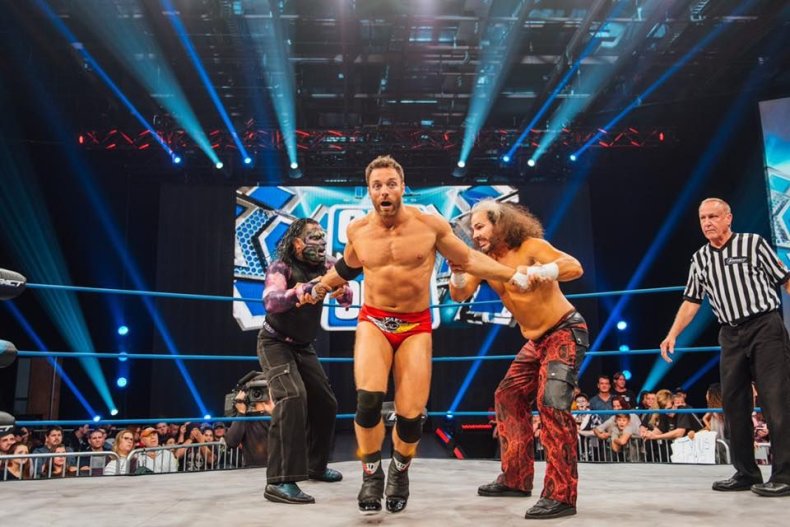 "It was a black-eye on the industry," says Jarrett of Impact's struggles in 2016. "It wasn't fruitful for anyone—whether you're a fan of, a wrestler, an employee. It was a really ugly, unfortunate situation. It wasn't good for the industry."
Carter is no longer involved with Impact under Anthem, although she retains an advisory role with the parent company. "The buck has to stop someplace," says Nordholm. "The reality is the company got into a dire position and she was CEO. There was never any question [she wouldn't be involved in the day-to-day operations], but not out of any particular animosity," says Nordholm. "If we're going to invest...we're owner-operators, we're not passive investors. If we're going to own it, we're going to own it." Nordholm denies that Carter's new position is a token role. "It's consultative. She's a resource to us—she has useful perspective and relationships, so we'll try to keep those."
Talent Key to Growth
Anthem is banking on Jarrett's long experience with both Impact and the wrestling industry to stabilize its new investment. The Canadian media brand first courted Jarrett late last year to return as a creative consultant. A deal was finalized just after New Year's Day. "I'll never forget the look on [wife] Karen's face when I said, 'I think we've come to terms on a consulting level.' She said, 'When do you think you're going to get started?' I said, 'I'm on a plane in two hours.'" In just the last six weeks, that consulting role has transformed into something more permanent, although the two sides are still working on a legal agreement outlining exactly what that will entail. "My hope is that we'll get to an agreement where he becomes the chief creative officer of the company and we'll stay on the business side of the company," says Nordholm.
The first set of tapings under the new Jarrett-led creative regime will take place in Orlando, Florida, in early March. Jarrett says viewers shouldn't expect a drastic reboot of the way Impact looks or feels or in terms of ongoing storylines—something Impact has attempted numerous times in the past. "Do you know what the definition of insanity is?" he says with a smirk. (The answer: doing the same thing over and over again and expecting different results, according to Albert Einstein.) "But we are going to, to use a baseball analogy, hit some singles, doubles and swing for the fences. The effort is going to be there."
Talent is key to that effort. Jarrett says he has a database of non-contracted wrestlers across the world that he hopes to begin hiring from in order to create new homegrown stars. Many of Impact's past headliners—A.J. Styles and Samoa Joe among them—are now in main event matches for rival WWE. "That energizes me. Let's go find that new crop," he says.
Jarrett and Anthem also share a vision to branch out beyond just utilizing talent it has under contract, which includes Matt and Jeff Hardy and reigning world champion Lashley, and work with other companies to use their stars, too. "WWE is the leader of the marketplace. But it's only in the last three months did they start recognizing other wrestling promotions. For years I've been saying that."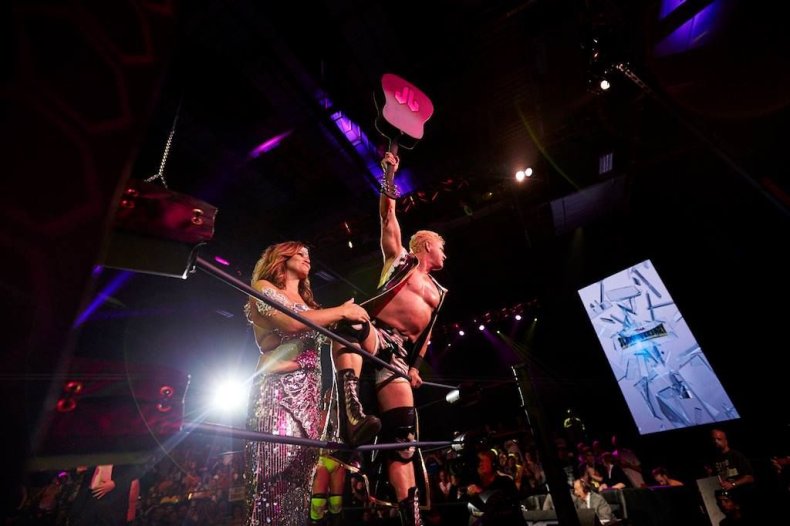 "Just recently we struck up a relationship with [Japan's] Pro Wrestling Noah," Jarrett explains. "It's obvious with [independent tag team] The Young Bucks and [Impact's] The Hardys, there's some unique stuff being developed—that's another extension of promotions working together. Part of the vision is to work within the wrestling community. That's what fans want—dream match-ups."
New Broadcast Homes?
Jarrett and Nordholm plan to meet with promotions and scout talent while in the U.K. Another key order of business is finding a new broadcast partner for Impact in Britain after it was dropped by cable network Challenge in late 2016. "Finding a U.K.-based broadcaster is the most important short-term initiative for us," says Nordholm. Jarrett says talks with U.K. networks has had "positive momentum," although he refuses to disclose which channels they have been in talks with.
Jarrett hints that there may be something in the works with BT Sport, the premium cabler that rivals Sky Sports, by way of an existing relationship. He and Nordholm have met with British production company Sunset+Vine "which has a huge contract with BT Sport," says Jarrett. His U.S. producing partner Arthur Smith—the man behind shows such as Hell's Kitchen and American Ninja Warrior —is on the board of directors for Sunset+Vine's parent firm, Tinopolis.
Beyond the U.K. deal, Nordholm says Anthem's two other priorities for Impact Wrestling in 2017 are ensuring "the creative direction and consistency" of the Impact television program and securing U.S. distribution for 2018. "Our American television contract expires at the end of this year so sometime [this year] we hope to sort [that] out with [cable network] Pop TV or, if not them, who is going to be our American partner next year."
Bringing Impact back from near-death may be the biggest wrestling match of Jarrett's career. But he's optimistic. "Let's make Impact great again," he reiterates.
Impact Wrestling airs Thursdays at 8 p.m. E.T. on Pop TV in the U.S. and currently streams on the Total Access TNA Wrestling app in the U.K. and Ireland.