Retail Sales Outpace Estimates, Stabilizing Markets and Slightly Easing Concerns of Recession
Retail sales outpaced expectations in July, indicating that consumer spending, a significant determinant of economic health, is performing well in spite of recession concerns motivated by stock market declines and the inverted bond yield curve.
Commerce Department figures released Thursday showed that retail sales increased 0.7 percent in July, beating expectations of 0.3 percent growth. The increase in retail sales from last month was larger than rises from June, May and April.
The data were released following the worst day for the stock market this year that saw the Dow Jones industrial average shed 800 points, or about 3 percent. Plunging stock prices and inverted Treasury bond yields—which occur before a recession but do not necessarily indicate one is coming—have stoked predictions of a looming economic downturn.
The release of the retail figures, followed by a stabilization of stock markets, offer a less dire picture of the state of the U.S. economy. Consumer spending accounts for more than two-thirds of the economy, and Macroeconomic Advisers raised its GDP predictions after the release of the retail data.
Newsweek subscription offers >
Internet retailers saw sales increase 2.8 percent last month. Retail sales likely received a bump from last month's Amazon Prime Day sales, economists from Bank of America Merrill Lynch told CNBC. The company said it sold 175 million items, including 100,000 laptops and 200,000 televisions, during what amounted to its "largest shopping event in Amazon history."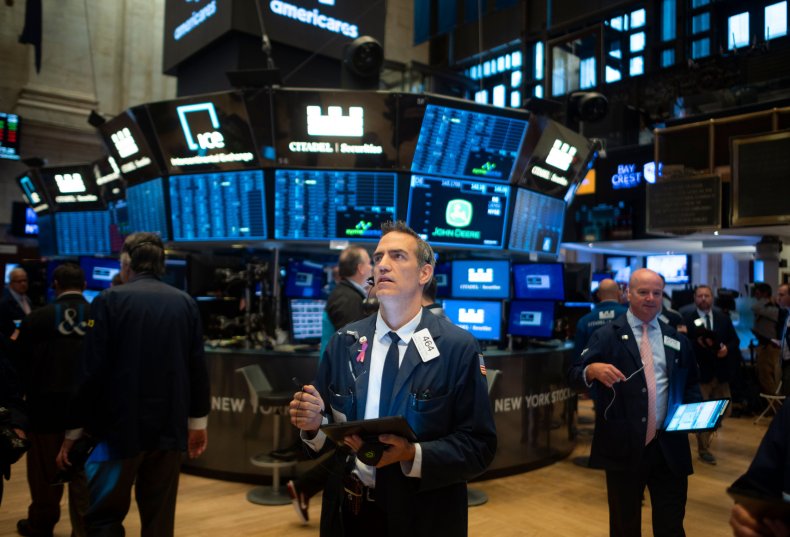 Although July figures for the consumer sentiment index come out on Friday, June figures indicated a healthy consumer view of the economy.
Still, analysts will be watching upcoming data releases and the yield curve trends closely. Treasury yield curves have inverted before all the recessions in the last 50 years. But that inversion doesn't definitively dictate that a recession is looming.
Newsweek subscription offers >
Former Federal Reserve Chair Janet Yellen cautioned that concerns about the inverted yield curve might not be correct and that a recession likely is not in the near-term future.
"Historically, it has been a pretty good signal of recession, and I think that's when markets pay attention to it, but I would really urge that on this occasion it may be a less good signal," she said while speaking with Fox Business Network. "The reason for that is there are a number of factors other than market expectations about the future path of interest rates that are pushing down long-term yields."
Retail Sales Outpace Estimates, Stabilizing Markets and Slightly Easing Concerns of Recession | U.S.