Retailers Start Black Friday Sales Early To Jump Start Holiday Shopping
Black Friday lands on November 27 this year. At least, that's the day after Thanksgiving, when Black Friday is traditionally held. But many retailers, desperate to start the Christmas shopping season as early as possible to cut their losses in a pandemic-scarred year, started their Black Friday sales as early as Mid-October.
"This year brings additional variability because of the pull-forward effect," S&P's Sarah Wyeth said in a research report. "When Amazon launched its Prime Day in mid-October, retailers such as Best Buy, Target and Walmart Inc. announced their own promotions. Many viewed this as the kickoff to holiday shopping in 2020."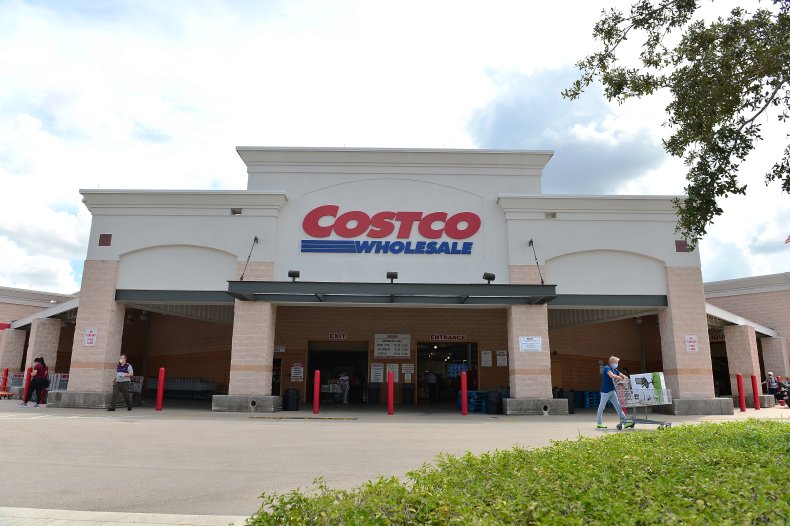 While it's unclear how many people began their holiday shopping in October due to anticipated limits on the number of people admitted to a store to maintain social distancing or possible shipping backlogs, this season is shaping up like no other year.
Coresight, a global research and advisory firm specializing in retail and technology, expects about a 50% decline in Black Friday foot traffic at non-food stores this year compared with 2019 as the coronavirus pandemic accelerates the move to online shopping.
Doorbuster sales and the thundering herd of shoppers storming the aisles on the Friday after Thanksgiving in search of this year's hot items are likely to be a thing of the past.
"This year, there's no blockbuster movie that's driving sales of toys for kids and no new game systems," Rod Sides, vice chairman and leader of Deloitte's U.S. retail and distribution practice, told Newsweek.
"Spending has shifted from travel and entertainment to household items, because more people will be home for the holiday," he said. "Electronics are in high demand, and there's pent-up demand for apparel. Food and beverage sales—things you give yourself—will be up."
Consumer spending represents about two-thirds of the U.S. economy. This year, the coronavirus has scrambled forecasts for the holiday shopping season. But the pandemic has introduced a new variable into the Christmas shopping season: Anxiety.
A survey of 4,012 shoppers nationwide by New York-based consulting and advisory firm Deloitte found that 51% are "anxious" about in-store shopping and 49% said they don't plan to resume pre-pandemic shopping patterns until a vaccine is developed.
Through November 10, there were 10,110,552 confirmed coronavirus cases in the U.S. and 238,251 deaths, Johns Hopkins University reported.
Pfizer and partner BioNTech have developed a vaccine that they claim is more than 90% effective. If proven safe, Pfizer hopes to make the vaccine available before the end of the month, but U.S. regulators have not reviewed the data. Additional delay and uncertainty could delay distribution.
The vaccine's efficacy rate is higher than anticipated. Dr. Anthony Fauci, director of the National Institute of Allergy and Infectious Diseases, previously said a vaccine that was 50% to 60% effective would be helpful.
But it's uncertain how quickly the vaccine could be distributed, and it's not clear how many people will be willing to take it. These factors further cloud the outlook for brick and mortar retailers.
Thanks in part to coronavirus fears, 64% of this year's holiday budget is expected to be spent online. Nearly two-thirds of those who planned to shop online said they sought to avoid crowds and like the convenience of shopping from home, Deloitte said.
A total of 73% of shoppers said they plan to have items delivered using established delivery services, while 27% plan to use curbside pickup at brick-and-mortar stores, more than doubling last year's total.
Shoppers plan to cut spending this year by 7% to $1,387 per household. But spending on in-home celebrations is expected to increase 12% to $435, while traveling and socializing away from home is expected to decline 34% this year as compared to 2019, Deloitte said.
Many analysts expect sales to be flat or show a slight increase. Either would be encouraging in what looked like a downbeat holiday shopping season, after pandemic-related layoffs last spring sent the U.S. unemployment rate to 14.7% and retail sales crashed as people hunkered down. The current unemployment rate is 6.9%. It was 3.5% before COVID-19 hit.
Excluding food and beverage sales, S&P Global Ratings expects a 0.3% increase in consumer spending in November and December, well below the 4.6% average increase in the last 20 years. But that beats the initial forecast of a 3.3% contraction from 2019.
"That could amplify the impact COVID-19 has had on mall-based retailers like Macy's," S&P analyst Sarah Wyeth told Newsweek. "We've seen a dramatic shift to e-commerce, and consumers are spending on home-based items—not attire, especially not formal or business attire."
The combination of more sales moving online and continued wariness about in-person shopping could further squeeze square footage of mall-based stores in the next few years.
Several major retailers have already filed for bankruptcy protection, including J. Crew, Neiman Marcus, Brooks Brothers, Lord & Taylor, Century 21 and Tailored Brands, owner of Moores Clothing for Men, Jos. A. Bank and Men's Wearhouse.
The holiday shopping season remains key to retailers and there could be turbulence ahead, especially if large numbers of shoppers avoid malls and spend heavily online. Two major mall owners, CBL and Pennsylvania Real Estate Investment Trust, have filed for bankruptcy protection as some tenants defaulted on rent during the pandemic. Both companies plan to keep their malls open as they reorganize.
Holiday sales remain key to traditional retailers. S&P's calendar fourth-quarter operating profit projections range from 38% for Kohl's, 41% for Nordstrom, and 68% for Macy's, underscoring the importance of the holiday shopping season for established brick-and-mortar chains.
With slower in-store sales, S&P expects seasonal hiring to focus on distribution centers and curbside pickup rather than sales staff. Federal Express, anticipating higher online sales, said it plans to add about 70,000 holiday workers, an increase of about 27%.
But the coronavirus pandemic has created so much uncertainty and sales projections vary widely. Deloitte expects in-store spending to decline by 7% this year, but projects that e-commerce sales will jump 25% to 35% this year over last, compared with a 14.7% increase in 2019.
The International Council of Shopping Centers looks for a 1.9% year-over-year spending uptick while AlixPartners forecasts a 1% to 2.6% sales increase. The combination of more sales moving online and continued wariness about in-person shopping could result in as much as a 15% reduction in the square footage of mall-based stores in the next few years.
"A lack of consensus in holiday sales growth, estimates or this year, we believe, is in part due to the unforeseeable impacts of economic uncertainty on surprisingly resilient consumer spending," S&P's Wyeth said.
"Long lines of people waiting for stores to open, shoppers jostling to grab 'doorbuster' deals on big-ticket items and other such headline-grabbing sights that were typical of in-store shopping on Black Friday are likely to be thing of the past," Deborah Weinswig, CEO and founder of Coresight Research, told Newsweek.
"Demand is strong and because of anticipated supply chain constraints and fear that gifts won't arrive on time, people are planning ahead and shopping early," she said. " Retailers don't need doorbusters to get people to shop."