The Final Push for Mosul: 'Matter of Time' Until ISIS Flag Falls in Iraq's Second City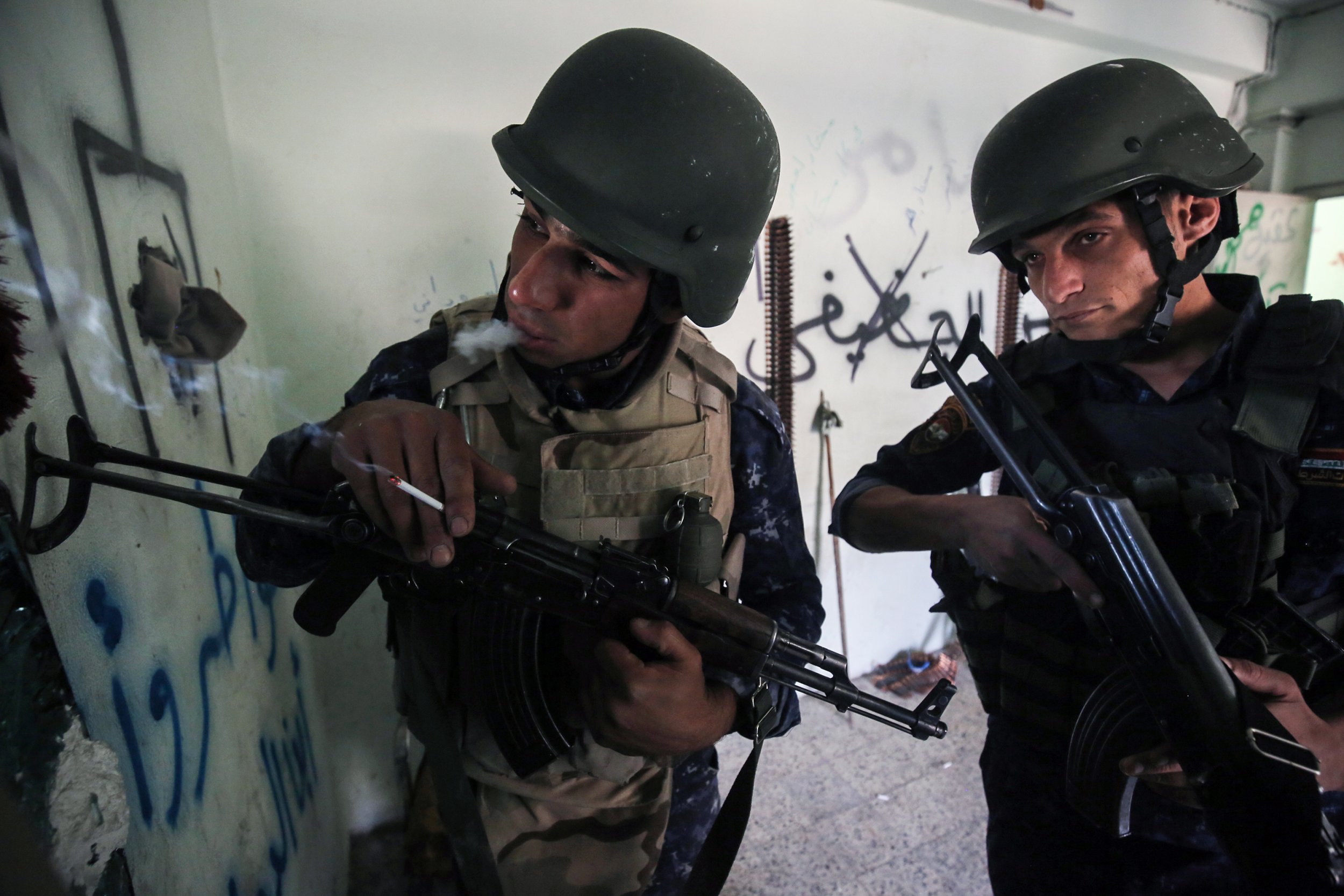 The northern Iraqi city of Mosul sits near the battlefield where Alexander the Great secured the decisive victory at Gaugamela that would lead to the fall of the Persian Achaemenid Empire over 2,000 years ago. Today, another war is raging to defeat a darker empire in Iraq—the Islamic State (ISIS)—and it is nearing a conclusion that generals say is only "a matter of time."
On Sunday, Iraqi security forces began their final push to drive unswerving ISIS militants from their last pockets of control. Seven months of battle—longer than Stalingrad—and Baghdad's forces, backed by the U.S.-led coalition, have slowly eaten away at the jihadi group's stranglehold on the largest city in its possession.
In the city's liberated east, footage shows that life is now returning, as are residents to their homes amid shuttered shops daubed with graffiti jihadi slogans. But on the west bank of the Tigris, something more sinister is happening.
ISIS is brutalizing the civilians remaining under its control, and scorching the institutions it cannot retain, including hospitals, as it retreats into its last districts in and around the dense Old City. U.S. Army Major General Joseph Martin, head of ground forces for the U.S.-led coalition fighting ISIS, tells Newsweek of the complex, unique offensive that Iraqi forces are facing head-on as the Mosul endgame nears.
"The ISF (Iraqi Security Forces) continue to march, cornering neighborhoods, setting conditions for the eventual liberation of the west side of Mosul," says Martin, who presides over several thousand U.S. personnel in Iraq, which includes advisers, training staff and special forces, who coordinate with the Iraqi military. "They've got ISIS in position where it's just a matter of time until we see the final collapse of the caliphate within west Mosul. They are completely surrounded."
Martin declines to give an estimated date for Mosul's liberation but says Iraqi forces now have the "lion's share" of neighborhoods in west Mosul, limiting ISIS's "flexibility and freedom of movement" to the Old City and pockets north of that area. Martin says this tightening of the noose in Mosul has weakened ISIS, restricting its use of mortars, suicide bombs and even chemical weapons.
"There are very few places they can shoot [mortars] from," he says. On chemical agents, which the group have used more than a dozen times in and around Mosul, he says if they were to use them now, it would "affect themselves" as well as Iraqi forces.
The battle for the city half the size of Philadelphia is taking place in tight roads and alleyways, with each neighborhood carrying a different urban terrain, new surprises and a certain "randomness that's unique to the Old City," Martin, speaking by phone, says.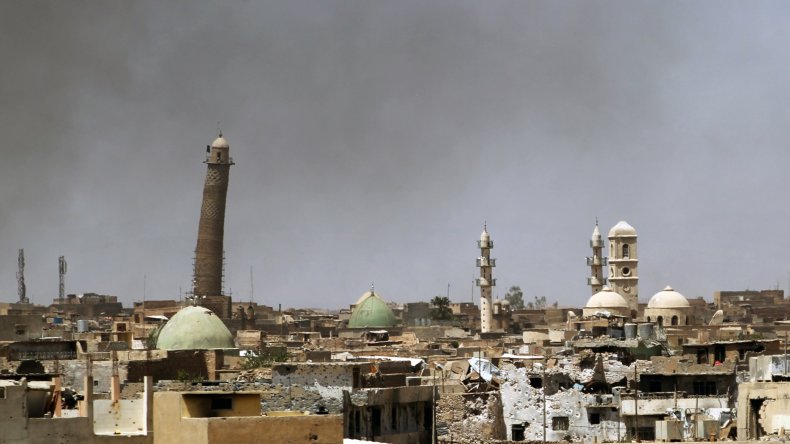 Iraqi forces are now stationed just 200 meters, the general says, from the Al-Nuri Mosque, the symbolic heart of the group's crumbling semi-state, where its leader Abu Bakr al-Baghdadi declared himself the caliph of the world's Muslims in July 2014. "They will choose when they want to do that and, of course, there's a certain amount of symbolism in that," Martin says when asked for a timeframe of the capture of the mosque complex, which ISIS fighters are tightly defending.
Read more: What we know about U.S.-led coalition's deadly airstrike in Mosul
But, before then, the U.N. estimates that some 200,000 civilians remain and could still flee the city, with 700,000 already escaping the brutal street-to-street fighting. ISIS's control of the civilian population allows its fighters to slow the battle—as it has already done with sniper fire, mortars and vehicle suicide bombs—using them as cannon fodder. Added to its mass graves and crucifixions of civilians, hanging them from street furniture such as lampposts, ISIS is putting Mosul's residents in the crosshairs of the coalition. Not to prevent the targeting of the group's key buildings, but to drive the coalition to strike them, Martin says.
"It's amazing to see the level of inhumanity that Daesh is willing to exercise in order to achieve their outcomes," he says, using an Arabic acronym to describe ISIS. "They are taking people, putting them in basements of a building and welding the steel doors shut so they can't get out. They are...getting us to strike those buildings."
Such reports come after the disputed outcome of a probe into a March 17 coalition airstrike, which the coalition said killed 105 civilians in west Mosul's al-Jadida neighborhood. The coalition says ISIS stored an explosives cache in a building where it targeted two ISIS snipers, causing greater collateral damage. Neighbors of the building say there were no explosives at the site, and civil defense workers say there were likely more casualties. But Martin says, despite such incidents, coalition air support has continued in the same way. "Nothing has really changed since then, we will continue to get after the enemy," he says. His comments come after U.S. Defense Secretary Jim Mattis said civilian deaths "are a fact of life" in such operations, where coalition forces are using "annihilation tactics."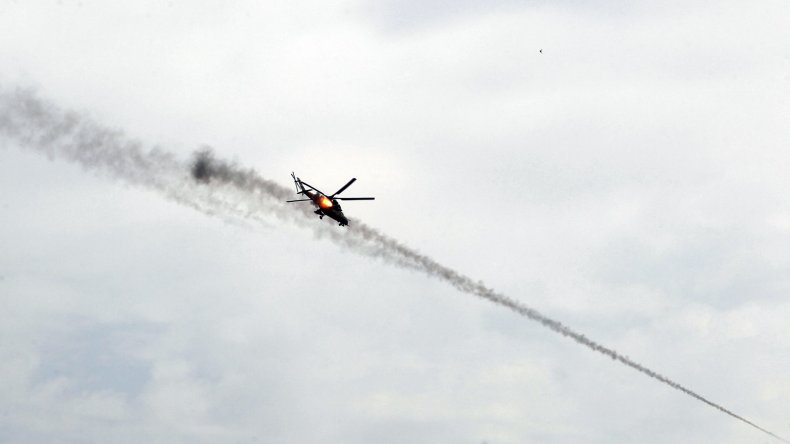 Martin says ISIS's die-hard jihadis, many who are remaining until the last, are fighting out of any civilian infrastructure, including mosques and schools. They are also burning buildings that ISIS could lose to the Iraqis, such as the Jumhouriyah hospital, west Mosul's largest medical complex, which Iraqi forces stormed Saturday. In the two-and-a-half years of ISIS control before Iraq launched its operation, the jihadi group had ample time to prepare. And it has conscripted civilians before and after the advance began, according to those who have fled the city.
But as civilians leave the city, or come under Iraqi control, they face the threat of torture and abuse, according to footage smuggled out of Mosul by an Iraqi journalist and published last week. The videos show elite Iraqi soldiers—primarily made up of Shia soldiers but also mixed with Sunni Muslims—beating civilians, hanging a man from a ceiling by his wrists, to obtain confessions that they were affiliated to ISIS. But the embedded journalist, Ali Arkady, says these were likely false. Martin says the U.S. raises any allegations with Baghdad to improve the professionalism of its military.
"We routinely provide the information regarding any allegations that are out there for the Iraqi Security Forces and, when we do, they act upon it," he says. "I talk to our partners often about allegations and talk about the importance of being transparent, investigating and holding people accountable, because that's what professional forces do." The Iraqi government last week opened a probe into the torture allegations.
While coalition investigations into battlefield conduct against civilians are ongoing, the campaign's ultimate goal remains: to crush ISIS in its last bastion. The group's black, radical Islamist flag that hangs from the minaret of the Al-Nuri mosque could be replaced by the red, white and black of the Iraqi flag within weeks, or perhaps days. "What you're seeing is the collapse of the enemy's final defenses within Mosul," Martin says. "Their options continue to dwindle. It will come to a point where they will have to surrender, or die."