'Retire Rubio' Attack Ad Shines Spotlight on Florida Senator's NRA Links
A political action committee opposed to the re-election of Senator Marco Rubio (R-FL) will air a new ad starting on Monday that focuses on the Republican's approach to gun control.
The Retire Rubio PAC will spend a five-figure sum on digital advertising for the new video, entitled "Parkland." Newsweek has had an exclusive look at the ad, which highlights Rubio's ties to the gun industry.
The ad recounts details from the 2018 Marjory Stoneman Douglas High School shooting in Parkland, Florida, in which 17 people died, and transitions to criticizing the senator's pro-gun policies.
"Since the Parkland shooting, over 3,500 kids have been killed by guns," the ad says. "Senator Marco Rubio received $3.3 million from the NRA."
According to figures compiled by the Brady Campaign to Prevent Gun Violence, the National Rifle Association has donated more than $3.3 million to Rubio.
However, this likely represents both direct donations to Rubio and so-called outside spending. OpenSecrets.org, a website that tracks campaign spending, estimates that the NRA spent between $2 million and $3.2 million to help elect Rubio in 2016.
"Then Marco Rubio refused to ban the AR-15, which was used in the Parkland shooting," the video states, before showing footage of Rubio saying he would continue to take donations from the NRA during a CNN town hall event in 2018.
The graphic below, provided by Statista, shows U.S. public opinion on gun laws, based on polling by Gallup.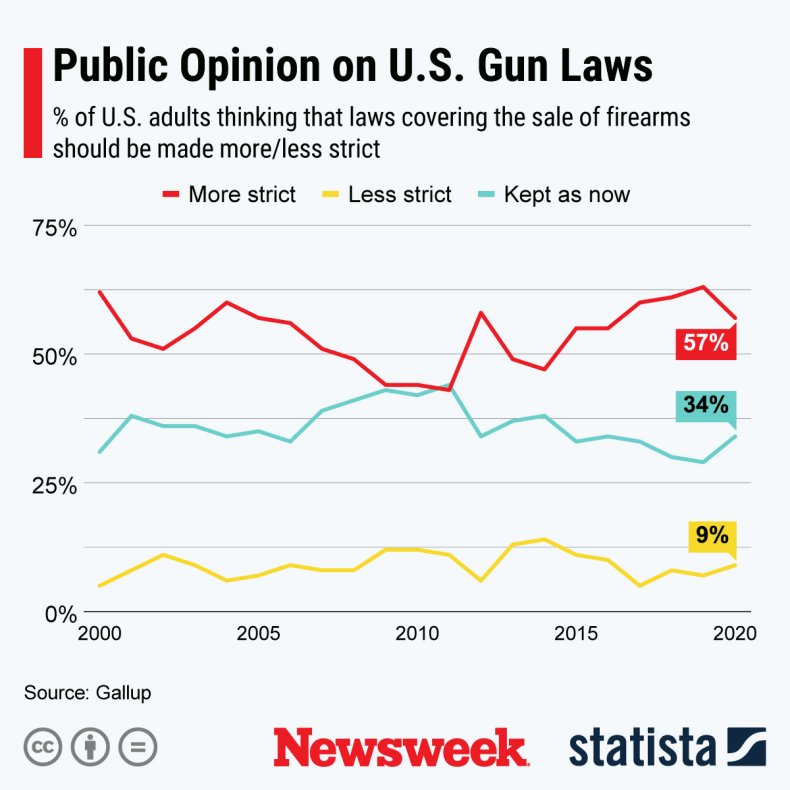 "I will always accept the help of anyone who agrees with my agenda," Rubio said at the time. He has also refused to back an assault weapons ban, garnering criticism from some Parkland survivors.
The ad concludes with the logo "Retire Rubio 2022" and a voiceover saying: "If we can't protect our children in schools, then who can we protect?"
Nick Merlino, senior adviser to Retire Rubio, told Newsweek on Wednesday: "Elections have consequences and, in this case, it's a matter of life and death.
"Time and again, Marco Rubio has failed to protect the people of Florida from weapons of war. Instead of supporting common-sense laws that ban assault weapons like the AR-15, which was used in the Parkland shooting, Marco Rubio has repeatedly opposed basic gun safety laws while doing the NRA's bidding.
"This group has poured millions into his political campaign coffers. We plan to hold him accountable," Merlino said.
"Florida has one of the latest Democratic primaries in the country, and while our side works to determine who is going to take him on, the PAC was created to make sure Marco isn't left unattended," Retire Rubio said in a statement.
"Retire Rubio is being run by people who have won statewide elections in Florida and know exactly what needs to be done to beat Marco in 2022."
Fred Guttenberg, whose daughter Jaime died at Parkland, criticized the senator in a statement sent to Newsweek by Retire Rubio.
"Following the murder of my daughter Jaime in the Parkland school shooting, I had the good fortune of working with many local and national legislators who stepped up to work with me to deal with gun violence," Guttenberg said.
"Sadly, Marco Rubio was not one of them. His ongoing and intentional failure to address the reality of gun violence in our state and in his backyard makes him unfit for another term."
Rubio is up for re-election next year. He defeated his Democratic opponent with 52 percent of the vote to 44 percent in 2016.
Senator Rubio has been asked for comment on this article.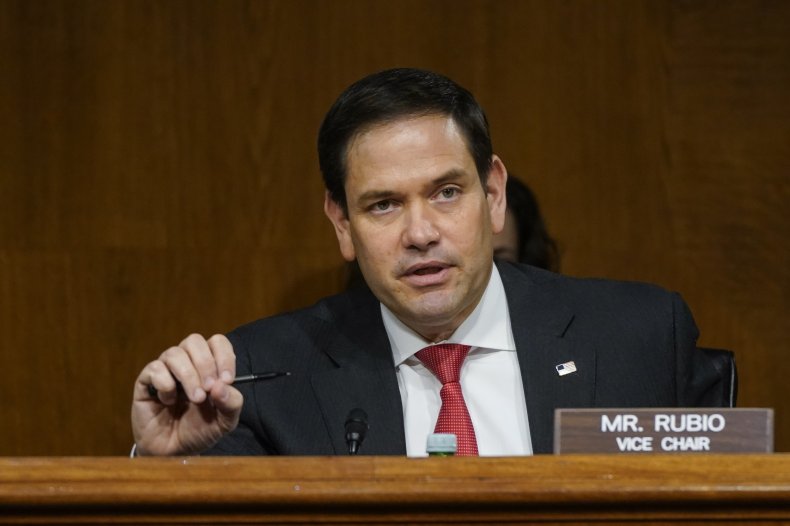 Updates on 03/11/21: This article has been updated to include a statement from Fred Guttenberg. It was previously updated to add an infographic.