Retired Four-Star General Calls Putin's Invasion of Ukraine 'Screwed Up'
Retired four-star Army Gen. Barry McCaffrey says the Russian military's stalled convoy outside of Ukrainian capital Kyiv is a sign it's having a "real problem" invading the neighboring country.
McCaffrey gave his assessment on MSNBC Wednesday in response to Pentagon reports that the Russian military is regrouping after making unexpectedly slow progress in its invasion despite having one of the largest armed forces in the world.
"It is astonishing how screwed up they are on this," McCaffrey said, reacting to news that a Russian convoy, estimated to be 40 miles long and sent to backup its efforts to take Kyiv, has barely moved.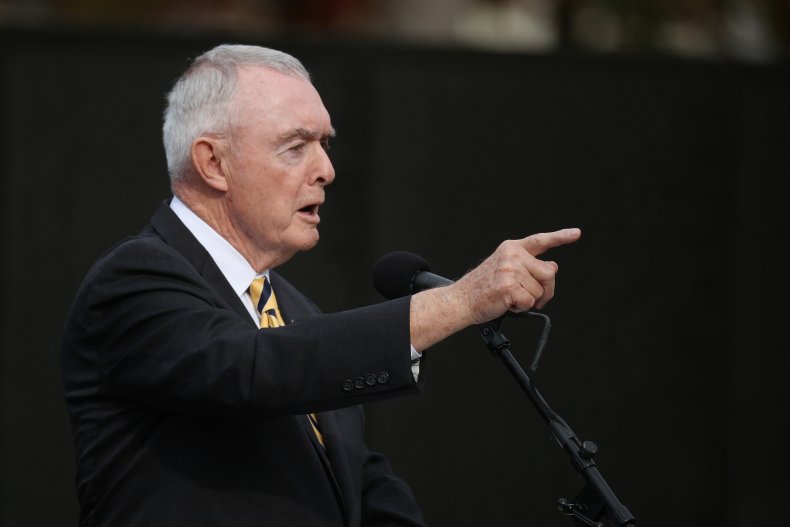 When asked about reports of the stalled convoy, Pentagon spokesman John Kirby said during a press briefing earlier Wednesday that "the northern push by the Russians down towards the south towards Kyiv remains stalled" and has not made any "appreciable progress" in the last 24 to 36 hours. He said there are indications Ukrainians have tried to slow the convoy.
McCaffrey said the development may indicate bigger, possibly logistical, problems for the Russian military.
"I think one thing we ought to say is the Russian military operations in Ukraine are balled up," McCaffrey said. "I mean, just using the word convoy, this is the movement to contact in combat of armored units, and they're parked bumper-to-bumper three lanes across. I don't see how they can unravel it. At the head of that narrow column are Ukrainians fighting for their lives."
Kirby said the Pentagon believes the Russian military is regrouping and assessing how to make up "lost time" after experiencing "logistics and sustainment challenges" they did not fully anticipate. However, he said that Russian forces are generally experiencing less resistance in Ukraine's south.
McCaffrey said he didn't see how the Russian military could "get by the stalled units."
"It's very surprising to me," said McCaffrey. "At [a] tactical level, they still haven't made a significant attempt to capture Kyiv."
He noted that cities in southern Ukraine have seen heavier combat.
Russian officials on Wednesday said they had taken the Ukrainian port city of Kherson. The Pentagon said the city is still contested.
"We're not in a position to call it either way," said Kirby. "It appears to us that the Ukrainians and certainly fighting over that town."
Russian forces are advancing on the port city of Mariupol, Kirby said.
The next 72 hours will be telling for how the conflict will play out, said McCaffrey.
"[Russian President Vladimir Putin] is not going to back out," said McCaffrey. "His military is in trouble. We'll see what they do."
Newsweek has reached out to McCaffrey for further comment.