Retired Teacher Admits Threatening to Bomb NYC Pride Parade
A New York man pleaded guilty Wednesday in federal court to mailing more than 20 letters containing threats to shoot, bomb and otherwise attack LGBTQ organizations and businesses in the area for several years, including a threat to plant bombs at the 2021 New York City Pride Parade.
The threat from Robert Fehring, a 74-year-old retired teacher, said the amount of "firepower" at the parade would "make the 2016 Orlando Pulse Nightclub shooting look like a cakewalk," referring to the 2016 shooting that killed nearly 50 people and wounded dozens more, according to the Department of Justice.
In searches of Fehring's home, authorities allegedly found more threatening letters, LGBTQ flags that had been stolen in the area, along with "two loaded shotguns, hundreds of rounds of ammunition, two stun guns, and a stamped envelope addressed to an LGBTQ+-affiliated attorney containing the remains of a dead bird," the DOJ said.
"The guilty plea from Mr. Fehring is the first step in what I hope will be a maximum sentence for the crimes he has committed over the last 10 years," David Kilmnick, president and CEO of the LGBT Network and someone who received several letters from Fehring, said in a statement to Newsweek on Thursday. I have received more than one dozen letters from him, each getting more hateful, vile, disgusting and dangerous as he threatened to kill me at my home, workplace and out in the community.
"I can't understand what it's like to carry around that much hate, but I do know is what it is like to be the recipient of that hate. Each time I received one of these letters, I had to worry about my Mom who lived with us, think twice about starting my car, think twice about getting the mail and throwing out the garbage. He committed terrorist-like acts and should be punished...Keep him behind bars for the rest of his life where maybe he can get some help and not be the danger to society that he is."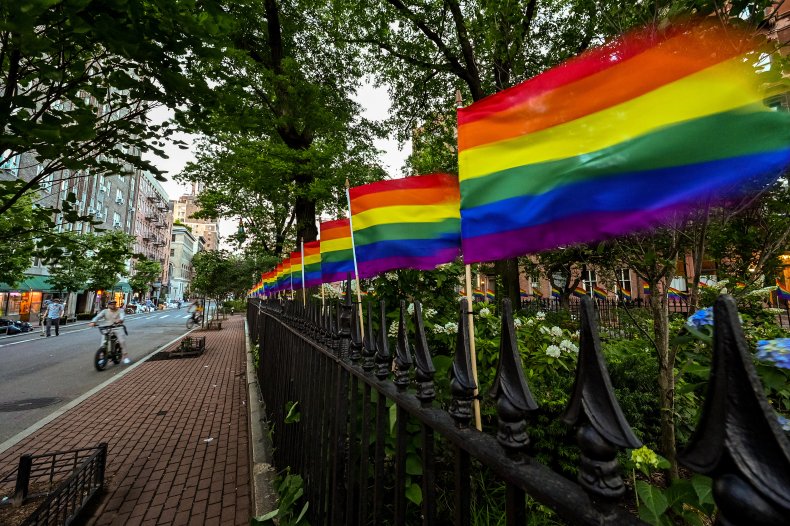 Fehring is accused of sending dozens of letters since at least 2013 until his arrest in December of 2021, as well as grand larceny in the theft of flags, according to WLNY-TV.
"In pleading guilty today, the defendant admits that he sent hate-filled communications that threatened mass shootings, bombings and other fatal attacks, to members of the LGBTQ+ community," U.S. Attorney Breon Peace said in a statement.
"This Office will use all of its available law enforcement tools to protect the safety and civil rights of the LGBTQ+ community and every other community. We will not tolerate hateful threats intended to invoke fear and division, and we will hold accountable those who make or act on such threats."
Another letter sent by Fehring to a Brooklyn barbershop that the DOJ said was "affiliated with the LGBTQ+ community," stated several threats, including "your shop is the perfect place for a bombing...or beating the scum that frequents your den of [expletive] into a bloody pool of steaming flesh."
Dozens of other letters were sent by Fehring to organizations, businesses, elected officials and activists involved in the LGBTQ community, the DOJ said. The November 2021 search of his home also revealed "reconnaissance-style" photos of a Pride event in East Meadow, New York, that was held months earlier. Search histories on devices in his home also revealed Fehring's history of researching the locations of LGBTQ events and organizations.
"Today's guilty plea further highlights Fehring's intentions, and underscores the FBI's commitment to vigorously investigating civil rights violations," FBI New York Field Office Assistant Director-in-Charge Michael J. Driscoll said. "Anonymous threats against members of our community will eventually be uncovered, and those who are responsible for them will be held accountable."
Fehring faces up to five years in prison following his guilty plea. A sentencing date has not been announced.
"We take any and all violent threats seriously and report them to the appropriate authorities. We received threatening letters earlier [last] year and reported them," NYC Pride Executive Director Sandra Perez said in a statement released at the time of Fehring's December arrest, and reiterated to Newsweek on Thursday.
"We appreciate the work of the Justice Department in investigating this situation. We are cooperating in any way we can, and we remain committed to the safety and well-being of the LGBTQIA+ community."
Update 2/24/22, 4:15 p.m. ET: This story was updated with a statement from David Kilmnick, president and CEO of the LGBT Network.