A man stuck in rising floodwaters from Tropical Storm Ida in a Philadelphia suburb was able to save his wife late Wednesday by bashing in the windshield and pushing her out of the vehicle, the Associated Press reported. As Katherine Bauer held onto a tree, she saw her husband, Donald Bauer, a 65-year-old retired school bus driver, swept away by the waters in their Mazda SUV.
The couple was returning home to Perkiomenville, Pennsylvania, after attending their daughter's volleyball game when adverse weather caused the car to stall and begin floating.
"My father started pushing my mom out, and telling her to go and go and go," said Darby Bauer, the couple's son. "All she remembers from being pushed out of the car was him touching her one last time, shouting at her to go."
Katherine Bauer was rescued about an hour later, but her husband's body was found the next morning still inside the car, the AP reported. Darby Bauer said his father was "selfless down to his last act," and he fully believes he saved his mother's life.
"Without his help, I don't think she would've gotten out of the car," he said.
For more reporting from the Associated Press, see below.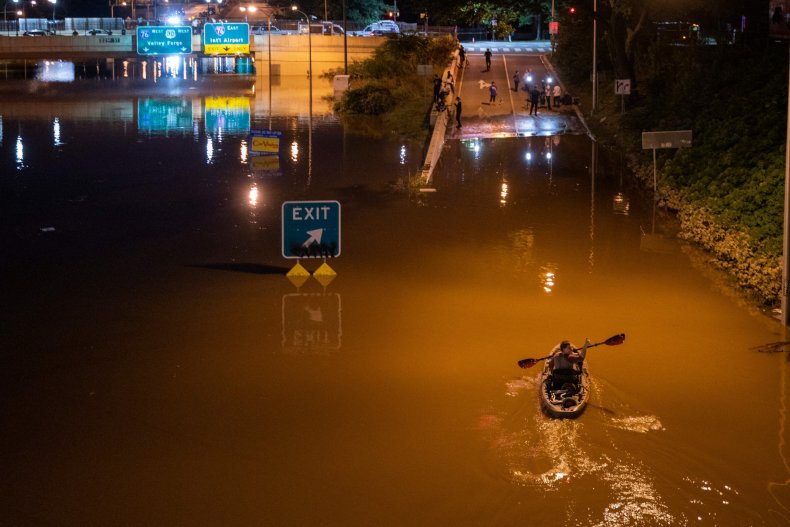 In Elizabeth, New Jersey, four people died when the swollen Elizabeth River swept through an apartment complex, trapping people in their homes. But there were also lifesaving rescues.
Greg Turner's 87-year-old mother called him from the flooded building complex at 8 p.m. Wednesday to tell him water was "shooting into the apartment." He tried to race over from his home in another part of town, but floodwaters blocked his path.
Turner hailed firefighters in the street, who told him, "We're swamped, but we'll try to get you over there."
Meanwhile, the water kept rising.
By the time rescuers reached Turner's mother a little before midnight, the water was up to her neck. To reach her, they had to cut a hole through the floor of the apartment above hers and pull her through the ceiling.
"She was standing in a sink" to keep above the rising water, Turner said. "At 87 years old."
"She lost everything," Turner said. "I'm going over to the bank to get some money to buy her some shoes, some clothes, some underwear. We've got to go get her medicine, everything."
In the New York City borough of Queens, Darlene Hsu, pinned in the door of her boyfriend's sub-basement apartment, struggled to keep her head above water and screamed for help.
Friends, neighbors and building staff dialed 911 for 40 minutes, but couldn't get through, said her ex-husband, Dennis Hsu. He said Darlene's boyfriend—the superintendent of the building—ultimately called a friend on the police force for help, and emergency responders arrived about 40 minutes after that. By then, it was too late.
Dennis Hsu said he's angry about the delays—angry the 911 system failed, and angry at people who ignored storm warnings and required rescue from flooded roadways, which diverted emergency resources.
"What are you guys doing on the highway? You're putting other people's lives at risk," he said.
Darlene Hsu had worked for a property management company and enjoyed sunbathing, swimming, arts and crafts and playing with children.
Dennis Hsu described his former wife as a "very kind and lovable person."