Retirees Set to Lose Big in Argentina's Bond Fight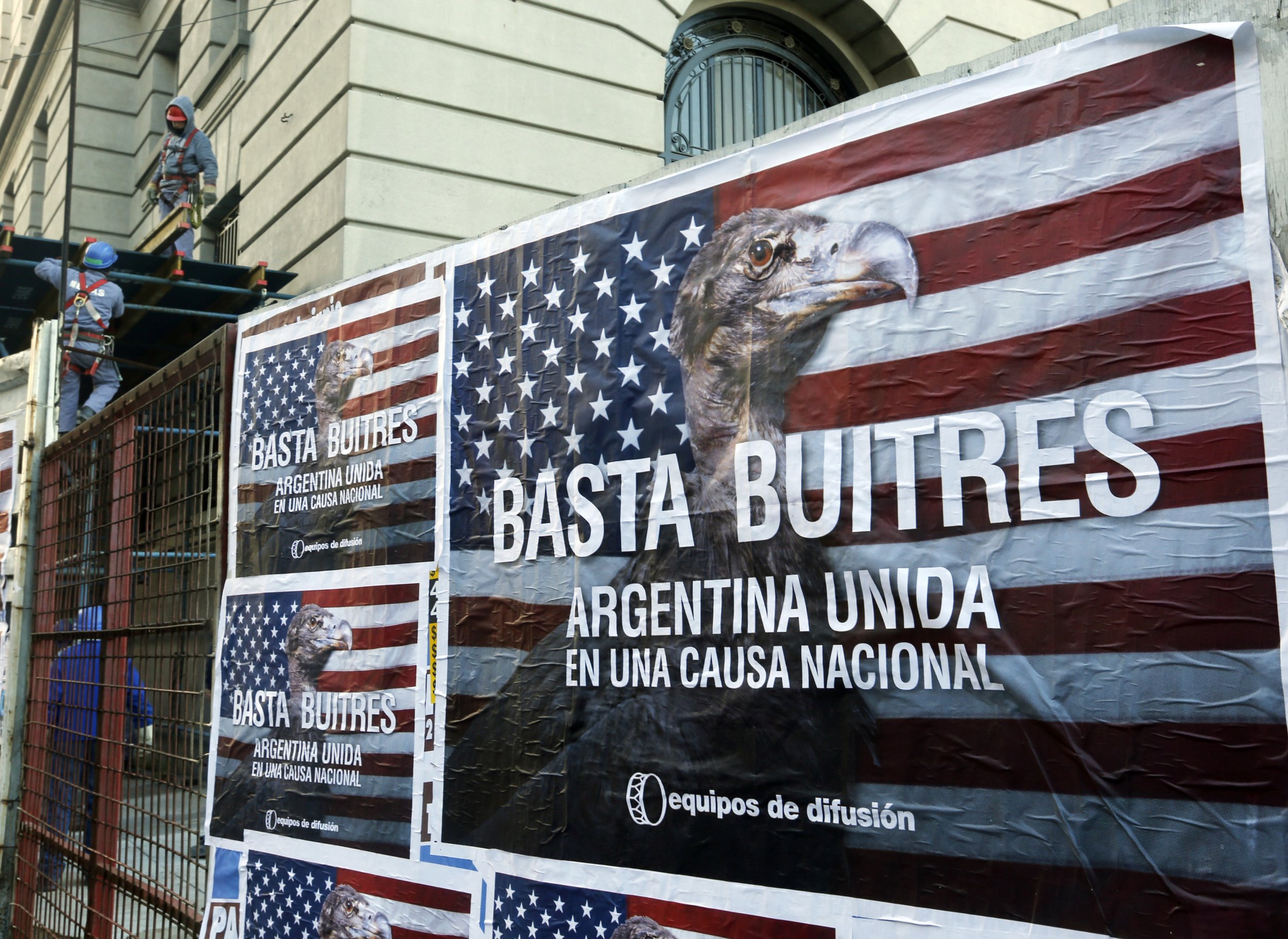 One of the first things Maria Elena Corral did after retiring 15 years ago was pay a visit to a Société Générale branch in Argentina's capital city, Buenos Aires. There, she listened intently as her personal banker laid out the safest investment options for her life savings. With a heap of careful consideration and a dash of blind trust, Corral made a decision: she would put most of her money—$65,000—toward Argentine foreign debt bonds.
At first, the bonds paid Corral, now 77, enough to keep up her comfortable lifestyle in Barrio Norte, a posh neighborhood in Buenos Aires. But in 2001, the government defaulted on its external debt—at $82 billion, the largest of its kind in history—and since then, Corral has not seen any return on her investment.
"Why did I do that?" wondered Corral during a telephone interview. "I was dumb, is what I was."
The Argentine government fought a long court battle in New York with bondholders who refused to participate in the debt restructurings of 2005 and 2010. Much of the focus has centered on the plight of several hedge funds that bought bonds and are owed billions of dollars. Rarely mentioned are the numerous elderly pensioners in Argentina, Italy and Germany, whose lost retirement money is simultaneously negligible and vast.
Still, they watch the case developments with bated breath, hoping to recover some of their savings and live out their last years with a semblance of financial stability. A court decision on Monday requires Argentina to pay all bondholders at the end of the month, though the country's minister of finance said Wednesday it will be "impossible" to make the payment.
"At our age, these highs and lows, the peaks, they don't do us any good," said Norma Lavorato, 84. She longs for "a dignified and problem-less old age," lamenting her high blood pressure and adding that she may need to have eye surgery to remove cataracts.
There is no official tally of how many elderly pensioners around the world have been affected by Argentina's default, but the American Task Force Argentina, a lobbying group, estimates there are tens of thousands. Lavorato and Corral are part of one Argentina-based group of about 20 pensioners. Strangers for most of their lives, they have become members of an extended family that now meets several times a year to discuss the case. Some have become friends and exchange frequent emails.
In 2013, the group traveled to New York and Washington, D.C., where its members met with legislators and shared what Lavorato calls their "adventure."
President Barack Obama's administration has sided with the Argentine government. "Our position is basically a categorical one because, again, in the reciprocal situation, the United States would be very concerned about a foreign court setting itself up as a clearinghouse for all United States assets and transactions around the world," said Edwin S. Kneedler, deputy solicitor general, during a Supreme Court hearing in April.
Still, the group's "adventure" has come at a high price. Shortly after the default, Corral's mother became ill and had to be hospitalized on several occasions. While Corral was able to pay the medical bills, she lived in fear of having to sell her car or, worse, her apartment. Today, she struggles to make ends meet, especially as inflation soars; according to independent economists, it currently stands at around 25 percent. She might have to get surgery for her back, and the fear of not being able to afford all the related expenses keeps her up some nights.
Lavorato cares for her 89-year-old sister, who has lung disease and must carry oxygen with her at all times. Laverato worked at the Portuguese Embassy starting at 19 and invested some of the money in Argentine bonds. All told, the two sisters invested about $40,000. Now, the sisters live in the same apartment and can't afford any of the luxuries they had planned for their retirements.
Earlier this week, Lavorato and the other bondholders had a first glimmer of hope since August, when the U.S. Court of Appeals for the 2nd Circuit, in New York, ruled that Argentina had violated its contractual obligation to treat all bondholders equally.
On Monday, the U.S. Supreme Court declined to hear Argentina's appeal of a ruling that required the country to pay bondholders that had refused to accept the debt restructuring, including NML Capital, a subsidiary of Paul Singer's hedge fund, Elliott Management. It also ruled that bondholders can issue subpoenas to banks in order to track down Argentine assets abroad.
The move was a victory for investors who had held out, and it pushed Argentina deeper into a financial nightmare.
"Its financial house is not in order," said Richard Samp, chief counsel at the Washington Legal Foundation, a public interest law firm. "What rational person would lend new money to Argentina now?"
Shortly after the Supreme Court decision, Argentine President Cristina Fernandez de Kirchner said her government would uphold its obligations to creditors, during a 28-minute televised address. But, she added, "it is necessary to distinguish between a negotiation and extortion."
Kirchner said the hedge funds that had bought bonds after the default, which she referred to as "vulture funds," had paid $48.7 million in 2008. Now they were trying to collect $832 million. "Even organized crime doesn't have a return of 1,608 percent," she said.
Even if Argentina wanted to pay all the bondholders, it would be unable to do so, Kirchner added, saying that it would require more than half of the central bank's reserves. And for elderly pensioners hoping to get closure, time is running out.
Despite their profound disappointment at the way their government has handled its obligations to the bondholders, Lavorato and Corral speak of their devotion for Argentina. "I love my country profoundly. I love it, I love it so much. I have had a very good life," said Lavorato.
At this point, Lavorato is tired of the fight and says she is willing to settle for a fraction of her investment. If she does, Lavorato says, she will give the money to her siblings' children and to her church.
"I am very afraid of dying and not collecting," she said.
Correction: An earlier version of this article mispelled Norma Lavorato's name.