Retiring GOP Lawmaker Warns Trump Will Try 'Steal' 2024 Election: We Must 'Stop Him'
Rep. Anthony Gonzalez, a retiring Ohio Republican, warned that former President Donald Trump will claim voter fraud and try to subvert the election results again if he loses the 2024 presidential election.
Trump has not officially announced a bid for 2024, although he has repeatedly teased a return to the White House since leaving office earlier this year.
In a new CNN documentary, titled Trumping Democracy: An American Coup, Gonzalez discussed the possibility of the former Republican president running for the White House in 2024 and securing the party's nomination.
"I think it's all pushing towards one of two outcomes: He either wins legitimately, which he may do, or if he loses again, you just try to steal it," Gonzalez said. "Should he be the nominee, or should he run again, I'll do everything I can to stop him."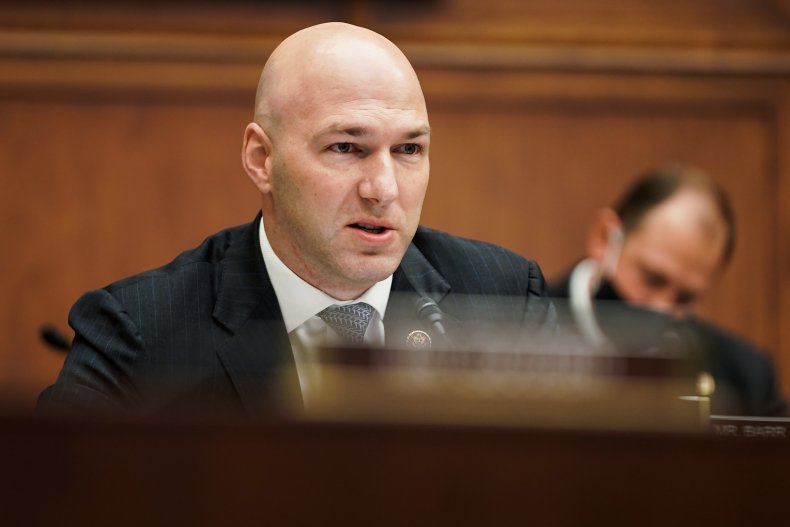 "Can I stop him? I have no idea. But I believe as a citizen of this country who loves this country and respects the Constitution, that's my responsibility," he added.
Gonzalez, who was among the 10 House Republicans to cross party lines and vote for Trump's impeachment in January, announced that he would not seek reelection in the 2022 midterm elections. In retiring, the congressman will avoid a face off against a pro-Trump candidate in the party's primary in his state.
Following the impeachment vote, Trump embarked on a revenge campaign, vowing to oust any Republican lawmaker who stood against his attempt to overturn his 2020 election loss to President Joe Biden.
Trump has also targeted the nine other House Republicans who voted to impeach him and seven Senate Republicans who voted to convict him for allegedly inciting the January 6 Capitol riot.
"January 6 was an unconstitutional attempt led by the President of the United States to overturn an American election and reinstall himself in power illegitimately. That's fallen nation territory, that's third world country territory. My family left Cuba to avoid that fate. I will not let it happen here," Gonzalez said.
The lawmaker indicated that Trump has been attempting to remove dissidents in the GOP to clear the way for his return to the White House in 2024.
"He's going methodically state by state at races from, you know, state Senate races all the way down to county commissioner races trying to get the people who―the Republicans, the RINOs, in his words―who stopped this, who stopped him from stealing the election," he said.
Newsweek reached out to Trump representatives for comment.