The Return of the Speakeasy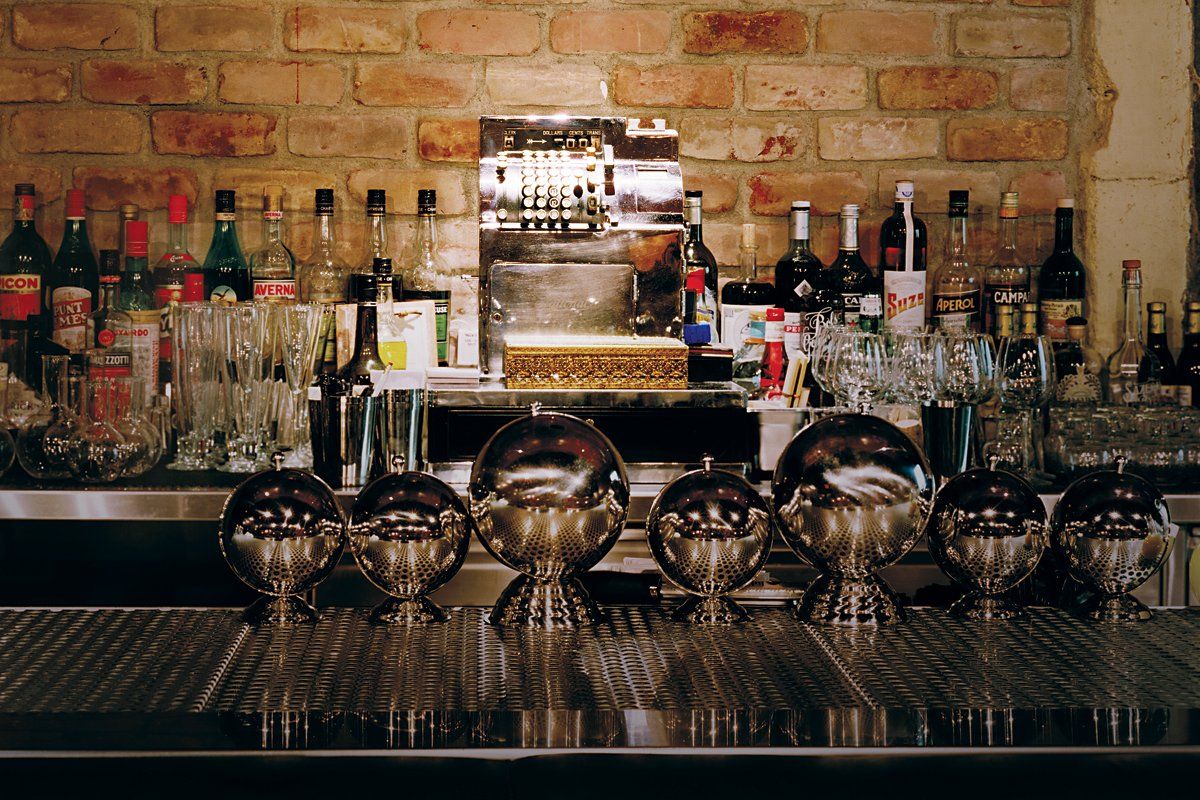 Inside a small San Francisco bar, patrons talk quietly in dimly lit wooden booths, their drinks perched on scorched glass tables. Bluegrass music plays from speakers as waitresses move leisurely from table to table. Looking through the 42-page drink menu, customers can debate ordering a whisky flight, a classic cocktail, or one of the bartenders' designed drinks. Among the most popular: the Laphroaig Project, a throwback concoction of Scotch, bitters, maraschino, and Chartreuse. The bartenders take their sweet time; a mint julep took 15 minutes to prepare. But when it arrived in a proper pewter cup, heavy with ice and perfectly crafted, it became clear why people were willing to wait.
The whole scene seems somehow set back in time, and that nostalgia is exactly the feel that Bourbon & Branch is going for.
The Jones Street establishment is one of San Francisco's modern-day "speakeasies," bars nestled into the city's side streets where passwords are required and patrons' voices must stay low. They hark back to 1920s and '30s America, when liquor was illegal and the economy even more turbulent than it is today. Located on a nondescript street in the Tenderloin neighborhood of San Francisco, the only hint of Bourbon & Branch's existence is a tongue-in-cheek sign on the wall reading ANTI-SALOON LEAGUE. A buzzer next to an unmarked door prompts a hostess to open up and request a password—necessary for entry into the darkened room. (An online reservation is all that's needed to receive a password.)
For a bar with a 1920s theme, Bourbon & Branch commands a young crowd. Whether inspired by the drinks, or some thrill-seeking chance to relive days when a whisky sour could land you in the clink, young people are coming out in droves. On a recent Wednesday night, there wasn't a person in the bar older than 35. "It's a scene," says Thomas Bendon, a 25-year-old teacher in the city. He attributes their sudden popularity to the recent defeat of Proposition 19, California's proposal to decriminalize marijuana. "Maybe with the whole Prop 19 thing, young people are looking for a way to get their illegal kicks," he says.
Bourbon & Branch has plenty of competition. For whatever reason, San Franciscans can't seem to get enough of the trend. Like Bourbon & Branch, Slide Bar (430 Mason Street) boasts a Web site and marketing campaign—modern updates on the speakeasy that welcome anyone who can make a reservation. Others, like Vortex Room (1082 Howard Street), operate along more traditional speakeasy lines—you really do need to know someone to get in, and they shun any and all press coverage; word is spread purely through rumors and hearsay.
Speakeasies aren't limited to San Francisco, either. From the Varnish Bar in Los Angeles to Dutch Kills in New York and the Gibson in Washington, D.C., bars are turning the lights down, welcoming select patrons, and insisting that everyone do speak easy. Often they create lavish signature drinks; the Varnish serves the stunning Marigold Ofrenda, which resembles a margarita (tequila, lime juice, and triple sec) mixed with agave nectar, chopped cantaloupe, chile powder, and an edible marigold. Dutch Kills' Clockwork Oranje blends orange vodka, fresh lemon juice, and white crème de cacao.
Despite the creative cocktails, not everyone is so enamored of the speakeasy trend. Critics insist that the passwords required at the door are a sign of exclusivity; others find fault with the general attitude the bars adopt on what kind of drinks are acceptable. (On the menu at Bourbon & Branch patrons are warned to not even "think about ordering a Cosmo.") Attitude or not, the bars are doing brisk business, filled with people eager for a well-made drink and a brief trip through time.