Reunited: Six-year-old Girl Finally Back With Family After Being Separated by Trump's Border Policy
A father from El Salvador who was separated from his 6-year-old daughter by officials after they crossed the U.S.-Mexico border has been reunited with her after more than a month.
Arnovis Guidos Portillo had only occasionally been able to talk to his daughter, Meybelin, by telephone after they were separated at a detention center in McAllen, Texas, on May 27, a result of the "zero-tolerance" immigration policy imposed by the Trump administration.
For more than three weeks, the 26-year-old father had no idea where his daughter was. He only found out after he'd been deported back to El Salvador on June 21.
As reported by Reuters, Portillo and Meybelin have now been reunited after the girl was flown to the Monseñor Óscar Arnulfo Romero International Airport in San Luis Talpa, El Salvador, on June 28.
According to reports, Maybelin had spent the past month at a detention center in Phoenix after she'd been separated form her father in Texas.
News of Portillo's plight gained worldwide attention in the midst of the outcry over the "zero tolerance" policy, which has seen more than 2,000 migrant children separated from their families and placed into detention centers.
President Donald Trump signed an executive order on June 20 to end the separation of migrant families at the border, although it's unclear when the children who have already been placed in the centers will be reunited with their parents.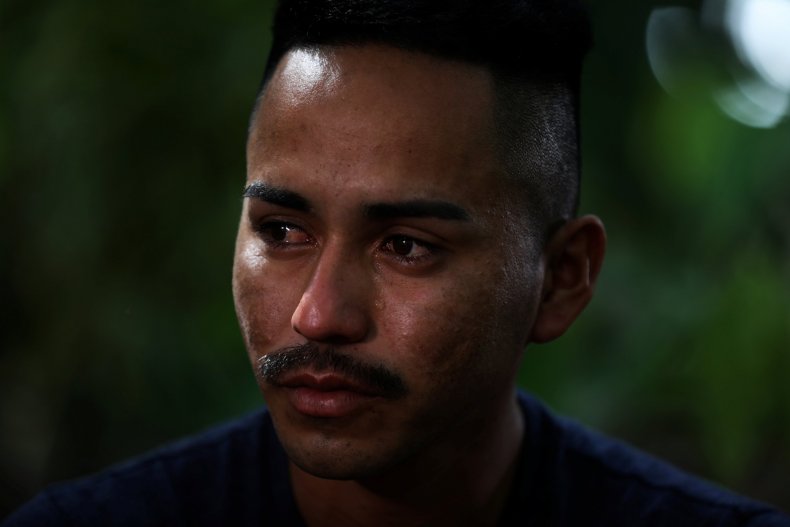 During a phone call with her father on June 24, reported by the Guardian, Meybelin said, in answer to her father's questions, that she had not been given schoolwork, gone to church, or seen a doctor during her time in the detention center.
"Do you have any friends there?" Portillo asked.
"Just one," she replied.
"Are there a lot of kids with you?"
"Yes."
"Are there toys?"
"No."
"Meybelin, I love you."
"Me too," she added.
Portillo, a single father, and his daughter fled their home nation on May 18 to escape the gang violence that plagues El Salvador—a country with one of the highest murder rates in the world.
"I always went to work with the fear I wouldn't come back," Portillo told the Guardian. "The gangs are fighting for territory here. I can't walk along the street alone for longer than 10 minutes—they'd kill me."
While he was still separated from his daughter, Portillo said he regretted attempting to cross the border with her.
"I would advise anyone who wants to travel to the United States with their children not to do it," he told The Washington Post. "I would never want them to have to walk in my shoes."