Rev. Al Sharpton Praying for Ambushed L.A. Police Officers in 'Same Prayer' as Jacob Blake and George Floyd's Family
Reverend Al Sharpton said he is praying for the two Los Angeles police officers who were shot in a Saturday ambush in the "same prayer" used for Jacob Blake and the family of George Floyd.
"Let me be real clear. I pray for the lives of those two officers just like I pray for Jacob Blake, who was shot in the back seven times in Kenosha, Wisconsin, and I pray for the family of George Floyd, and I pray for all of them in the same prayer," he told MSNBC on Monday.
"I don't have separate prayers for police victims and for police that are victimized," the civil rights activist added.
Two deputies from the Los Angeles County Sheriff's Department were shot and critically injured over the weekend in Compton after a suspect approached their vehicle from behind, opening fire on the officers as he walked by and hitting them both. The department is offering a $100,000 reward for information leading to the arrest and conviction of the suspect.
The hospital where the two officers were being treated was under heavy police protection as the site became a scene of protests where demonstrators shouted anti-police slogans.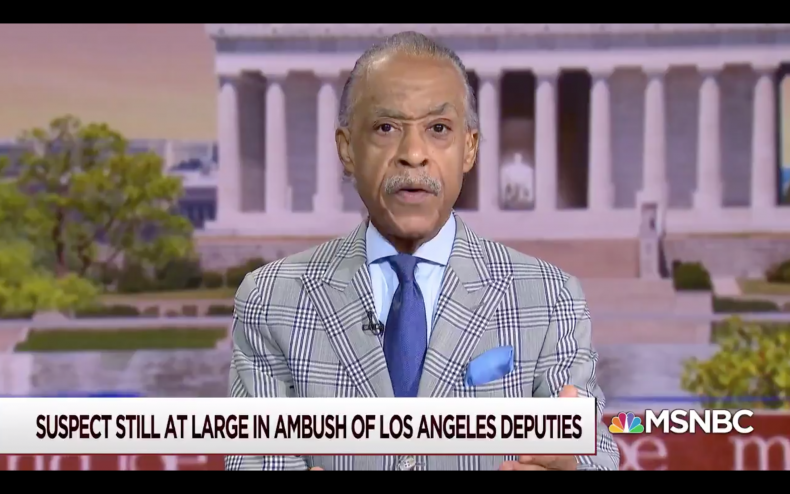 Sharpton, who founded the nonprofit National Action Network, said aligning the incident with the Black Lives Matter movement and months-long protests that have flooded streets across the nation is "extreme from our position." He said he believes the rhetoric may be planted to hurt the movement.
"We are there saying that police should not be wrongfully shooting or killing civilians, particularly in the Black community," he said. "And for people to try to associate us with murder and ambushing and death is doing more to hurt the cause than anything else."
"The same prayer that we stop this senseless violence and this senseless lawlessness, this is where we must be," Sharpton added. "This is the Dr. King tradition."
According to the organization's website, the National Action Network "works within the spirit and tradition of Dr. Martin Luther King, Jr. to promote a modern civil rights agenda."
George Floyd's death on May 25 was a tipping point in the Black Lives Matter movement. His death, which occurred after a Minneapolis police officer knelt on his neck for nearly nine minutes, launched a national reckoning with the country's racial injustice.
After protesters had demanded an end to police brutality for nearly three months, on August 23 Jacob Blake was shot seven times in the back by police in Kenosha, Wisconsin. The incident ignited another wave of demonstrations that resulted in the death of two protesters in Kenosha, after a 17-year-old Kyle Rittenhouse opened fire on the crowd.
The families of both Floyd and Blake are being represented by civil rights attorney Ben Crump.
Newsweek reached out to Crump and the family of George Floyd for comment but did not hear back before publication.