Rev. Al Sharpton to Speak at Funeral of 14-Year-Old Killed by Officer's Stray Bullet
Civil rights leader Reverend Al Sharpton will officiate and deliver the eulogy at the funeral for Valentina Orellana-Peralta, a 14-year-old who was killed when a Los Angeles police officer opened fire on a suspect in a clothing store last month.
The National Action Network, a New York-based civil rights group headed by Sharpton, announced on Twitter Wednesday that the funeral for the slain teen will be held on Monday at the City of Refuge Church in Gardena, California.
"The funeral comes in the wake of community outrage over the shooting," the network said in its tweet.
Orellana-Peralta was in a dressing room at a Burlington store in North Hollywood trying on dresses for her quinceañera when she was struck in the chest by a bullet. At the time, police were responding to a call of an assault with a deadly weapon and were targeting 24-year-old suspect Daniel Elena Lopez, who was also fatally shot. Police said they were unaware that Orellana-Peralta was in the dressing room.
Calling Orellana-Peralta's death "tragic and devastating," Los Angeles Police Department (LAPD) Chief Michel Moore has promised a "thorough, complete and transparent investigation" into what happened.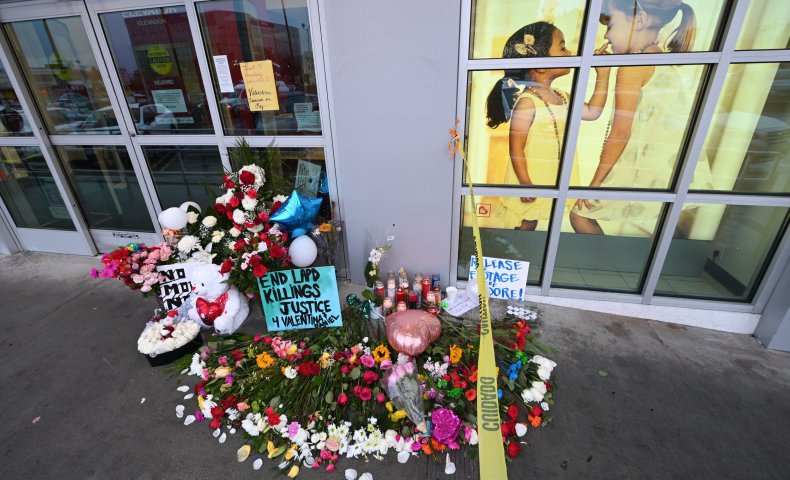 Orellana-Peralta had traveled with her mother a month before from Santiago, Chile, according to a GoFundMe page that's raised ​​$74,217 from nearly 2,000 donations.
The shooting has sparked outcry and calls for police reform.
Ben Crump, a high-profile civil rights attorney, is representing Juan Pablo Orellana Larenas, the father of the slain teenager. Crump, who is also scheduled to speak at next week's funeral, has taken to Twitter to criticize police, saying "her death was preventable!"
"We must breathe new life into the fight to CHANGE community policing in America," Crump said on Twitter Monday. "14-year-old Valentina Orellana-Peralta & countless others have lost their lives at the hands of excessive police force."
Crump, who represented the families of George Floyd and Breonna Taylor who were also killed by police, also asked the International Association of Chiefs of Police and Fraternal Order of Police, two national policing groups, to "partner with us on meaningful police reform."
Tom Saggau, a spokesman for the officers union Los Angeles Police Protective League, told Newsweek that while the union hasn't been in touch with either Sharpton or Crump, it's open to dialogue.
"It's interesting that these gentlemen will come in after a tragedy and call for reforms," he said. "I never see any meat on the bones. We will sit and talk with anyone on how to improve policing, and we've demonstrated that."
He said California–particularly Los Angeles, San Francisco and San Jose–have adopted police accountability measures that should serve as a model nationally. The union actively lobbied members of Congress to adopt measures based on California in a police reform bill that ended up stalling last year.
Saggau referred Newsweek to a website outlining the union's support for national policing standards, like improved de-escalation training standards, monitoring of complaints against officers to identify those that need additional training, duty to intervene standards and alternatives to calling 911.
Attorney Rahul Ravipudi is representing Soledad Peralta, the mother of Orellana-Peralta.
Update 01/05/22, 7:10 p.m. ET: This story has been updated to include comment from Tom Saggau of the Los Angeles Police Protective League.