Best and Worst Internet Service Providers in the U.S. Revealed
Americans are becoming increasingly frustrated with their internet service providers, new figures have confirmed.
According to the American Customer Satisfaction Index (ACSI), just 62 percent of U.S. residents are satisfied with their ISP. It represents a two percent drop on the previous year's survey.
ACSI questions around 250,000 consumers each year and quizzes them on all things digital, including:
Internet service provider;
Video streaming service; and
Wireless telephone service.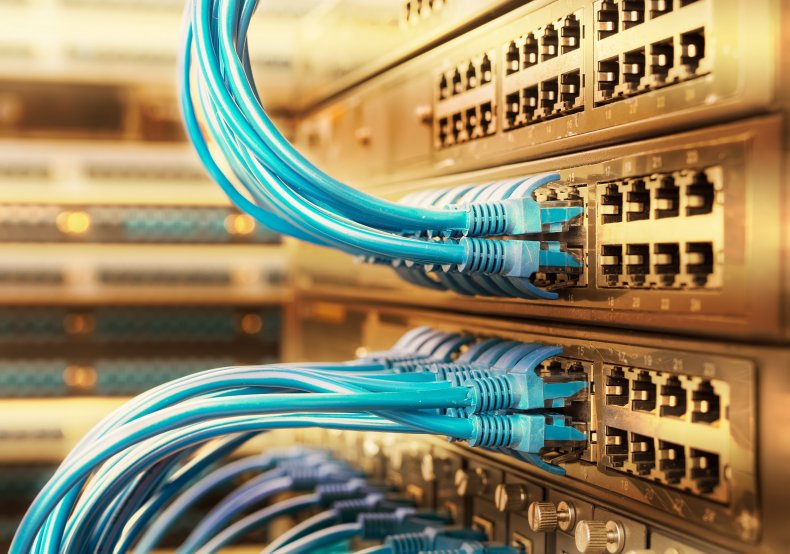 Every one of the 12 major ISPs in the U.S. saw a decrease in consumer satisfaction. The most significant was Mediacom, which fell by 9 percent between 2017 and 2018.
In order of the most satisfied customers (with the score ranking out of 100), the list of ISP rankings:
Fios (Verizon Communications). 70
AT&T Internet. 68
Optimum (Altice USA). 64
All others. 63
Suddenlink (Altice USA). 61
Spectrum (Charter Communications). 60
Xfinity (Comcast). 60
Cox Communications. 59
CenturyLink. 58
Windstream. 56
Frontier Communications. 54
Mediacom. 53
"Internet service providers are down 3.1 percent to 62 percent—an all-time low for the industry that along with subscription TV already had the poorest customer satisfaction among all industries tracked by the ACSI," the report says.
"Customers are unhappy with the high price of poor service, but many households have limited alternatives as more than half of all Americans have only one choice of high speed broadband. Every major ISP deteriorates this year except for Comcast's Xfinity, which is unchanged."
Consumers were asked questions relating to the helpfulness of staff, performance during peak hours, video streaming quality and reliability. Of the 12 categories, the only one to not decrease from 2017 to 2018 was streaming quality (which stayed the same).
Customers were most annoyed with the company's call centers: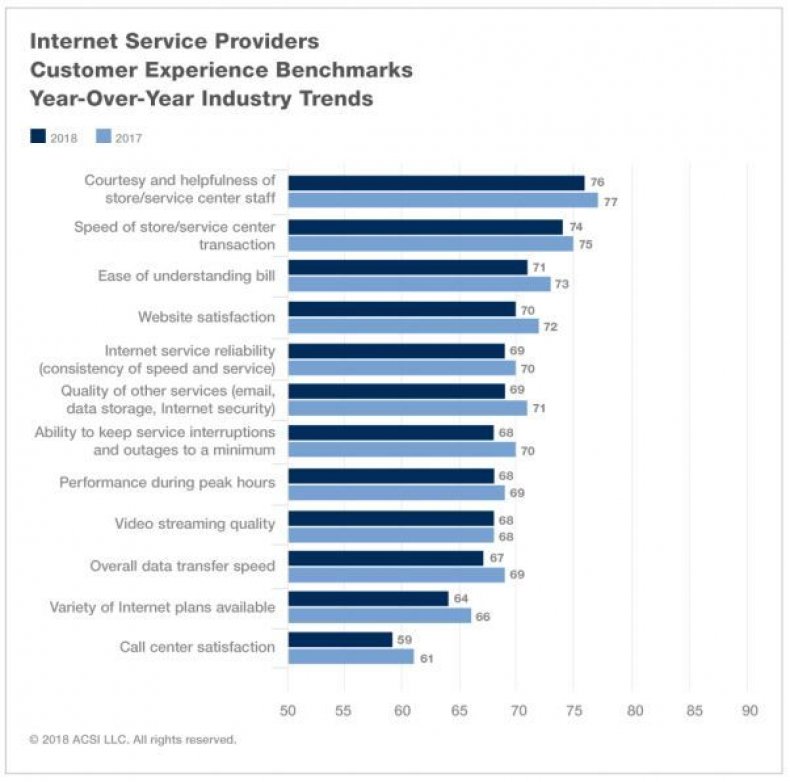 In comparison, consumer satisfaction with wireless telephone service has marginally increased (up by 1.4 percent). Only one carrier went backward in consumer satisfaction—Sprint, from a score of 73 to 70.
"Compared to most industries, the market is quite consolidated, but relative to other telecom industries, wireless customers still have some choice," the report states. "This may change, however, with mergers on the horizon. For now, wireless firms have been competing for customers on price and service, which has boosted customer satisfaction to an all-time high."