In Reversal, Airline Says No Discipline for Flight Crew That Duct Taped Passenger
In a reversal, Frontier Airlines said it would not be disciplining the crew of flight attendants who duct-taped a passenger on a weekend flight after initially suspending the crew.
"Frontier Airlines maintains the utmost value, respect, concern and support for all of our flight attendants, including those who were assaulted on this flight," spokeswoman Jennifer de la Cruz said in a Wednesday statement. "We are supporting the needs of these team members and are working with law enforcement to fully support the prosecution of the passenger involved."
The reversal comes after the airline said the attendants would be "relieved of flying"—a decision that drew sharp criticisms from the union representing Frontier's flight attendants.
Association of Flight Attendants-CWA President Sara Nelson slammed the original suspension for being a "knee-jerk reaction to a short video clip that did not show the full incident."
In response to the reversal, Nelson commended Frontier for "doing the right thing" by standing by the flight crew and placing crew members on paid leave, which the airline says is "in line with an event of this nature."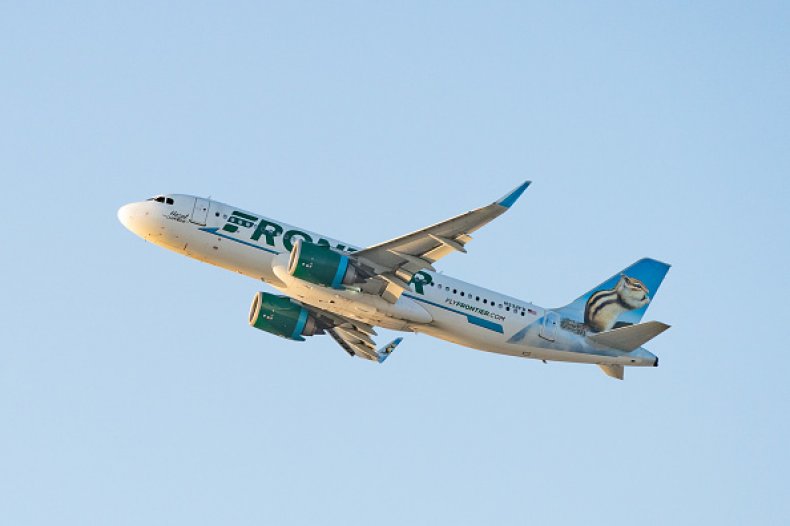 "Thanks to so many people for supporting the work of Flight Attendants and the incredibly difficult jobs crews are charged with doing right now," she wrote on Twitter.
The weekend incident on a flight from Philadelphia to Miami comes as flight attendants around the country experience a surge in unruly passengers.
AFA said that of nearly 5,000 members who responded to a recent union survey, 85 percent reported having experienced an unruly passenger this year and nearly 1 in 5 stated that they encountered a violent passenger.
On Tuesday, the Federal Aviation Administration (FAA) said it has received 100 reports of unruly passengers in the past week, bringing the current annual total to an unprecedented 3,715 incidents.
According to the Miami-Dade Police Department, the passenger on Saturday's Frontier flight reportedly had two drinks, spilled a third on himself, wandered around the cabin shirtless, groped the breasts of two female flight attendants and punched a third.
Authorities identified the man as 22-year-old Maxwell Berry of Norwalk, Ohio. He has been charged with three misdemeanor counts of battery.
According to the police report, flight attendants helped Berry find a shirt and one "asked him several times to calm down and remain seated" before Berry "punched [him] in the face with a closed fist."
As a result, the attendant and "nearby passengers restrained the defendant and had to tape him down to the seat and tie him with a seat belt extender for the remaining flight."
Arresting officers said the matter was referred to the FBI, but the bureau has declined to pursue federal felony charges against Berry.