Review: 'Anything That Gives Off Light': A Scottish Play Brightens the Public Theater as Brexit Nears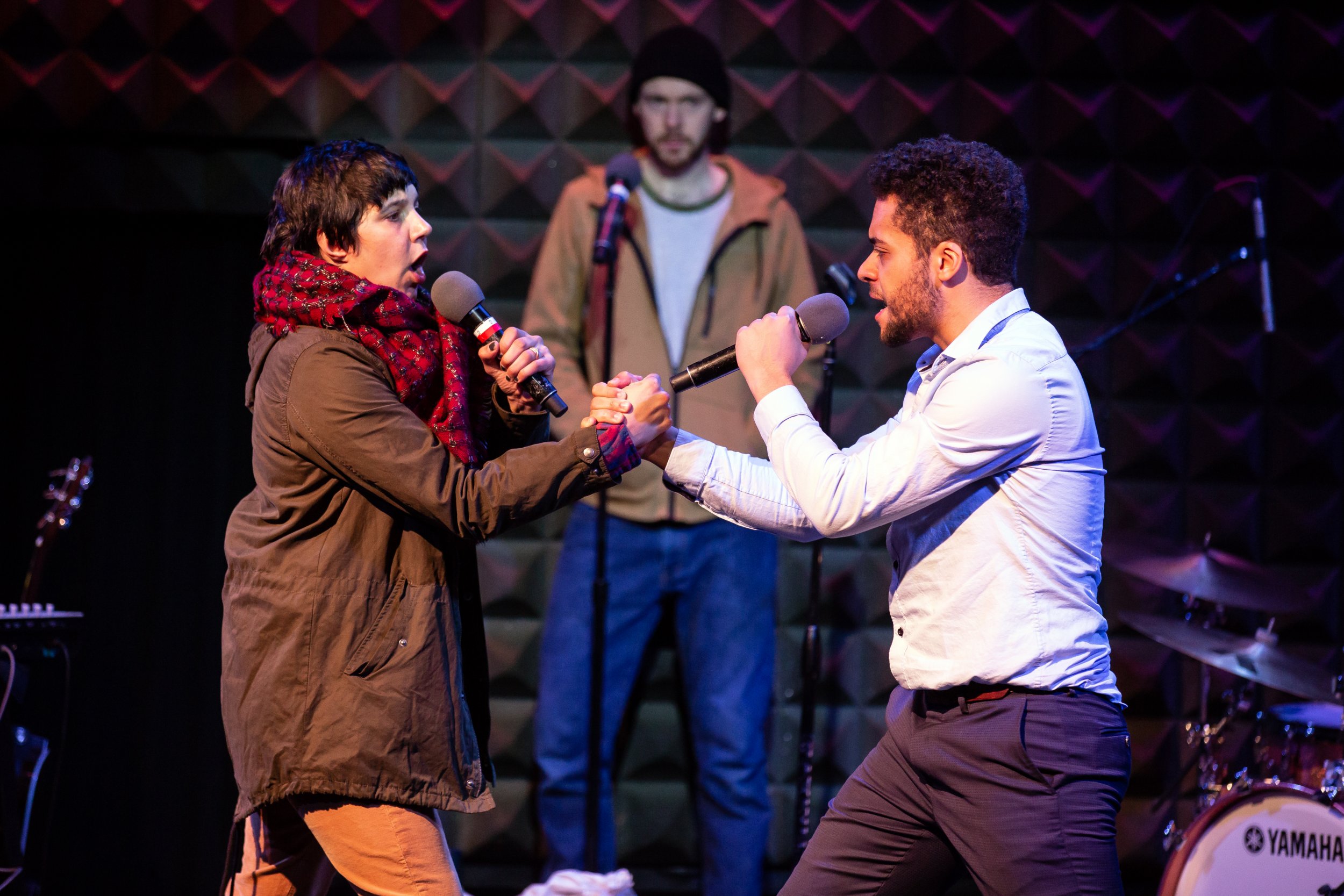 Two Scots and a Yank meet in a London pub. It may sound like the premise for a Borsht Belt—or musical hall, as it were–comedy routine, but it actually is the set-up of Anything That Gives Off Light, a strong and thoughtful play with music now on stage in Joe's Pub at New York's Public Theater.
The two Scots, Brian and Ian, meet Red (played by Jessica Almasy), a West Virginian who may be the only character ever named after the color of her daiquiri, in the Flying Scotsman pub in London. Brian (Reuben Joseph) is a "leaver" having left Scotland, literally and figuratively, for London. Ian (Martin Donaghy) has never left Scotland; he is a "stayer." Between the stayers and leavers is a chasm as deep as the ocean or at least Loch Ness. What does it mean to be Scottish? That is the question.
It is, in fact, the central question of the play, and it has taken on more importance with the eternally approaching Brexit deadline (now March 29—or May 22, but you never know when Brexit is concerned). Often, we are defined by how others view us. In Anything, as it pertains to Scotland at least, that is usually pop culture—kilts, movies and television (specifically Braveheart and Outlander)and more kilts—and maybe a little Robert Burns and Bonnie Prince Charlie, who I am told is really just a character in Outlander.
Back to the matter at hand: how to deal with Gran's ashes. Tossing them in the Thames or anywhere in London will never do. And since Red is on her way to Scotland anyway, the answer is clear: a road trip to Glasgow. They see sights and scenery and a few places in Outlander. In one scene where time and place get "a little frayed," they take a side trip to West Virginia in the 1770s. At this point, their journey gets strange and occasionally a little confusing—there could be more exposition for American audiences—but it is nonetheless very rewarding. This becomes a much a migration of the mind as it is of the body, where self-knowledge and the light of enlightenment is the goal.
As for the production, performing in Joe's Pub yields mixed results. When the characters are in the Flying Scotsman, it is akin to immersive theater and very engaging; when they venture out on the road trip, real and imaginary, it is a little distancing. In a more traditional—i.e., proscenium arch–like—setting, with a little scenery or projections to guide us over the rough patches, this would probably not be any problem at all; here is where more exposition would be welcome.
Rachel Chavkin, who is also directing Hadestown on Broadway, has a much simpler, or at least compact task here: three actors, three musicians, a couple of props and no scenery. She keeps the focus on the characters, their stories and their songs.
Anything That Gives Off Light—a co-production with the National Theatre of Scotland and Edinburgh International Festival and the TEAM, which is based in Brooklyn, New York—has made a long journey from the U.K. through Kentucky and Virginia, and it shows: The ensemble works extremely together seamlessly, playing multiple parts—often jumping back and forth between characters. The songs, mostly bluegrass and I think some Scottish folk–influenced music, are genuinely affecting and not the type normally heard in New York theater—that alone makes it worth the trip to Lafayette Street. These elements all combine to create an ambiance, a taste of and for Scotland and Scottishness that likely to be matched only by Forfar bridies, meat pies and very buttery shortbread.
Anything That Gives Off Light is playing at Joe's Pub through March 30—the day after Brexit (is scheduled to happen, well one of the days it is scheduled to happen.). For more information go to PublicTheater.org.