Review: Ezviz C3X Outdoor Smart Wi-Fi Surveillance Camera
The Ezviz C3X is an internet-connected surveillance camera offering color night vision and artificial intelligence-led "human shape detection," but does it do enough to earn a place on your front porch—and can it be trusted?
Available for $130, the C3X wins points for its looks and ease-of-use, offering a simple setup and an intuitive app that's used to control most aspects of the device.
About the size of a tennis ball and sort of resembling the droid that pops out from Jabba the Hutt's palace at the start of The Return of the Jedi, the C3X is pitched as a high-tech porch protector, in a similar vein to the products from Amazon's Ring division.
Out of the box, the metallic casing gives off a pretty premium vibe. With the main body coated in white and the front section black, the only other splash of color is a silver strip that circles the body. On the sides are two Wi-Fi antennas, while the rear hosts a power cable and an optional ethernet port. It weighs 0.94 lb (425g) and has an IP67 waterproof rating, very much required to withstand the elements when fixed outdoors.
On the bottom of the camera is a panel that includes a reset button and a storage slot for a microSD card of up to 256GB—helpful to store footage locally.
The C3X comes with the screws and installation bits and bobs needed, and the process to fit it to a wall is straightforward, although not as accessible as smaller battery powered or self-standing cameras as it requires some DIY, possibly even a power tool.
It should be stressed, this is not a device for anyone who needs a portable camera as it requires the power cable to be fed into a home plug socket to operate.
Once the device is fitted, however, the process is streamlined, with users being asked to download and sign up for the Ezviz mobile app, scan a QR code that can be found on the side of the mount and follow the steps to connect to the home's Wi-Fi.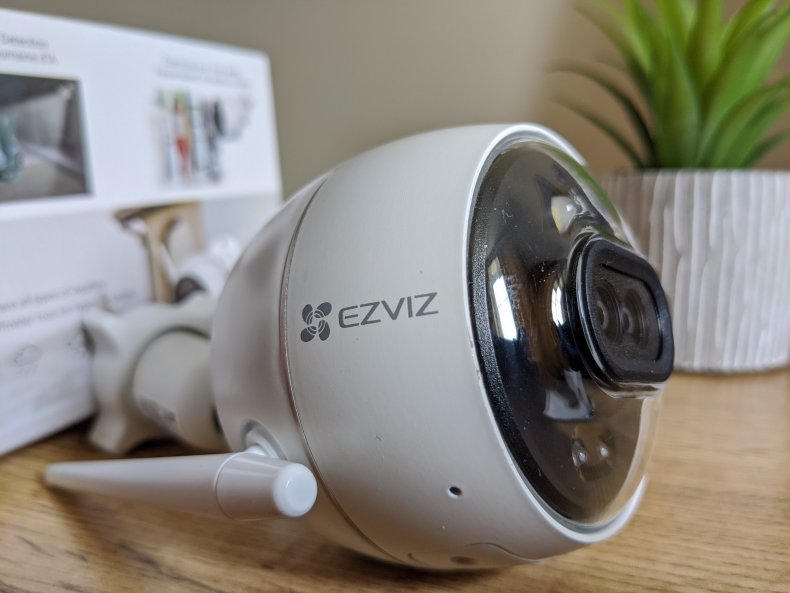 In testing by Newsweek, the C3X camera performed well in a variety of light conditions and the feed remained responsive when viewed in real-time via the app. It uses a dual lens setup, one recording ambient brightness and the other capturing color data, with the two images then merged to produce a picture that maintains solid quality.
The camera is able to take 1080p video at 25 frames-per-second (fps), backed up with a slew of customizable alert notifications, audio warnings and strobe lighting.
Using the app as a control, users are able to view a live feed of what the camera lenses are seeing in either high definition or ultra-HD. A panel underneath can be used to blare an alarm, open the microphone to start a two-way audio chat or take screenshots/video logs of the feed, both of which will be saved directly to your smartphone.
Most of the best customization options were found in the alarm notifications settings, which lets you enable both human and vehicle shape detection.
In one test, I walked in front of the camera lenses and they quickly registered my shape, blaring: "Secure area, please leave as soon as possible" while flashing a bright light in my eyes until I moved away from its sightline. I quickly found the enabled alert was set to "intense" mode. One seemingly less-aggressive sound was a "soft warning tone" but in reality emitted a very sharp beep that was somehow even more jolting.
In a section on the app that stores the alerts, users can scroll through a slideshow of the captured images to playback a clip, identifying any culprits who came too close.
Of course you may not want it to frighten every passerby. The motion detection options can be used to define specific areas in the camera's sightline that it should be focusing on. If the C3X registers movement in that area, notifications can be programmed to pop up in almost real time. It also supports Google Assistant and Alexa voice control.
Overall, the app layout is intuitive and easy to navigate, although an advert urging me to use Ezviz's CloudPlay subscription storage service quickly became annoying. If that is something that interests you the pricing structures are available online here.
If you're in the market for an alternative for Ring's suite of home surveillance systems and require an outdoor guardian, the C3X has a lot to offer. However, this is 2020, and there are other factors in play that instantly make it harder to recommend.
For privacy-minded users in the U.S., a point of contention could be Ezviz itself, which despite making little mention of it on its website is a subsidiary of Hikvision, a Chinese surveillance giant that's partially state-owned and works on government projects.
Hikvision was placed on a U.S. trade blacklist in October last year after U.S. officials alleged it was one of 28 Chinese firms that were "implicated in human rights violations and abuses in China's campaign targeting Uighurs and other predominantly Muslim ethnic minorities in the Xinjiang Uighur Autonomous Region (XUAR)."
According to the commerce department, the entities played a role in "China's campaign of repression, mass arbitrary detention and high-technology surveillance."
In an official letter last March, a bipartisan group of members of Congress raised similar concerns that U.S. firms could be "contributing to Beijing's persecution of Uyghurs through their support or commercial ties to Hikvision and Dahua—two Chinese tech giants that have profited from the surge of security spending in Xinjiang."
The South China Morning Post has reported Ezviz's parent firm has been a supplier on "hundreds" of state surveillance projects in multiple cities. China is now well-known for pioneering the use of AI and facial recognition to monitor its population.
While mentions of its ownership are seemingly played down, one Ezviz YouTube channel notes it's based in California as a "residentially focused subsidiary of Hikvision."
With home security devices, there's always a degree of trust needed, a relationship that can quickly evaporate if the products are breached or tampered with—as has happened to many internet-connected home security products in the past, including Ring's.
There's no technical evidence to suggest that the C3X is a security risk, but when you're inviting an all-seeing eye into your personal space, it's something to consider.
On a product level alone, the C3X works well and easily matches expectations. In 2020, especially for tech that is dedicated to surveillance, that may no longer be enough.