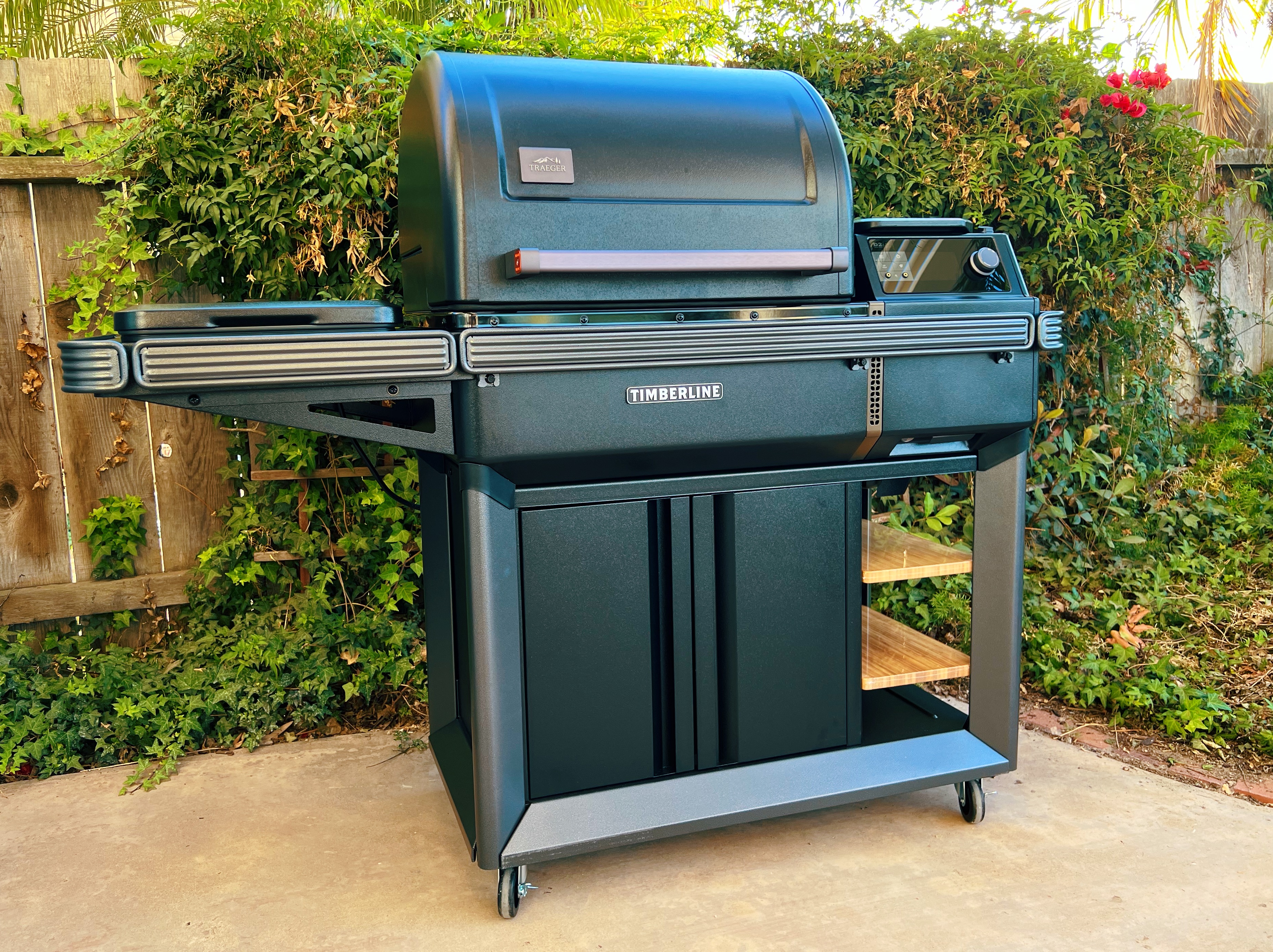 The all-new Traeger Timberline wood pellet grill (also available in a larger Timberline XL version) redefines the outdoor cooking experience. For charcoal or gas cooking enthusiasts, that might sound a bit hyperbolic, but the new Timberline addresses pain points of all types of grilling, not just those associated with wood pellets. The temperature gets hotter faster while staying consistent the entire time. Cleanup has also been overhauled to be more simplistic and—dare I say?—enjoyable. The Traeger Timberline might be the perfect outdoor kitchen. I don't mean only for people barbecuing, either. With an induction cooktop now connected to the Timberline, the grill is even more versatile.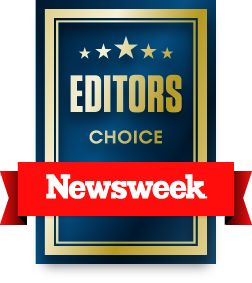 While this Traeger grill is great, it's an aspirational product and it's priced like one. The smaller of the two models, the one I reviewed, has 880 square inches of cooking surface and retails for $3,499. The cooking surface of the XL model has 1,320 square inches and costs $3,799. (The size is the only difference between the two.) The good news is that the features and advancements here will make their way down to less expensive Traeger grills at some point in the future.
I made a few meals to experience the new features firsthand and to compare the grill to last year's Ironwood 885. I wanted to get a sense of which improvements were critical and which were more superfluous. Is this product worth splurging on, or should you wait for a more affordable model down the road?
TL;DR
Pros:
EZ-Clean system is truly helpful
The Timberline can cook eight racks of ribs at once, and the XL can do even more
Cons:
The price is prohibitive for a lot of people
A Wi-Fi glitch upon setup was frustrating
Buy at Traeger.
The Best New Features of the Timberline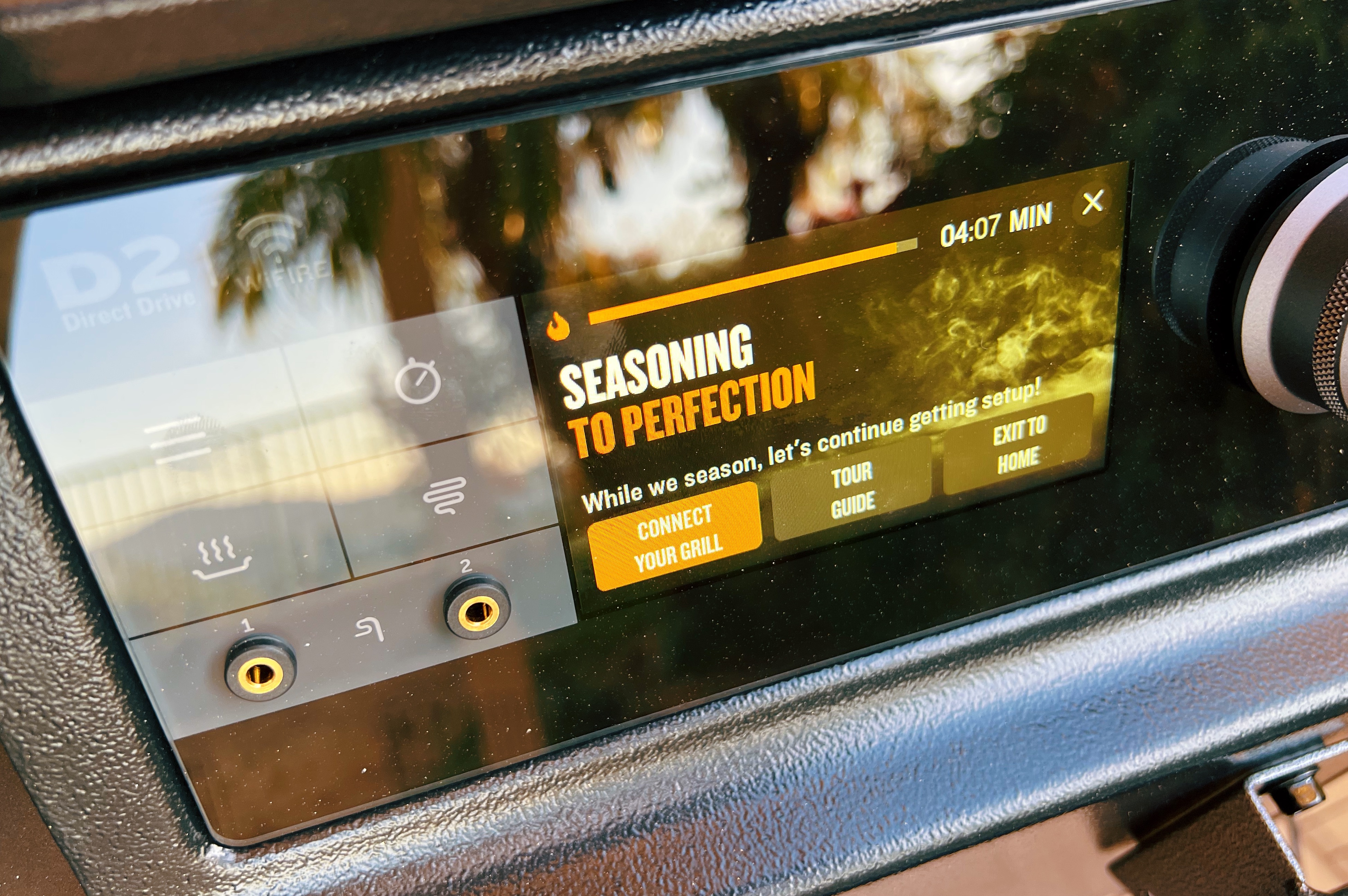 It's hard to point to a part of the Timberline grill that hasn't been touched. Even some of the more minor items like how accessories attach to it or how you change the wood pellets have been revamped.
Without being exhaustive, I think it's the new little touches that I enjoyed the most. There's an automatic light that turns on when the grill lid is opened. There's a pull lever that empties pellets from the hopper directly underneath it—rather than a trap door from the back. And a plastic bin can fit underneath the hopper to save unused pellets for later. The increased speed of changing wood pellets promotes experimenting with how different wood types pair with different meats. In contrast, on last year's Ironwood 885, it was kind of a pain to empty the hopper completely.
The color touchscreen is a new feature that I didn't know I had wanted until I used it. The Ironwood 885 has a monochrome screen with a twist dial to change settings. It was fine for temperature control. This new color touchscreen is a much nicer experience, however. Settings are easier to access and manipulate. It makes connecting accessories wirelessly simpler, too.
There are bigger features like the EZ-Clean system and the induction cooktop that I'll address shortly. The smaller changes, however, including the rail around the edge for the Pop-and-Lock accessories, make the grill a real treat to use. They're the icing on the cake if you do eventually take the plunge.
Timberline Setup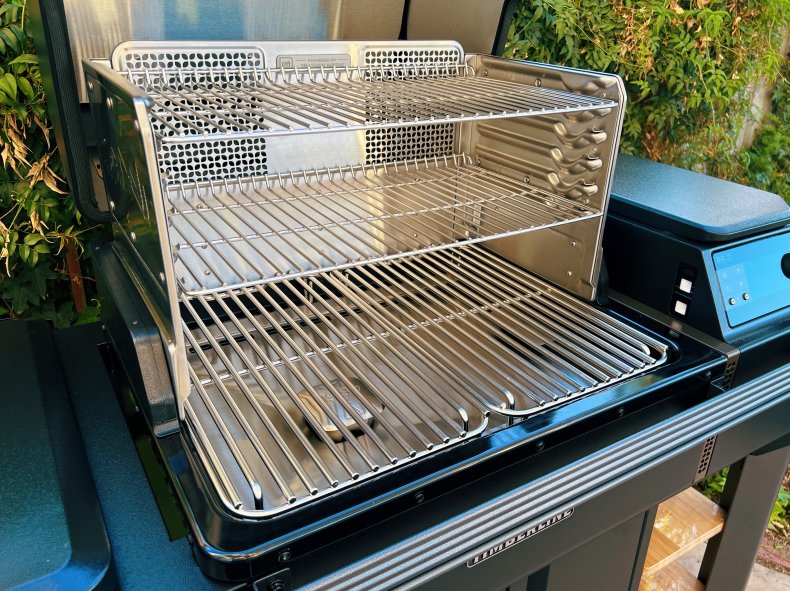 The new Timberline's price might be out of reach, but the grill is very easy to use and accessible for people of all cooking skill levels, even if it's their first time. Part of that is the experience the color touchscreen provides. It walked me through connecting it to the Traeger mobile app and a first seasoning burn.
I did have trouble connecting the grill to my Wi-Fi network. This added 20 minutes to the process, but eventually I got it connected. The grill did a software update later that hopefully will keep issues like that from cropping up in the future.
This new Timberline grill is not only friendlier to set up on the technology side, but unboxing it was straightforward, as well. You'll need two people to lay the grill on its back to screw on the wheels and then stand it up again, but otherwise, it should only take one person about 30 minutes of casual work to attach the rail system and induction cooktop.
Cooking on the Timberline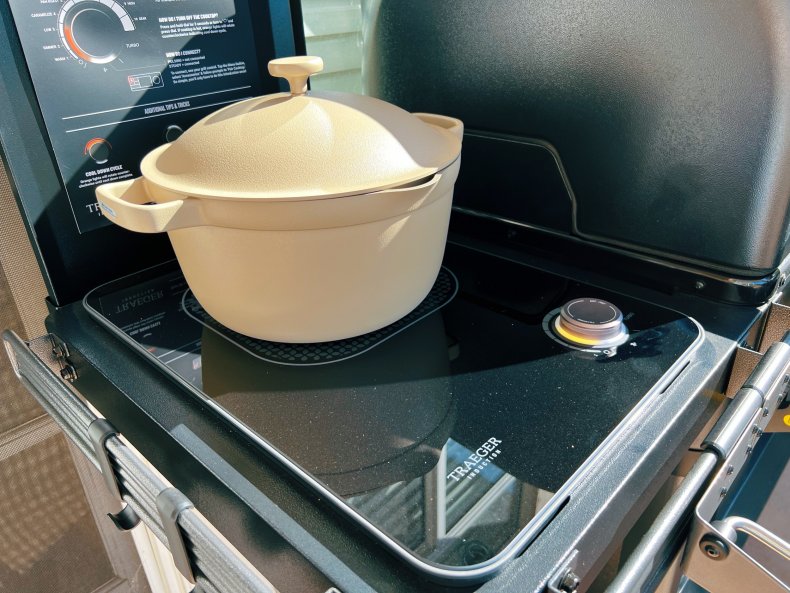 When you lift the lid on the Timberline, it's immediately clear that there is a lot of space for barbecuing. There are two adjustable racks above the grill grates—three levels for cooking. This new Timberline I tested actually has 5 fewer inches of grill area than the Ironwood 885, but with its three available levels for cooking food, along with its square (versus rectangular) layout, the new Timberline felt better optimized for space.
The first meal I fired up was three New York steaks, along with baby potatoes and baked beans with bacon. It was capable of serving six to nine people, and the grill felt only half full. Everything cooked evenly and at the expected speed. The steaks spent about an hour at 225 degrees before getting seared for a few minutes on each side at 450 degrees.
I enjoyed the new touchscreen. The Traeger mobile app is a master class in providing a lot of information in a minimal amount of space. The grilling interface carries a simple design with squares and rectangles, but I liked how easy it is to glance at the information. In addition to grill temperature and a timer, there's also information about remaining wood pellets, probe temperature and the induction cooktop, when it's turned on. The mobile app is a key component of cooking on WiFire-equipped Traeger grills, and this new Timberline is no exception.
Cooking burgers on this grill was straightforward and easy, too. I decided to use the induction cooktop at the same time to make a side dish and was thrilled at how nicely these two appliances complement each other. It's tough to say how much I'd use the cooktop in the long run, but it's certainly a bonus feature when you do need it. As a side note, the cooktop will check the material of the pot or pan being used and won't start if it's not safe to use.
Improved Cleanup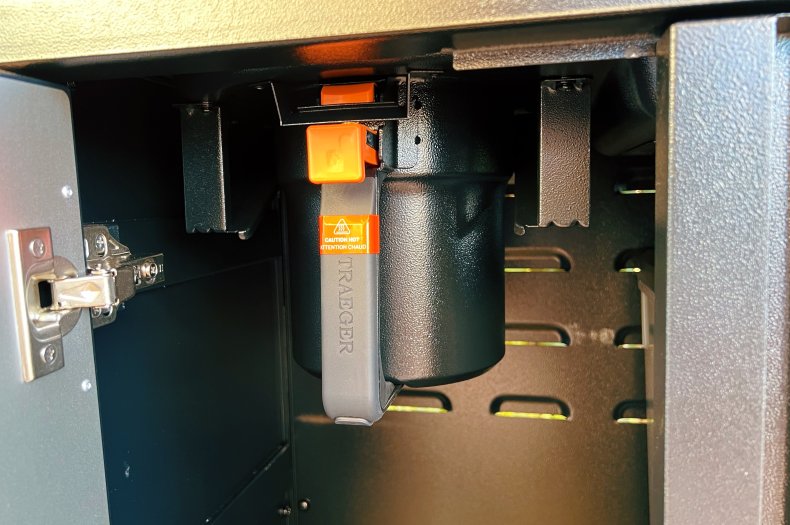 One of the signature looks of a wood pellet grill is a grease bucket dangling from the side somewhere. That's no longer the case with the new Timberline. The bucket meant for collecting meat grease is now tucked under the grill inside the cabinets. The bucket now also collects ash, as well.
There are at least a few problems that are fixed by this new EZ-Clean system. First, putting the bucket underneath, behind doors and locked in place, means that it's almost impossible to spill the bucket of grease accidentally. Before, that was feasible, and I experienced firsthand how hard that could be. Second, even if you were using a foil liner in your grease bucket so that you could toss it out with little mess, it still was not collecting ash. Long, slow burns meant a lot of mess to vacuum out later. That's also no longer the case.
As I was assembling the Timberline grill, I was able to see the layers involved with this cleaning method. It's a series of drails and funnels that pipes everything to a central location. The belly of the beast is also very easy to access if the internals ever need cleaning. I don't know if that will be the case, but it seems to be a smart system that will keep ownership enjoyable down the road, even if minor maintenance is needed.
Should You Buy the New Traeger Timberline?
If you're eyeing a new grill, of any kind, the new Traeger Timberline should be on your list. A wood pellet grill may be ideal for cooking certain meats, but it can also handle any type of food. This Timberline is an investment, but I think it delivers enough value to be a worthy purchase for those whose budgets allow for it.
Even if the Timberline isn't obtainable now, the grill is still exciting because it provides a look at where the company is heading. Traeger is aiming to make outdoor cooking accessible to people of all skill levels and to remove the work from maintaining a grill. I don't know what form new products from the company will take on, but it's clear this Timberline is a beacon for the future, and Traeger is taking wood pellet grills in a great direction.
Buy at Traeger, from $3,499.
Newsweek may earn a commission from links on this page, but we only recommend products we back. We participate in various affiliate marketing programs, which means we may get paid commissions on editorially chosen products purchased through our links to retailer sites.