The Tesvor S6 is a competitively priced smart vacuum that scoops up dirt, dust and hair with ease—a robot assistant to help with daily chores.
While it's unlikely to completely replace your traditional cleaning setup, it could save you some effort during this new normal of 2020, when COVID-19 lockdowns mean there's a real chance you will be spending more time indoors than ever before.
For a price tag of around $300 (retailers vary) the S6 is one of the most recent vacuums from a Chinese brand that lacks the name recognition of rivals like Roomba but offers premium features, including laser navigation, room-mapping and app control.
For anyone unfamiliar with the technology, robot vacuums are typically circular-bodied smart devices that autonomously sweep up the floors of your house or apartment.
In theory, they will supplement your hoovering chores with short bursts of self-driving activity, leaving you with time to do anything but hoovering—always a plus.
The best devices—some costing over $1,000—don't just eat up dirt, they offer a variety of smart features such as app support, voice control and room-scanning capabilities. The less-great may have lackluster suction, smaller dust bins and poor battery life.
It's a niche-but-busy space, and an increasing amount of affordable options are on the market. Newsweek tested out the S6 inside an apartment setting—mostly carpet and vinyl—to find out its pros, cons and if it deserves a place in your home.
Out of the box, it looks similar to what you envision a smart robot vacuum cleaner to be: a circular body with two brushes and suction fans underneath. But it does feel premium, and it has a really solid build that will easily withstand a few bumps.
Setup is minimal, with two side brushes being attached to the body and a charging dock that's plugged into a socket. That's about it, meaning the vacuum can quickly be in use with the tap of a button on the remote or via the associated app, "WeBack."
On top, there is a power and home button, the latter of which can be pressed when the vacuum is in operation to make it automatically navigate back to its charging base.
Once it's set up to work, you have two main cleaning modes to choose from. Personally, I used the S-shape option most. This sends the S6 vacuum snaking around the edges of a room before working its way back into the middle, using its laser navigation abilities to create a map of its surroundings—an image that's also viewable in the app.
It's actually pretty creepy the first time you see it, but the S6 does appear to create a fairly accurate representation of its location. Using the app, you can view the S-shaped lines it cleans in and any obstacles that it was forced to navigate around.
A "spot" cleaning mode forces the vacuum to focus on a single area, after which it will circulate in a spiral pattern for two minutes. The app allows you to set restricted areas if there are sections of a mapped room you don't want the S6 to venture into.
In testing, the 600 milliliter dustbin was big enough to hold dirt particles from a single round of cleaning, but that will depend on how much the S6 is tasked with collecting.
I was always surprised by the amount of particles that managed to accumulate on my apartment's carpet flooring, so the S6 was clearly doing its job. In testing, it swept up dust, dirt, hairs, polystyrene and small bits of food without any fuss. It was also able to navigate under kitchen table chairs and over the legs of my computer desk. If it ever became stuck, in most cases it used its sensors to find an escape route.
The overall performance proved solid on both carpets and kitchen vinyl flooring, as long as expectations are in check. That's because at full power the S6 will offer around one hour and 30 minutes total cleaning time, but taking nearly triple time that to recharge.
While on paper that's a lot, it won't matter too much if you are planning on keeping the S6 on its docking station when not in use. If so, it will always be topping up. The S6 does automatically return to the dock after cleaning, or if the battery runs dry. It will go back and continue its cleaning mission once it reaches sufficient charge, too.
The Tesvor S6, and other similarly priced smart vacuums, in my opinion work best when they are used for daily cleaning sweeps, but not necessarily as a total replacement for traditional hoovers. The S6 battery life is currently too limited for larger spaces and my testing suggests that some harder-to-reach areas are often glossed over.
In many cases, I could have manually completed a clean by the time it took for the robot to finish up, although that may be missing the point. The S6 is pitched as offering "more family time, less cleaning," and in that aspect it mostly succeeds.
From full charge, it was roughly enough to complete a full clean of two rooms inside my apartment, which is in London, so not the most vast of spaces. Battery life appeared a little inconsistent, though, and it never reached the advertised 100 minutes.
But the S6 vacuum was silent enough that it was could be left to roam around while I was working, and I can't imagine it being much of an annoyance if it was switched on while having dinner or socializing with a group of friends (remember that?).
For consumers, some other concerns should be flagged. The WeBack app, which appears to be used for a variety of Tesvor devices, was not the most user-friendly, especially during initial setup. It took numerous tries to get it connected to the home Wi-Fi connection, and the permissions seemed to be overly invasive.
A lot of the negative user reviews on the Google Play marketplace appeared to agree. I have become accustomed to companion apps working seamlessly, so it was a little disappointing to stumble on that initial first step. Definitely needs a little love.
Once connected, however, it worked fine, opening up the options to set dedicated room boundaries or link to third party services, including Alexa and Google Home. Luckily, most of app controls are also mirrored on a remote that comes in the box.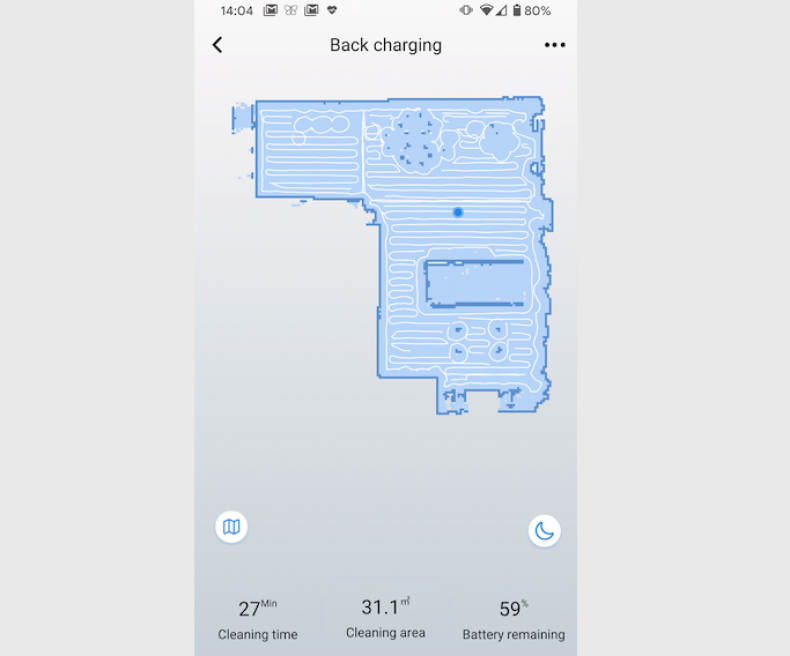 Some additional issues did surface throughout testing that were potential red flags, in terms of accessibility and user support. The S6 review device received by Newsweek was not in English, and there was no obvious way to change the language in any of the app menus. When I tried to contact the company's media email address with questions about that (and app setup) I got no response. This week, when emailed again, the company confirmed the robot "does not support to change language so far."
Tesvor is a brand of a Chinese company called Shenzhen Tian You Intelligence Co. Ltd, but it does have a dedicated U.S. customer service line, so it's not a deal-breaker.
Verdict
It's easy to get caught up in the experience the first time you use a robot vacuum, but it's important that you realize what you're buying. In the majority of cases, especially in the $300 price range that the Tesvor S6 sits, having one won't mean you will never have to pick up the hoover again, which is a shame given the cost being pretty high.
That's not to say it doesn't have its place.
For short bursts of autonomous cleaning, its suction modes, dust bin and overall size were all more than adequate—and its mapping technology worked surprisingly well. It is held back a little by a lackluster app experience, which could use an overhaul. Will it change how I approach cleaning forever? No, but its a still a nice little helper.
It's highly advised to shop around, however. At this price, the S6 is directly competing with a variety of well-reviewed smart vacuum models, such as the budget-friendly Eufy RoboVac 11 and the Roomba 671. Each will offer different battery spans, features and companion app support, so your purchase can be tailored to your exact needs.