Critics Less Than Friendly About Matthew Perry's New West End Play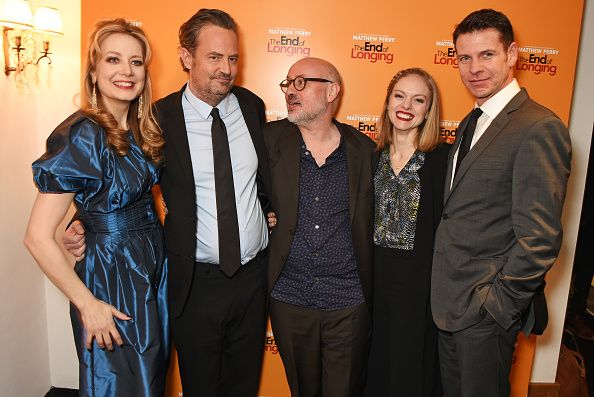 It's an interesting time for the men of Friends. On February 4, it was announced that Matt LeBlanc will be the star in the expensively priced car show Top Gear, David Schwimmer can be seen playing Robert Kardashian in the hugely popular FX series The People v. OJ Simpson, and now Matthew Perry has unveiled The End of Longing on the West End, his debut as a playwright.
The play follows the fortunes of four 30-somethings whose lives intertwine at a point when they are struggling to find their purpose—Perry has written for himself a character whose battle with alcohol mirrors the actor's real-life struggles. Directed by Lindsay Posner who recently helmed David Mamet's play Speed the Plow, starring Lindsay Lohan, the show is scheduled to run until May 14.
Although reports say Perry got a standing ovation following Thursday night's premiere, reviews have not been kind to the star, with many critics implying that as a scribe he wasn't quite ready for the West End.
"A waste of time, money and effort" The Telegraph
If anything, the evening feels like a creative writing exercise of minor therapeutic value—with a curious indebtedness to the sitcom that made Perry's name.
"Perry's fans will inevitably spot links with Friends" The Evening Standard
The fact that Matthew Perry takes the lead in his grandly titled debut play makes it sound like a dubious vanity project. But this is actually a heartfelt, solidly acted look at fear and addiction—uneven yet undeniably dark.
"What works in half-hour bites on television looks decidedly thin on the stage" The Guardian
"While the play clearly aims to deal with four loners struggling to come to terms with early middle-age, it feels more like an extended sitcom in which there is little going on behind the lines."
"This will leave all but Chandler's most devoted fans longing for the end" The Independent
There's so little believable connection or tenderness between these friends and lovers, and their characters have about as much depth as a puddle in a heatwave.
"The End Of Longing will inevitably be described as a 'Friends generation grows up' play" The Daily Mail
While the play could never be described as particularly profound or poetical, Lindsay Posner's production is coolly staged, well acted and thoroughly watchable. I enjoyed it, though fully expect to forget much of it within a week or so.
Critics Less Than Friendly About Matthew Perry's New West End Play | Culture