A Revised Jordan First Policy | Opinion
After Iraq's 1990 invasion of Kuwait, Jordan's King Hussein denounced the U.S.-led war preparations against Baghdad, declaring the campaign was "against all Arabs and all Muslims." Hussein claimed the operation's goal was to "destroy Iraq," and pledged to oppose "foreign hegemony" in the Middle East. Amman's stance provoked a rift with its key Western ally, leading Washington to freeze its military and economic aid to the Hashemite Kingdom.
Thirteen years later, Amman reversed its policy during the 2003 Iraq invasion. The Hashemite Kingdom allowed U.S.-led coalition aircrafts to fly over Jordan to assist in the war effort and hosted American troops in apparent gestures to Washington. Jordan's ideological flexibility with Iraq decades ago and willingness to dramatically change policies to safeguard its own national interests foreshadowed a similar about-face now taking place in Amman toward its neighbors.
A vivid example of Jordan's policy reversal in recent months is its approach toward Syria. King Abdullah was the first Arab leader to call for Syrian President Bashar al-Assad to resign in November 2011 amid Syria's crackdown against protestors. Two years later, the Jordanian monarch noted that Assad was responsible for "too much destruction, too much blood" and was beyond rehabilitation. Not stopping there, The New York Times reported in 2014 that a covert center was established in Amman that sent weapons and funds to Syrian opposition fighters. Saudi, Jordanian and U.S. intelligence officers cooperated in the center's operations room in a bid to organize aid to Syrian rebels.
Seven years later though, Amman is now normalizing ties with Assad, despite no shift in the Syrian regime's abuse of dissidents or willingness to democratize Syria. In October, King Abdullah spoke with Assad for the first time since 2011. The Jordanian royal court said the two leaders discussed ties between the "brotherly countries and ways to enhance cooperation." The Hashemite Kingdom fully reopened its border with Syria in September to boost trade and reportedly promoted reinstating Syria to the Arab League, despite voting for Damascus' suspension a decade ago.
Amman now prioritizes its economic interests over principled considerations in relation to Syria, with Jordan aiming to return trade to its $1 billion prewar level. Given that the Hashemite Kingdom faces an unemployment rate of nearly 25 percent, Jordanian officials no longer voice concern about Syrian bloodshed, as Abdullah apparently understands that harsh criticism of Assad would likely prevent stronger economic ties.
Jordan prioritizing its national economic interests over ideological concerns was also recently adopted vis-a-vis Israel. King Abdullah warned in 2013 that Israel may soon become an "apartheid" state, adding, "The practical question is, can Israel exert permanent control over Palestinians who are disenfranchised ad infinitum, or does it eventually become a South Africa, which couldn't survive as a pariah state?" In further solidarity with the Palestinians, Jordan withdrew its ambassador from Tel Aviv in 2014, protesting Israel's "violations" at Jerusalem holy sites.
Yet, during the same months that Abdullah has boosted ties with the Assad regime, Amman has adopted a more nuanced approach toward Israel. Brokered by the United Arab Emirates (UAE) and U.S. Climate Envoy John Kerry, Jordan signed a November agreement that would see Israel send 200 million cubic meters of desalinated water to the Hashemite Kingdom in exchange for Amman transferring solar power to the Jewish state. While Jordanian activists demonstrated in Amman, demanding that Abdullah scrap the largest ever cooperation agreement between Jordan and Israel, Jordanian officials have declined to walk away from the deal given that Jordan is the second most water-scarce country worldwide. With the country's resources already stretched thin hosting at least 650,000 Syrian refugees, Abdullah believes that sacrificing his economy and national resources to pacify supporters of Palestine is not in Jordan's best interests.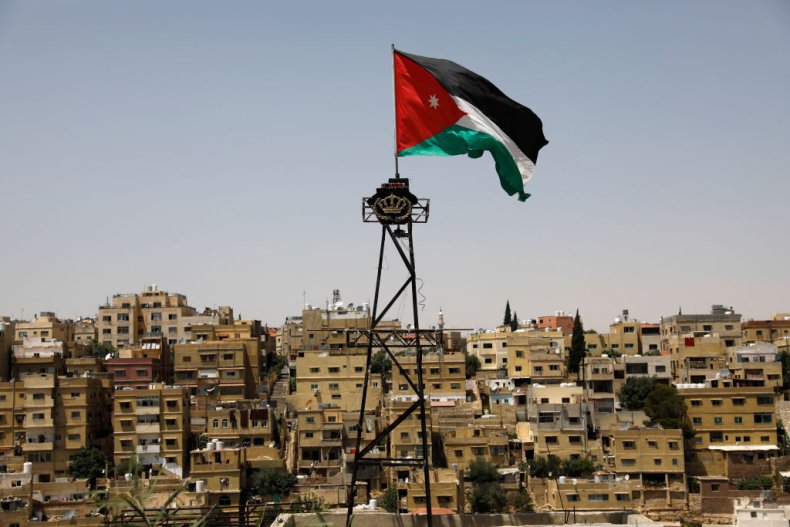 The water deal came only weeks after Jordanian and Israeli economic ministers met for the first time in a decade and signed another agreement to increase the goods Amman is allowed to export to the Palestinian Authority (PA). Jordan has continued to condemn Israeli settlements in the West Bank, even after former Prime Minister Benjamin Netanyahu was ousted and downplayed meetings with Israel's new president and prime minister, by not even sharing photographs of such events. However, Jordan insists on proceeding with deals in recent months with the Jewish state that benefit its economy, even as Bennett has not evacuated a single West Bank settlement and insists that he will not start peace talks with the PA.
A similar reversal was seen in Amman's ties with Qatar. In 2017, Jordan sided with Saudi Arabia, the UAE and Bahrain to downgrade ties with Doha by withdrawing its ambassador from Doha. Jordanian authorities also closed the Amman offices of the Qatari-sponsored Al Jazeera TV station. In explaining the moves, Jordan's government spokesperson emphasized the importance of "achieving regional stability" along with maintaining "consensus among Arabs."
Two years later, Jordan broke ranks with the Saudi blockade and appointed a new envoy to Doha and accepted Qatar's ambassador to Amman. Doha is a key economic partner, as approximately 40,000 Jordanians work in the Gulf state. After large 2018 Amman protests over a tax hike and austerity measures, Qatar pledged $500 million to support the Hashemite Kingdom's economy. Highlighting how important Jordan now views Qatar, Abdullah and Crown Prince Hussein visited Doha in separate meetings with Qatar's emir recently. Jordan understands that maintaining tensions with a wealthy Gulf state may harm its struggling economy as Amman faces a record national debt of $45 billion.
Jordan learned its lesson from the Qatar affair in its handling of the Saudi Arabia-Lebanon dispute in October. While Bahrain, Kuwait, the UAE and Saudi Arabia withdrew their ambassadors from Beirut to protest a Lebanese minister's critique of Saudi Arabia's war in Yemen, Jordan this time did not join its Gulf allies to pressure Lebanon. Instead, Amman used its leverage and signed an electricity deal with Lebanon and Syria in late October. The Hashemite Kingdom realizes that following a Saudi campaign against a fellow Arab state would not advance its national interests.
In April, Jordanians were shocked to see Prince Hamzah, the half-brother of King Abdullah, placed under house arrest for reportedly fomenting unrest across the country. Former Jordanian information minister Mohammed Momani accused Hamzah of exploiting citizens' economic pain to destabilize the Hashemite Kingdom. The "sedition" affair exemplified the need to urgently deal with the country's soaring unemployment as Jordanians become increasingly frustrated with the Kingdom's economic crisis. Abdullah understands that given Amman's fiscal woes, Jordan does not have the liberty to allow ethical considerations abroad to impede his ability to make deals across the region that benefit the country's economy. In a somewhat Trump-esque fashion, Abdullah has launched a revised Jordan First policy.
Aaron Magid is a Middle East analyst in Washington. A former Amman-based journalist, his articles have appeared in Foreign Policy, Foreign Affairs and Al-Monitor. Aaron is also the host of the podcast On Jordan. Twitter: @AaronMagid
The views expressed in this article are the writer's own.