Why Some of the Biggest Names in Hip-Hop Want to Cover 'Hamilton' Tracks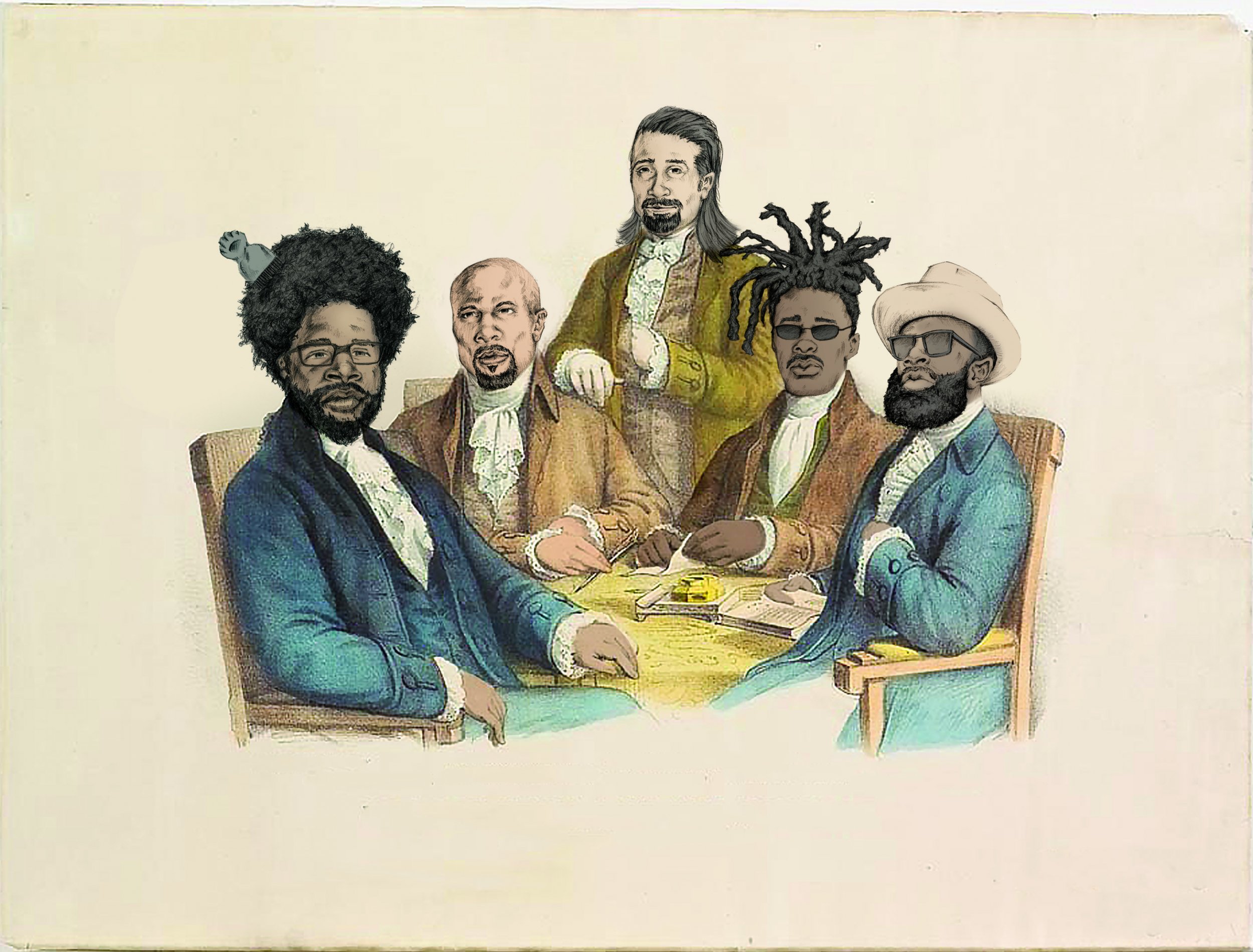 This article, written by Senior Editor Tim Baker, and other articles about Broadway phenomenon Hamilton are featured in Newsweek's Special Edition, Hamilton.
The Hamilton Mixtape could have been the whole project. When Lin-Manuel Miranda performed songs about the treasury secretary in New York for the first time, he was still calling Hamilton a "hiphop song cycle," and a concept album seemed like the most likely future for his project. When his old buddies from In the Heights, Alex Lacamoire, Thomas Kail and Andy Blankenbuehler, got involved, the four men decided to make The Hamilton Mixtape into a full-blown musical. Producer Jeffrey Seller convinced Miranda to drop "Mixtape" and the rest is history (and historically based). But thanks to Atlantic Records, not to mention Hamilton's immense popularity, The Hamilton Mixtape lives again, this time with a little more firepower than Miranda might have imagined at Lincoln Center in 2009.
"Without getting too poetic about it, the Hamilton Mixtape is a love letter," says Riggs Morales, Vice President of A&R at Atlantic Records. "And that comes from two sides. First, it's Lin-Manuel's love letter to the artists and MCs that helped inspire the music. Second, you have these artists who went to see the play and were a ected by it and moved to write their own letters by covering and reinterpreting these songs." To Miranda, the respect of hip-hop luminaries like Common, Queen Latifah, Busta Rhymes and Questlove, who came to see the show and accepted it as a hip-hop triumph just as Broadway had accepted it as a theatrical triumph, meant the world. In fact, Miranda has made it clear the most nervous he has ever been before a performance was when Busta Rhymes, who inspired the characterizations of both Lafayette and Hercules Mulligan in different ways, sat in the front row at The Public Theater. According to an interview in Vanity Fair, when Miranda saw the rapper—whom he described as being imposing on a Mount Rushmore-like level—moved by the performance, he finally felt the musical had made it.
Morales was just as easily converted to Miranda's vision. "I've never seen anything like Hamilton," he says, repeating what has inadvertently become the party line for anyone lucky enough to get into the theater for a performance. "I hope it inspires more shows and projects like it. Lin's secret weapon is perspective. Within the first three minutes, I couldn't believe what I was seeing. I looked around the audience to see if anybody else realized what they were watching, and I saw people who weren't coming from the same place but nodding along like this was a brand new art form they were enjoying. Meanwhile, I'm sitting there saying, 'Lin has taken the science of MCing in a way that only a few people on Earth—Jay-Z, Eminem, Biggie, [Big] Pun, R.A. [The Rugged Man]—can do, and wove it into a twoact musical."
Morales was so enamored of the show that he immediately called up his friend Tariq "Black Thought" Trotter, MC of The Roots. "Actually within a 24-hour period, three different people had called me up saying I had to see it," Trotter explains. "I was sold after that." Trotter saw the show and was immediately taken backstage to meet the cast. "I was much more interested [after that] with becoming involved in the show, but even while my wife and I were watching we exchanged looks and were whispering about how this was going to be something special." The Roots went on to produce the Original Broadway Cast Recording but are also involved in the Mixtape project, which Trotter says acted as "another outlet for Lin-Manuel to work on in tandem with the Broadway show," something that allowed him to burn off all the leftover "New York mixtape culture" that was left in the show after its transition into a musical. "But you can't take for granted that the Broadway audience is going to be up on that culture, so Lin had to make it as understandable, accessible, inclusive as he could. It's a painstaking process to make sure that every apple is broken down into applesauce."
The Hamilton Mixtape will allow Miranda and the community that is accepting his show more and more to collaborate on some of the most inspired and inspiring hip-hop of the year. "This is a chance to peel back a layer and do a really deep dive into the art forms that made this cast recording so successful," explains Morales. "If you're a hardcore hip-hop fan and you watch the play, you hear the Jay-Z references, you hear the Biggie and LL Cool J references and you're taken aback by how it's mixed into this whole body of work that spans so many genres. Just to hear what some of these artists were able to do—they can take it out of the context of the stage, out of the time period and put it in a modern space." Though Morales keeps the artist list close to his chest, he is noticeably excited about the reimaginings, reinterpretations and remixes that he and Miranda hope will make The Hamilton Mixtape even more successful than the original Broadway cast recording. At a June 16 press conference, Miranda offered his two cents by stating, "There's a cover of 'Satisfi ed' [on The Hamilton Mixtape] that is going to blow your f*****g minds—you can put asterisks through that!"
Morales agrees, pointing to "Satisfied" and "My Shot" as his favorite tracks on the Mixtape. He's confident the Mixtape will have staying power across all genres, even as the Original Cast Recording, a Broadway album, kept pace against some of the best hip-hop records of the year. "Hamilton was right up alongside Kendrick Lamar's To Pimp a Butterfly on everybody's yearend lists. That shows me that people are paying attention to this album that tells a story using hip-hop, as Kendrick's album and many great albums of the past did," he says. "It's just hidden as a Broadway cast album." If Miranda and Morales have anything to say about it, this new twist on the genre isn't a one-off: It's the beginning of a revolution. "Just when you think hip-hop has peaked, along comes this," says Morales. "Lin showed there are no boundaries anymore in this hip-hop thing."
The Hamilton Mixtape features tracks inspired by the show, early work from Miranda that didn't make the final cut and Hamilton Superfan Jimmy Fallon covering "You'll Be Back." It will invade speakers everywhere this fall.
This article was excerpted from Newsweek's Special Edition, Hamilton, by Senior Editor Tim Baker. For a backstage pass to the Broadway musical sweeping the nation, pick up a copy today.