Revisiting 'Waterworld': The Most Spectacular-to-Behold Flop of All Time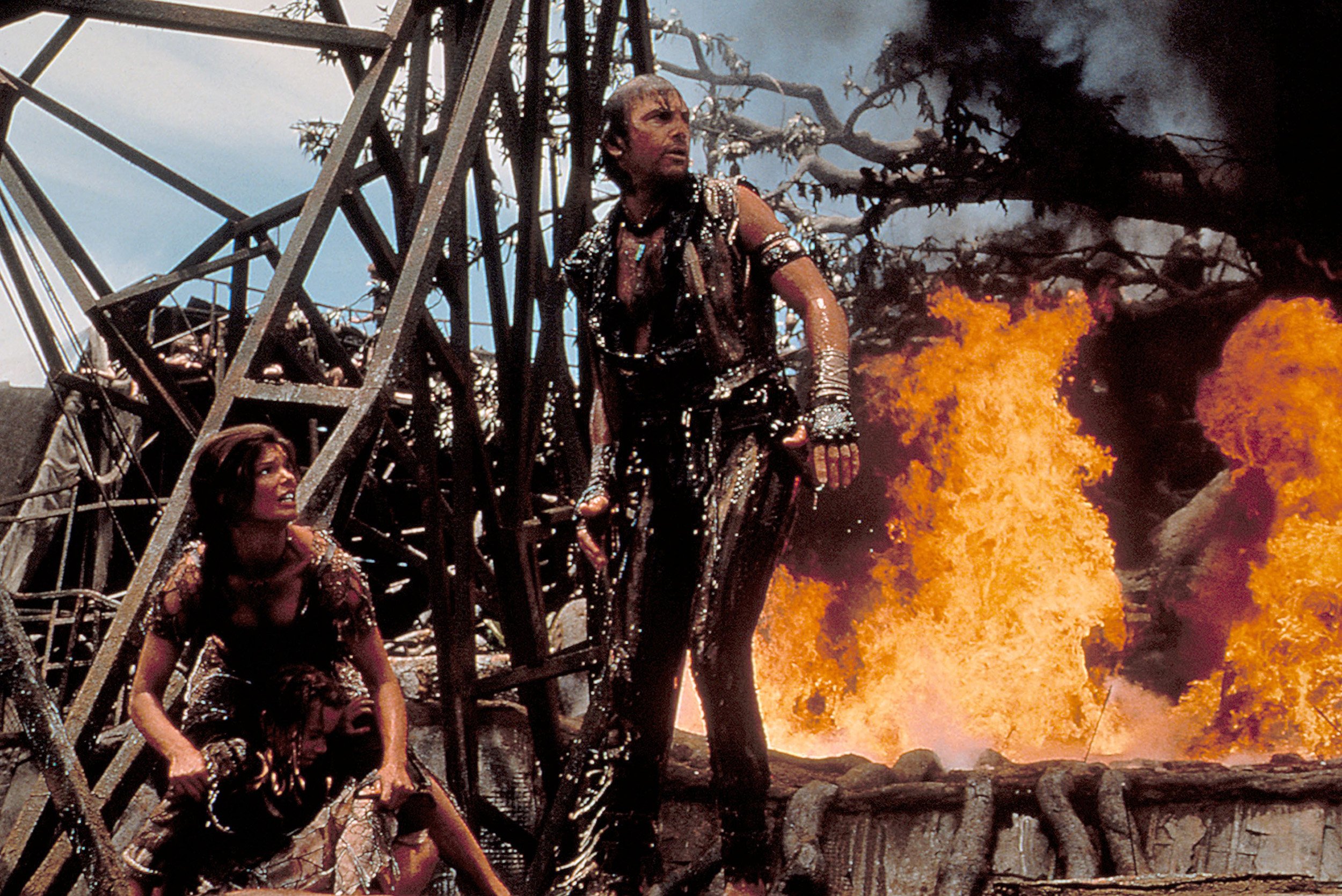 Waterworld was the most expensive motion picture ever produced at the time of its release on July 28, 1995. For the uninitiated, it's a post-apocalyptic, Mad Max-on-water epic starring Kevin Costner as a ruggedly stylish man-fish with webbed feet and gills behind his ears, for which more money was invested than in the entire Star Wars and Indiana Jones trilogies combined. Shot primarily off the coast of Hawaii in a massive enclosed set, the production was a highly publicized disaster. Costner and director Kevin Reynolds quarreled often, one of the principal set-pieces sank after a storm and production ultimately ran $72 million over its initial $100 million budget. At one point, Joss Whedon was flown in to touch up the script, describing the experience as "seven weeks of hell."
Critics were frothing at the mouth to rip into the gaudy vanity project, but the reviews were not as terrible as expected. The premise was interesting, explosive action sequences abounded and visually it was nothing short of majestic. Worse movies had certainly been made, and the consensus seemed to hold that while the script and character development were lacking, the film was actually somewhat enjoyable to watch. "It's one of those marginal pictures you're not unhappy to have seen, but can't quite recommend," wrote Roger Ebert.
But most don't remember Waterworld as a marginally entertaining film; we remember it as one of the biggest blockbuster flops of all time. Many have pointed out, however, that it technically wasn't a flop at all. Though its domestic box office take was only $88 million, it did significantly better overseas and enjoyed a relatively profitable afterlife on home video. Financially, it was successful—just not in a way that was commensurate with the misguided, out-of-control ambition that accompanied its production.
Waterworld was not meant to simply be a successful film; it was meant to be an epic phenomenon on the level of a Jurassic Park, to be licensed and merchandised and replayed on cable TV in perpetuity. We were supposed to look back at Waterworld 20 years later and consider it a classic, fondly remembering how kids played with their one-eyed Dennis Hopper action figures.
That didn't happen. It fell short of all of these marks and did so spectacularly. It may not have been as big of a financial catastrophe as we like to remember, but it was a spiritual and artistic flop unlike anything we've ever seen.
How did it fail so miserably? Despite some of the pitying rationalizations that accompany arguments that it wasn't a flop in the traditional sense of the word, make no mistake about it, Waterworld is kind of terrible. Outside of the two principal battle scenes—which wouldn't have been memorable if not for the pyrotechnics involved—the movie is an unlikely but potent mix of boring and nonsensical. The characters are two-dimensional, including, somehow, Costner's nameless "The Mariner," whose background and motivations are unknown. There is virtually no exposition or explanation of the context in which the tribes of water-bound survivors find themselves either, which should have been the most compelling part of the film. From beginning to end, Waterworld feels like the result of an executive having a vague dream about the premise, putting a budget together, assembling a cast, beginning production, and then only later, when it was far too late to turn back, realizing that no one had written a script.
Though Waterworld was the most expensive film of its time, $172 million is barely a significant amount of money by today's production standards. Seven movies cost more to make in 2014 alone. This glut of inflated film budgets, of course, means more large-scale flops. The most significant in recent memory is probably John Carter, Disney's $260 million shot at franchise gold that only brought in $73 million domestically and forced Walt Disney Studios head Rich Ross to resign . But John Carter, or The Lone Ranger, or After Earth, or any of the other noteworthy disappointments of the modern studio era weren't nearly as anticipated by consumers as Waterworld was in the mid-'90s. Today, the kind of pre-release fervor the film inspired is reserved only for fail-safe legacy pictures like The Dark Knight Rises, the latest Avengers movie or this December's Star Wars: The Force Awakens. These are flop-proof. The latest stab at Superman, Spider-Man or X-Men? Not so much, but then again we don't really care. There is little to distinguish most summer blockbusters from the rest of the pack. Waterworld distinguished itself in a big way in 1995, which makes its inability to score big domestically all the more incredible.
Waterworld was poorly written, the acting performances were stilted, and there were too many cringeworthy moments to list. But 20 years later, there's something endearing about watching a film that was aiming at such a lofty mark and spending boatloads of resources to reach it. While you want to laugh during some of its more implausible scenes, the actual reaction is something closer to awe. It is a marvelous across-the-board failure, and regardless of whatever financial success it achieved, Waterworld was most certainly a flop. It's important that we continue to define it as such. How else are we going to remember one of the most memorably bizarre, confusing and, frankly, spectacular films of the past 25 years? Kevin Costner's gills cannot be forgotten.