The Revival Released by WWE, Ending Six-Year Run with Wrestling Promotion
Former Tag Team Champions The Revival have officially been released from their WWE contracts.
The announcement was made on WWE's official site where the following statement was made by the wrestling promotion: "Effective today, Friday April 10, 2020, WWE and The Revival have agreed on their immediate release from WWE. We wish them all the best in their future endeavors."
The terms of the release of Scott Dawson (real name David Hardwood) and Dash Wilder (real name Dan Wheeler) is unknown.
Reports of The Revival's unhappiness with the company emerged in January 2019 and again in January 2020 when they asked for their release.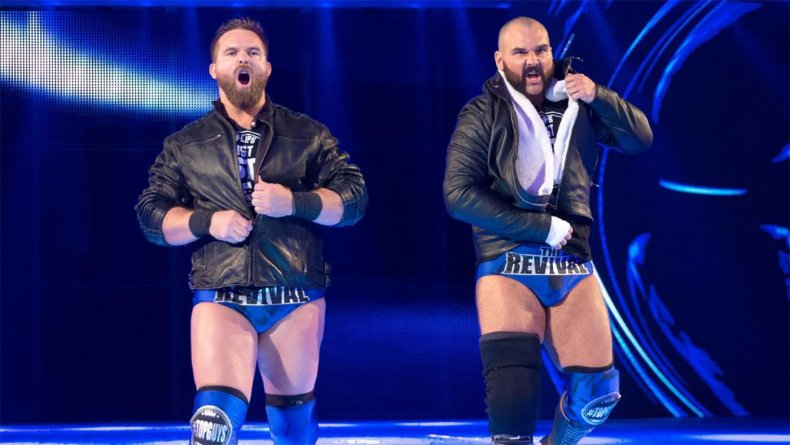 So what's next for The Revival? It's unclear at this point, but many fans speculate that Dash and Dawson will jump to All Elite Wrestling, a promotion that favors tag team wrestling.
AEW is also partially run by Matt and Nick Jackson, The Young Bucks who have shown their desire to wrestle The Revival in the past.
In a now-deleted tweet from 2018, Matt Jackson wrote, "One day The Young Bucks will wrestle The Revival and everyone will rejoice. Remember this tweet."
Scott Dawson and Dash Wilder wrestled for the WWE since 2014 first under the tag team name The Mechanics in NXT. After a string of losses and failed opportunities, The Mechanics would simply be named Dash and Dawson and become NXT Tag Team Champions for the first time, defeating the Vaudevillains, in November 2015.
Starting in February 2016, the duo would go by the team name, The Revival.
The Revival would become a pillar in the NXT tag team division alongside #DIY, the team of Johnny Gargano and Tommaso Ciampa, and American Alpha the team of Chad Gable and Jason Jordan.
Dash and Dawson would lose the NXT Tag Team Championships to American Alpha in April 2016, but would regain them in June to become the first two-time tag champs in NXT's history.
Enter #DIY, who would put on some of the best matches with The Revival from August to April 2017.
The Revival would get called up to Monday Night RAW shortly after WrestleMania in 2017 and defeat multi-time tag champs, The New Day on back-to-back weeks.
However, injuries would derail the team's momentum on RAW, a common theme for the duo on the main roster.
In their time on the main roster, however, The Revival would capture the RAW and SmackDown Tag Team Championships. This accomplishment would also make them the first team in WWE history to hold RAW, SmackDown and NXT Tag Championships.
What do you think of The Revival's release from WWE? Where would you like to see them go next? Let us know in the comments section.