The Revival Talk WWE Release and Those Concept Leaks on Chris Jericho's Podcast
Former WWE tag team champions, Dash Wilder and Scott Dawson—a.k.a. The Revival—made an appearance on Chris Jericho's podcast, Talk Is Jericho, Wednesday to discuss their time in the company and what led to their releases in early April.
Wilder and Dawson, who now go by Cash Wheeler and Dax Hardwood respectively, were released from their WWE contracts on April 10, five days ahead of the large layoffs that occurred as a part of the promotion's restructuring during the coronavirus pandemic.
The big reason for Wheeler and Hardwood's request for a release was that they were unhappy with the state of the tag team division. Despite being multi-time champions The Revival—who now go by FTR/The Revolt—wanted the WWE to take tag team wrestling seriously.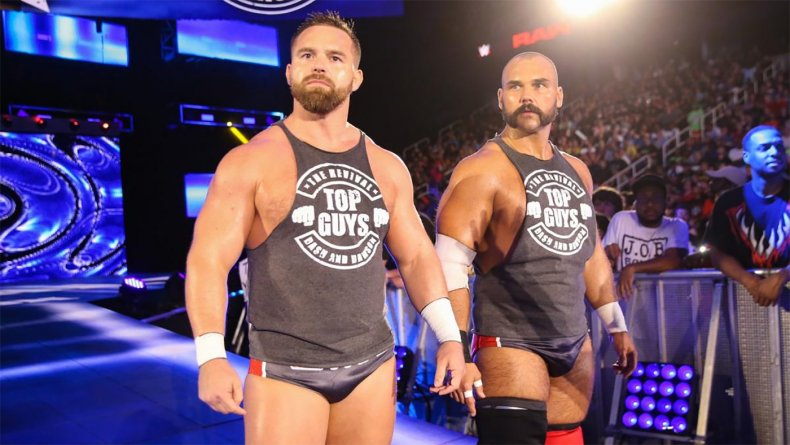 "That was our biggest factor as far as leaving, was that tag team wrestling was featured everywhere else except for WWE. And we wanted to be a part of that because we could sit back and ... we could have no legacy aside from our NXT stuff," Hardwood told Jericho. "We could have no legacy in the history of wrestling, or we could go out and make history, and I think that was our biggest factor in leaving is that we could go out and prove to everyone that we are the absolute best tag team on this planet. And I say that with as much humility as I can muster from my guts. There is not a tag team on this planet that is as good as we are, that is as fluid as we are, and has the one goal, the one common goal in mind that is to be the best."
After multiple attempts to get the duo to re-sign with the company, the last push from WWE came when McMahon proposed new characters for the tag team.
"Vince presented us with these characters that were less than flattering to us. I don't know too many guys, if they have any self-worth or if they believed in themselves as characters, as people, would take that opportunity," Hardwood said.
These character designs were eventually leaked online and pictured The Revival in tassels, chains and lipstick. Hardwood and Wheeler confirmed on the podcast that the leaked images were real.
Despite their displeasure for the characters, the duo told McMahon, Bruce Prichard and Mark Carano that they would do the new gimmick or anything they wanted until their contracts expired in August, but that they would not re-sign.
Both men said on the podcast that they would have done the character change and probably did it well because it was pitched to them as a way to mock the way WWE books the tag division, but not long after that discussion, Wheeler and Hardwood were taken off the road and we wouldn't see The Revival in WWE again.
What's next for The Revolt is unknown, as they said they could see themselves going to any promotion or to Japan. They definitely want to have a match with The Young Bucks of All Elite Wrestling and have been teased on a recent episode of the Bucks' webseries, Being the Elite.
You can listen to the entire episode of Talk Is Jericho with The Revival here.