Revolt on Egypt's Streets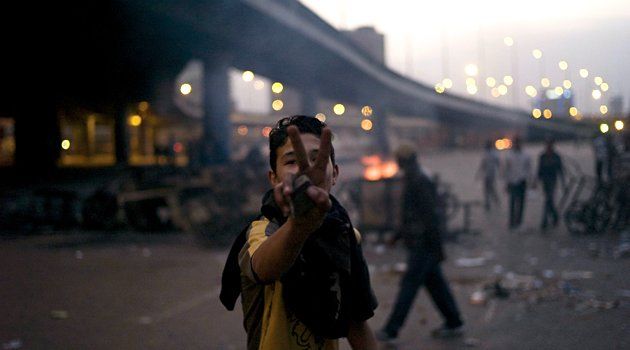 Egypt is passing through one of the most volatile moments of its history, as demonstrators face off with President Hosni Mubarak's authoritarian regime and insecurity reigns.
Hundreds of thousands of Egyptians took to the streets today, renewing calls for Mubarak, who has been in power for 30 years, to step down. In Cairo, an estimated 50,000 protesters converged on the central Tahrir Square, hoping it would live up to its name, which means liberation.
After several days of historic protests, Mubarak told Egyptians in a televised speech last night that he respected their concerns and would dismiss the current government. Today, as street protests continued across the country, he announced the appointment of intelligence head, Omar Suleiman, as his vice president, a position Mubarak has never filled before, and former Air Force Chief of Staff, Ahmed Shafik, as prime minister.
But the protesters said they wouldn't desist until the president stepped down. More than a hundred demonstrators have reportedly been killed. "If he really loves his country," Magdy Mohamed, 50, said of the president, "he has to give up. Otherwise, he won't have any dignity." Mohamed was in Tahrir Square today with his wife, Nagwa, holding a sheet of paper with a simple message for the president: "Leave and let live." Mohamed said the president should have responded to the protesters demands. These include the establishment of a minimum wage, dissolving a parliament that many here view as fraudulently elected, and lifting the country's draconian emergency laws.
"I earn 20,000 Egyptian pounds" a month, about $3,800, said Mohamed Fathi, a tour guide who was in Tahrir Square today. "But I don't accept what's happening in this country. They faked the parliamentary elections. Ninety-nine percent of the people who were elected are members of this—excuse my language—fucking party," said Fathi, referring to the president's party, whose headquarters were burned to the ground yesterday. "That's why we're making a revolution," he went on. "It's a revolution of Muslims and Christians, rich and poor. Mubarak didn't respect us! He didn't respect his nation!" Fathi began chanting, as the people around him joined in, "Down with Hosni Mubarak. Hosni Mubarak your place is in Saudi Arabia." The recently ousted Tunisian president, Zine al-Abidine Ben Ali, took refuge in Saudi Arabia.
Cairo is a city transformed. Anti-Mubarak graffiti has mushroomed across the capital's walls, on government buildings, even tanks. "There's an end to every oppressor," someone traced on the soot-covered side of a charred police truck.
Egyptians wandered the streets today—dazed, elated, and anxious. Army tanks are deployed across the city now. But the Army is only maintaining order, not clashing with protesters, who handed water and snacks to the soldiers, and chanted, "The people and the Army are brothers." A general atop a tank told a crowd of protesters, to cheers, "I am one of you. Demonstrate as you want! Say what you want! Do what you want!" But he warned that looting was taking place, and said, "If you think the government has basically been a group of 50-60 thieves, there are many more thieves now." A protester yelled back: "It's the president's fault."
Last night, vehicles and buildings were set on fire, and tonight looting is taking place in different parts of the capital. Protesters emphasized that these actions had nothing to do with them. They said the vandalism was being carried out by men connected to state security, or by criminals, taking advantage of the current chaos.
Teams of volunteers today swept the streets, and directed traffic. Last night citizens fought off looters at the Egyptian Museum until Army units arrived to secure the building. Tonight groups of young men carrying sticks, metal bars, and chains, are patrolling their neighborhoods to keep them safe. Many have locked themselves in their homes. The police are nowhere to be seen. It's unclear who could take charge of the country, if the president stepped down. Protesters mention figures such as Amr Moussa, the popular secretary general of the Arab League; Nobel Laureate and would-be presidential candidate, Mohamed ElBaradei, who is reportedly still under house arrest; and opposition politician Ayman Nour, who ran for the presidency in 2005.
Said Sadek, a professor of sociology at the American University in Cairo, who joined the demonstrations, said Mubarak is "out of touch with Egypt's young," who make up about a third of the population. Now that the protesters have come so far, Sadek says, nothing will satisfy them, except Mubarak's ouster. "We've come to the streets," he said. "There's been blood. There is no room for compromise."
Ursula Lindsey is a Cairo-based reporter and writer.
This originally appeared on the Daily Beast.