Will Rex Tillerson's Asia Visit Help or Harm Relations With China?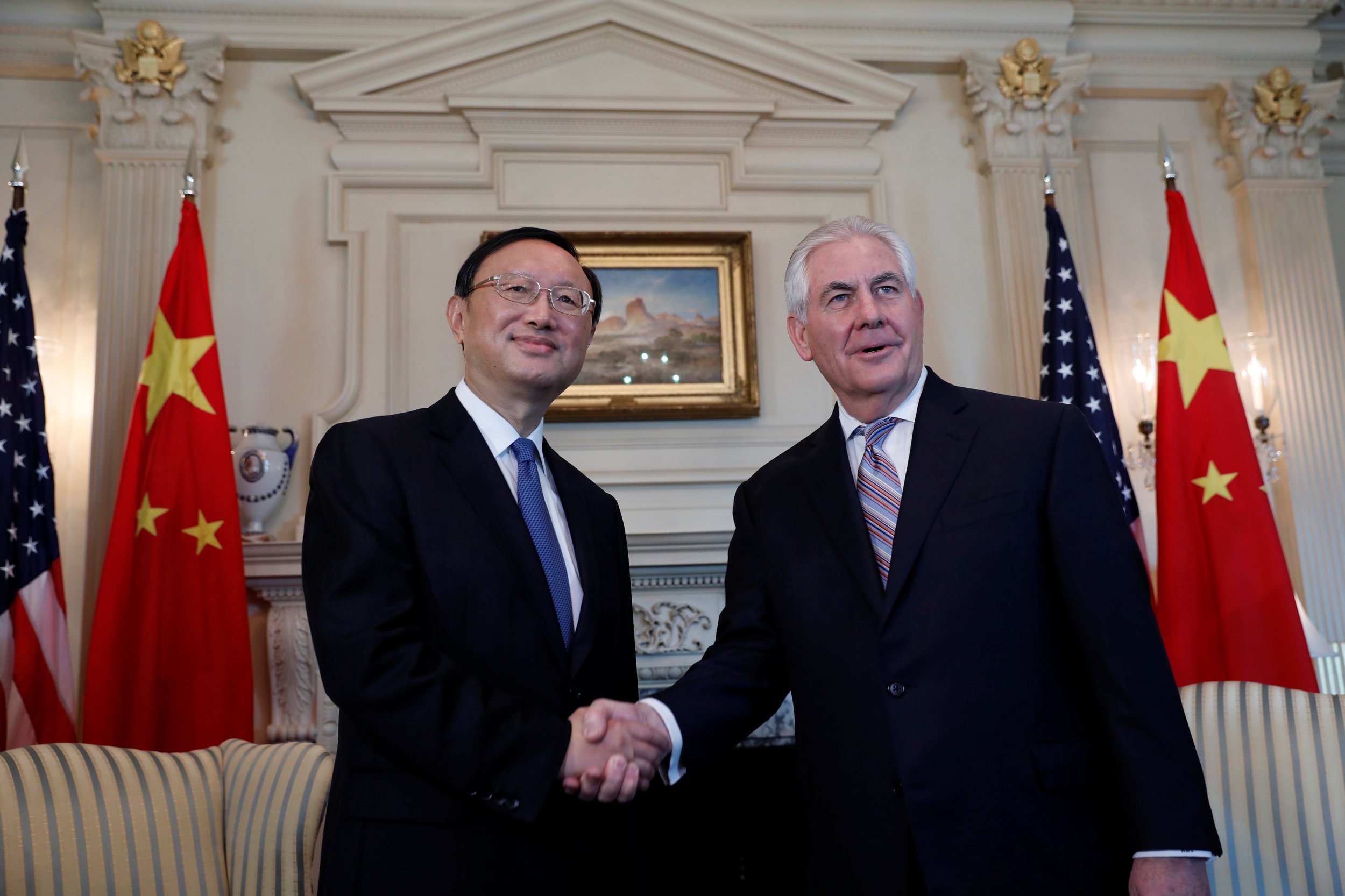 Rex Tillerson, President Donald Trump's secretary of state, makes his first trip to Asia-Pacific as US Secretary of State, starting Wednesday, with stop-offs in Japan, South Korea and China. North Korea is likely to top the agenda given continuing provocations from the regime, which launched a further four ballistic missiles earlier this month.
China's Foreign Minister Wang Li warned last week, in unusually blunt language, that Washington and Pyongyang are on a "head-on-collision" course. Beijing's concern here is not just North Korean irresponsibility, but what it asserts is the United States fanning the flames by beginning last week its deployment of the controversial Terminal High Altitude Area Defense missile system (THAAD) in South Korea.
Beijing vehemently opposes the system as it believes could be used for U.S. espionage on China's own activities. Wang last week therefore called for Seoul and Washington to "cease and desist" THAAD deployment.
Consecutive U.S. administrations have discovered that the security tensions on the Korean peninsula have no easy resolution—George W. Bush and Barack Obama grappled with the challenge of responding to not just missile launches by Pyongyang, but also its nuclear tests. The Obama team talked tough with Asian allies on unilateral and multilateral sanctions, but found China reluctant to take comprehensive, sweeping measures against its erstwhile ally.
Last November the U.N. eventually voted to tighten sanctions in response to Pyongyang's fifth nuclear test. The measures in this sanctions package include placing a cap on coal exports to target North Korea's hard currency revenues; a ban on exports of non-ferrous metals; sanctions on government officials as well as other entities linked to the country's nuclear weapons program; and measures cracking down on the country's access to the international banking system.
The reason why China and the United States differed last year over the scope and severity of international sanctions is that, concerned as Beijing is about Pyongyang's behaviour, it does not want to push the regime so hard that it becomes significantly destabilized. From the vantage point of Chinese officials, this risks North Korea behaving even more unpredictably, and could even cause the implosion of the regime—that would not be in Beijing's interests, as it could lead to instability on the North Korea-China border, and ultimately the potential emergence of a pro-U.S. successor nation.
China is also concerned that the Trump team might even be thinking about a pre-emptive strike on North Korea's nuclear capabilities. The risks of this are large, and it's one reason why Wang asserted last week that "China's priority now is to flash the red light and apply the break to both [the U.S. and North Korean] trains" to avoid a collision.
Tillerson will meet with Wang, and potentially with Chinese President Xi Jinping too, and a second key element of his trip will be focused on trying to put bilateral relations on a more even keel after the early disruptions of the Trump presidency.
It is not just Trump, but also Tillerson that has slammed Beijing in recent weeks. For instance, Tillerson said in January that Beijing should "not be allowed access" to its new, artificial islands in the South China Sea, an area particularly sensitive for Beijing given its high animus toward US sea and air maneuvers near its borders.
Underlying Trump's own hawkish sentiment appears to be a conviction that China represents the primary threat to US interests globally. Yet, he has also acknowledged that Beijing can also play a potentially constructive role in key policy areas, including North Korea.
In this context, the deal-maker in Trump's political persona has surfaced with his comments that "everything is under negotiation" with Beijing, and it appears that he and his team may ultimately be looking for a grand bargain extending beyond the security arena to economics too. Here, Trump's comments on the yuan may yet prove a stumbling block; he called Beijing the "grand champions of currency manipulation," suggesting that the country is keeping its exchange rate artificially low in order to secure export advantage.
While Trump's rhetoric on China may risk increasing tensions with Beijing, the Obama administration left bilateral ties in relatively positive shape, despite a shaky start after Xi took office. Under Obama, Beijing's foreign and military positions and rhetoric became significantly more pugnacious, but despite this, and numerous irritants that continue to this day, including alleged cyber attacks on U.S. interests by Beijing, ties became generally cordial.
While Obama was president, Xi Jinping outlined, rhetorically at least, his desire to fundamentally redevelop a new type of great power relationship with the United States to avoid the conflictual great power patterns of the past. This is an audacious goal, which still lacks any obvious definition, and it is unclear if the pledge remains in place given the rhetorical bellicosity of Trump to China.
Taken overall, Tillerson's trip is unlikely to see a decisive breakthrough in the North Korea stand-off. In the China leg of his visit, he may well have warmer words for Beijing, but significant downside risks remain in bilateral ties as Trump and Xi prepare for their first face-to-face meeting in coming weeks.
Andrew Hammond is an associate at LSE IDEAS at the London School of Economics.