Rex Tillerson Does a Double U-Turn on Palestinian Prisoner Payments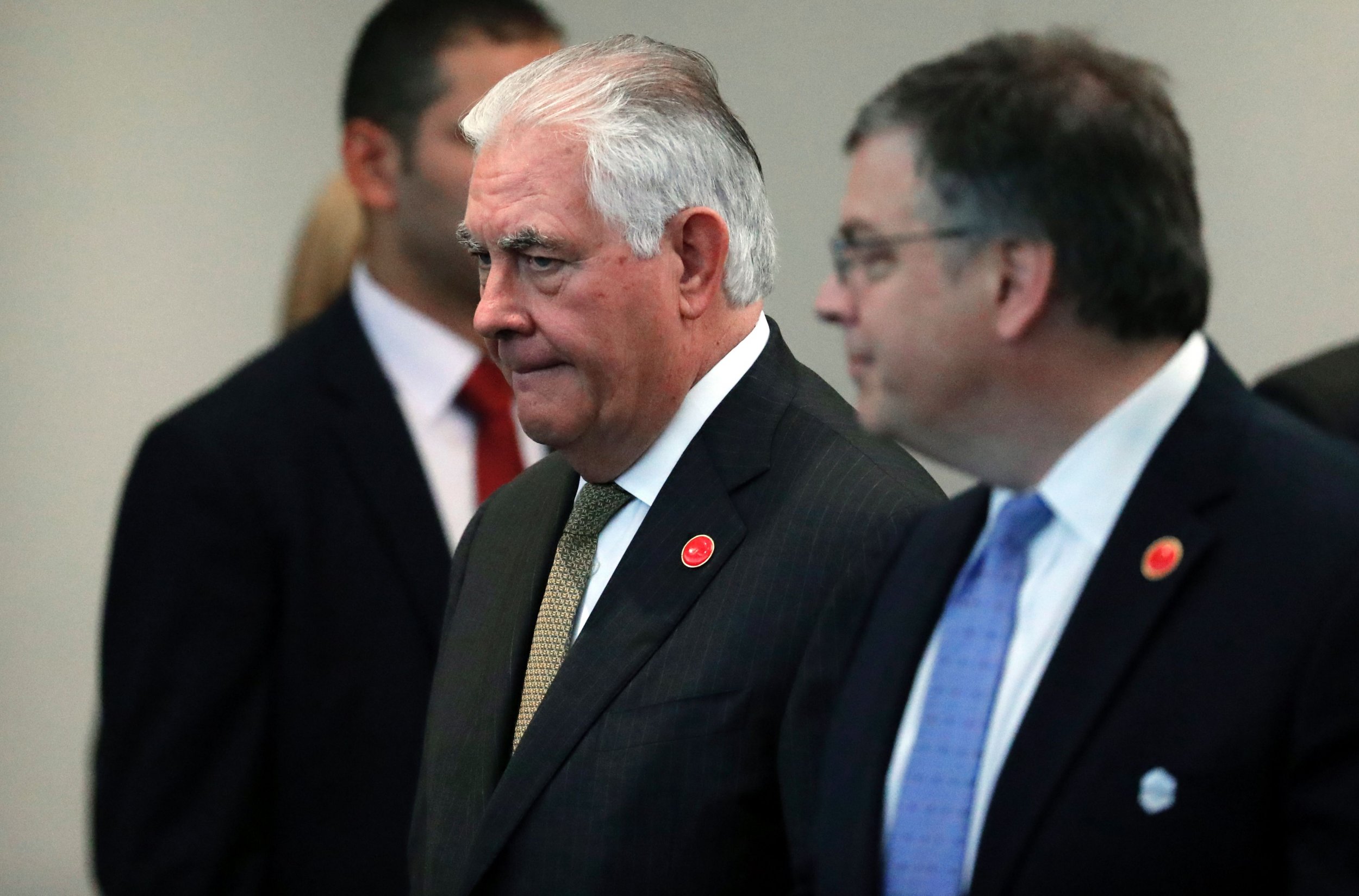 U.S. Secretary of State Rex Tillerson was forced to make a public U-turn Wednesday on his comments a day earlier that the Palestinian Authority (PA) had agreed to stop paying the families of those convicted of attacks against Israelis. He then appeared to make another reversal half an hour later, leaving observers confused.
The PA, which governs in the West Bank, has been paying millions to thousands of Palestinian families for years, including the relatives of suicide bombers, through a scheme called the "Martyr's Fund." Israeli academics estimate that the fund pays out around $300 million a year in social security payments to relatives of attackers, 7 percent of the PA's annual budget.
Addressing Senators on Tuesday, Tillerson said that the issue of payments—cited by Israelis as one of the obstacles to a future peace agreement—had been solved.
"[The Palestinians] have changed that policy and their intent is to cease the payments to the families of those who have committed murder or violence against others," Tillerson said. "We have been very clear with them that this [practice] is simply not acceptable to us."
Both Israeli and Palestinian officials denied that any agreement had been made on Tuesday. Tillerson later backtracked, telling the House Foreign Affairs Committee that Washington and Ramallah remained locked in an "active discussion" on the issue.
In response to a question from Republican congresswoman Ileana Ros-Lehtinen, Tillerson said the policy change was part of wider discussions with the Palestinians concerning what Israelis refer to as 'incitement.'
Half an hour later, according to Israeli newspaper Haaretz, Tillerson changed tack again, stating that the PA had agreed to end the payments, despite denials from West Bank officials.
Read more: Tillerson says Abbas to stop paying families of Palestinian "martyrs"
The secretary of state said that assurances from the Palestinian leadership, led by PA President Mahmoud Abbas, "were given to me during the president's visit to Bethlehem." He said Trump told Abbas he had a "certain window of patience" and "he will become disinterested" if they do not act.
Issa Karaka, head of the PA's prisoner affairs, said Tuesday that Tillerson was wrong: The PA would not end payments to prisoners' and suicide bombers' families, he said, because the policy would be vehemently unpopular with the Palestinian public, many of whom are already opposed to Abbas's rule.
"Almost every other [Palestinian] household is the family of a prisoner or martyr," Karaka said. "Anybody who thinks he can execute a decision like that is badly wrong," he added.
Trump and Abbas's meeting in Bethlehem was a tetchy affair, according to U.S. accounts, but a Palestinian source told Newsweek that reports of a fractious meeting were lies designed to slander the Palestinian leader. "Trump raised the issue [of prisoner payments], but overall the meeting went very well," the source said.