Rex Tillerson Debates Quitting After 'Unprofessional' Trump Bashes Jeff Sessions
Secretary of State Rex Tillerson is growing increasingly frustrated with the Trump administration and could quit before the year is through, according to reports.
Two sources familiar with Tillerson's conversations with friends told CNN over the weekend that he has grown so frustrated with President Donald Trump and his administration that there may soon be a "Rexit."
The change in Tillerson's tone followed a stressful week for the secretary of state. He was found to have violated U.S. sanctions against Russia while working as CEO of Exxon Mobil. Also, Trump publicly assailed one of Tillerson's fellow Cabinet members, Attorney General Jeff Sessions, saying he regretted hiring him.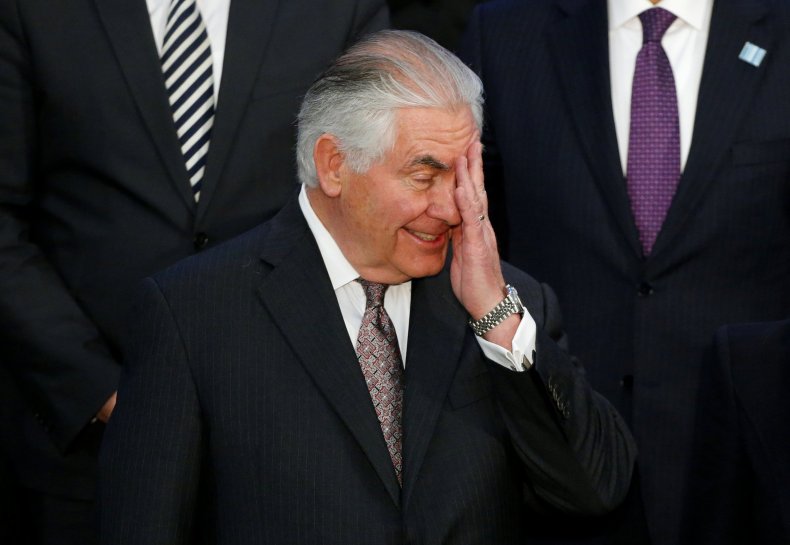 Tillerson, the sources said, viewed Trump's comments as unprofessional.
Early Monday, Trump again attacked Sessions on Twitter, calling him "beleaguered" and wondering aloud why he wasn't investigating Trump's campaign rival Hillary Clinton.
Before last week, Tillerson had strongly maintained he would see through his task of reorganizing the entire State Department after Trump's March budget proposal laid out plans to cut $10 billion from its roughly $47 billion in funding. But that resolve seems to have dimmed.
The sources acknowledged that Tillerson could have been venting after a tough week, but his frustration is just the latest in a long list of times he has butted heads with the president and his administration.
Related: 'Unprofessional' Rex Tillerson gives meddling White House staffers an earful
Last month, President Trump's son-in-law and senior adviser Jared Kushner was the one calling Tillerson "unprofessional." The secretary of state reportedly blew up at top Trump administration staffers during a meeting in White House Chief of Staff Reince Priebus's office.
Four people familiar with the details of the meeting described the heated exchange to Politico. During his tirade, Tillerson quarreled with the director of presidential personnel, Johnny DeStefano, and made clear he didn't want the White House to "have any role in staffing."
Tillerson has been frustrated after Trump and the White House rejected a number of his hiring decisions. Early this year, Trump vetoed Tillerson's plan to hire Elliott Abrams as his second in command because Abrams was critical of Trump and his policy positions during the 2016 campaign.
Early this year, Tillerson was also left scrambling, along with other Cabinet members, in doing damage control after the administration implemented a ban on foreign travel to the U.S. from six Muslim-majority nations. The Cabinet was not consulted beforehand. The move gathered serious legal pushback and is headed to the U.S. Supreme Court this fall.
In late June, the White House also failed to coordinate with the State Department when it issued a warning to the Syrian regime about using chemical weapons. Such warnings are usually issued through, or at least coordinated with, the State Department.
Trump has also contradicted and overruled Tillerson's public statements about whether the U.S. should mediate in a dispute between Qatar and Saudi Arabia.
Both sources said that Tillerson's frustrations with these situations, and many other tug-of-wars between the White House and Cabinet members, are increasing noticeably and that he has come to realize things won't change anytime soon.