Tillerson Defended Military After Trump Tirade On 'Getting Money Back' From Other Countries For Protection, New Book Says
Former Secretary of State Rex Tillerson defended the military after President Donald Trump's tirade on "turning a profit" from other countries for defense programs and protection, according to a new book.
The interaction is detailed in A Very Stable Genius: Donald J. Trump's Testing of America, written by reporters Philip Rucker and Carol Leonnig. An excerpt of the book highlighting Tillerson's fraught relationship with the president was published by The Washington Post on Friday.
The excerpt detailed a few meetings between Trump and his top military advisers. The first, which took place in July 2017, featured a diatribe from the president, who said NATO wasn't paying enough in defense.
"We are owed money you haven't been collecting! You would totally go bankrupt if you had to run your own business," Trump reportedly told them. The president later added that those gathered in the room were "all losers" who "don't know how to win anymore."
"I wouldn't go to war with you people," the president said. "You're a bunch of dopes and babies."
Tillerson then stood up to Trump, saying that the "men and women who put on a uniform don't do it to become soldiers of fortune....They do it to protect our freedom." After the meeting, Tillerson was described as huddling around close aides and colleagues, telling that the president was a "f---ing moron."
Later that year, in December 2017, Trump called another meeting with military officials. The president again brought up the issue of not making enough money from the U.S.'s defense programs abroad, telling his assembled team that "we need to get our money back."
"All these countries need to start paying us for the troops we are sending to their countries. We need to be making a profit," Trump reportedly said. "We could turn a profit on this."
Tillerson again stood up to the president, according to the book excerpt, and defended the military.
"I've never put on a uniform, but I know this," Tillerson said. "Every person who has put on a uniform, the people in this room, they don't do it to make a buck. They did it for their country, to protect us. I want everyone to be clear about how much we as a country value their service."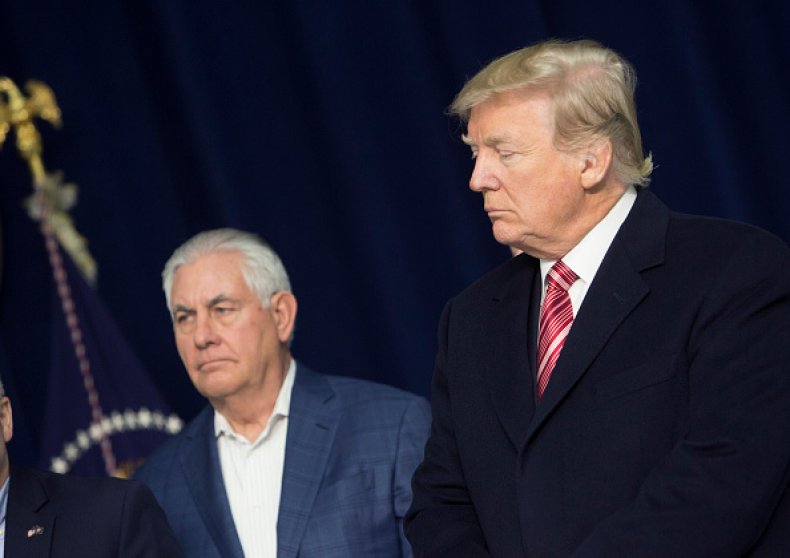 Tillerson reportedly viewed the July 2017 meeting as "the beginning of the end" of his time in the administration. In March 2018, he was abruptly fired during a diplomatic mission to Africa. He was sent on the trip to make amends for Trump's disparaging remarks about African nations.
But Tillerson and Trump have continued to spar after the secretary of state left the administration. In December 2018, Tillerson told CBS News that he had to repeatedly deny Trump's requests because they were illegal. "I would have to say to him, 'Mr. President, I understand what you want to do, but you can't do it that way. It violates the law," Tillerson said.
Trump quickly fired back and denounced Tillerson as "dumb as a rock" and "lazy as hell." The president added that he "couldn't get rid of" Tillerson fast enough.