Rex Tillerson Rejects $80 Million From Congress to Fight Russian Propaganda Because It Would Anger Moscow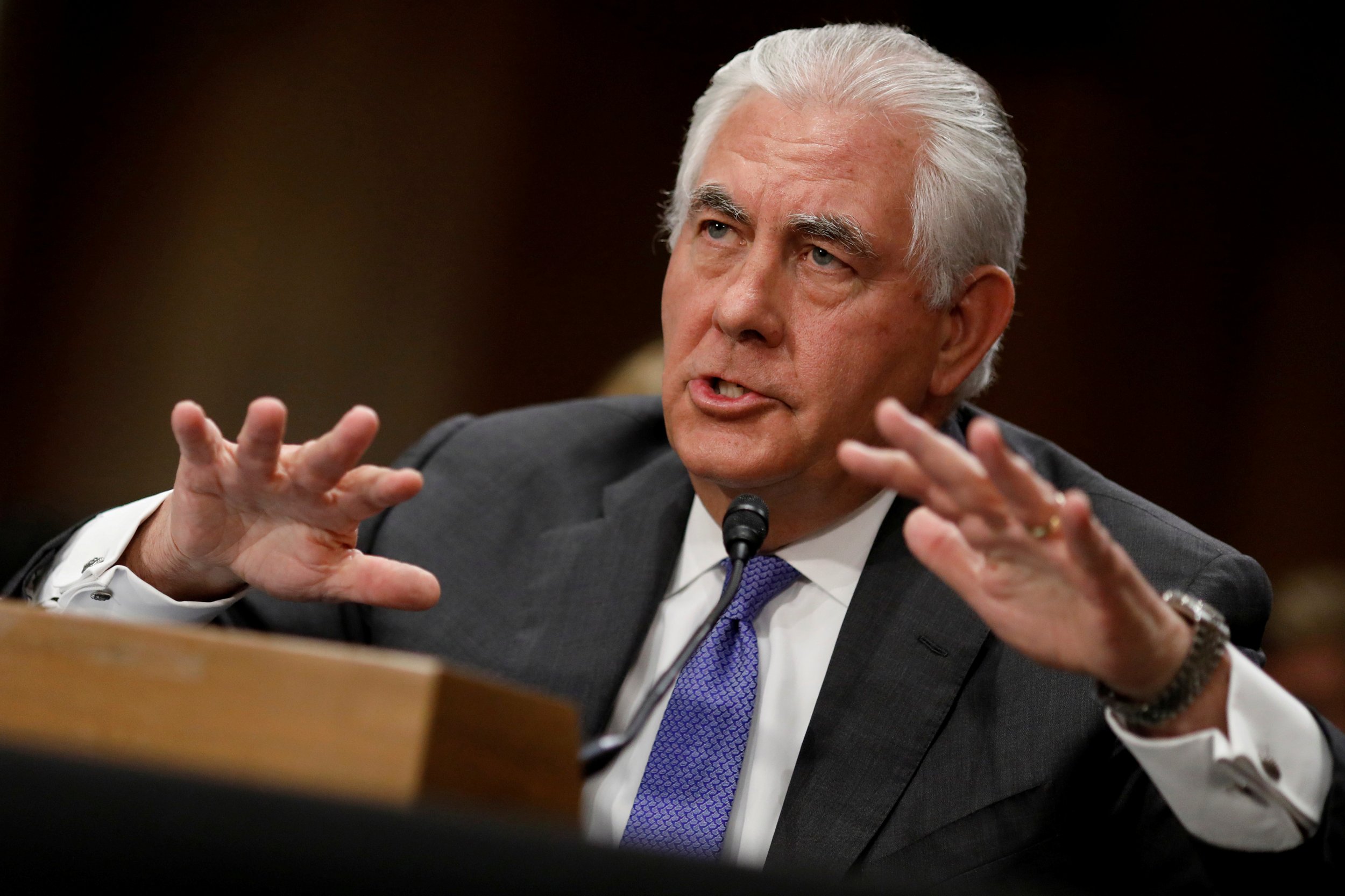 Congress has given $80 million to the State Department to fight Russian propaganda and misinformation, but Secretary of State Rex Tillerson reportedly is reluctant to put it to use.
A former senior State Department official told Politico that Tillerson's spokesman, R.C. Hammond, suggested using the money to counter Russian disinformation and propaganda would rile Moscow.
"Hammond said the secretary is in the process of working through disagreements with Russia, and this is not consistent with what we're trying to do," the official said.
Tillerson and President Donald Trump have been working to mend relations with Russia from their "all-time low point" (in Tillerson's words) after U.S. intelligence agencies issued a report early this year concluding that the Kremlin worked to interfere in the 2016 election.
Key intelligence agencies found Moscow used a widespread misinformation campaign to achieve its ends. The Trump campaign is under investigation over whether it helped these efforts.
Trump has repeatedly called the report's findings a "hoax" and a "ruse" for Democrats to explain why they lost the election.
Related: Trump administration weighs return of sanctioned Russian property
The money to combat Russian misinformation was set aside by Congress late last year for the State Department's Global Engagement Center. The unit was created in the spring of 2016 to combat propaganda from the Islamic State militant group (ISIS). But its mission was expanded, along with the fresh funding, at the end of last year in light of Russia's election meddling and to counter messages from governments in such nations as China, Iran and North Korea.
"The sobering truth is, we're still far where we ultimately need to be to operate in the modern information environment," the unit's former coordinator under the Obama administration, Michael Lumpkin, told a House Armed Services subcommittee early this year.
Since February, State Department officials have been urging Tillerson to unlock $60 million meant for the unit from the Pentagon and another $19.8 million allotted for the program in the department, according to the former senior State Department official. The money from the Defense Department will expire on September 30 unless it's transferred by Tillerson.
"What we're seeing is a small group of people with very thin knowledge making all the decisions in a very centralized and isolated process. It causes unnecessary delays and confusion," Brett Bruen, a former U.S. diplomat in contact with State employees involved in the funding fight, told Politico.
Tillerson has not filled nearly 200 senior posts in the department, having resisted putting many people in place while he carries out a State Department restructuring so he can fulfill Trump's request to slash $10 billion from its budget.
A State Department official told Newsweek's that the money hasn't been unlocked because "there is a process underway to ensure any future funding or programs account for the most appropriate tactics and strategy—especially in countering propaganda from countries such as Russia that have minimal protections for free speech or the media."
The Global Engagement Center, they said, "continues to execute its mission."
Hammond told Politico that State Department officials haven't presented a plan for how to spend the money, a claim that was challenged by the former senior State Department official. Multiple officials said Tillerson is aware of funding requests from the unit to unlock the money.
Both Tillerson and Trump have worked to strike a deal with Russia that would allow relations between the two countries to improve and have avoided rocking the boat.
One of the key things Russia wants is for the U.S. to return two diplomatic properties that were seized late last year under Obama administration sanctions in retaliation for Russia's interference in the election. The Trump administration has considered returning these properties.
In a briefing to reporters at the State Department Tuesday, Tillerson said that "neither the president nor I were very happy" about Congress's recent decision to pass a bill to block the president from lifting those and other U.S. sanctions against Russia without congressional approval.
When Trump signed the bill on Wednesday, he said it was "seriously flawed" because "it encroaches on the executive branch's authority to negotiate" and "strike good deals for the American people."