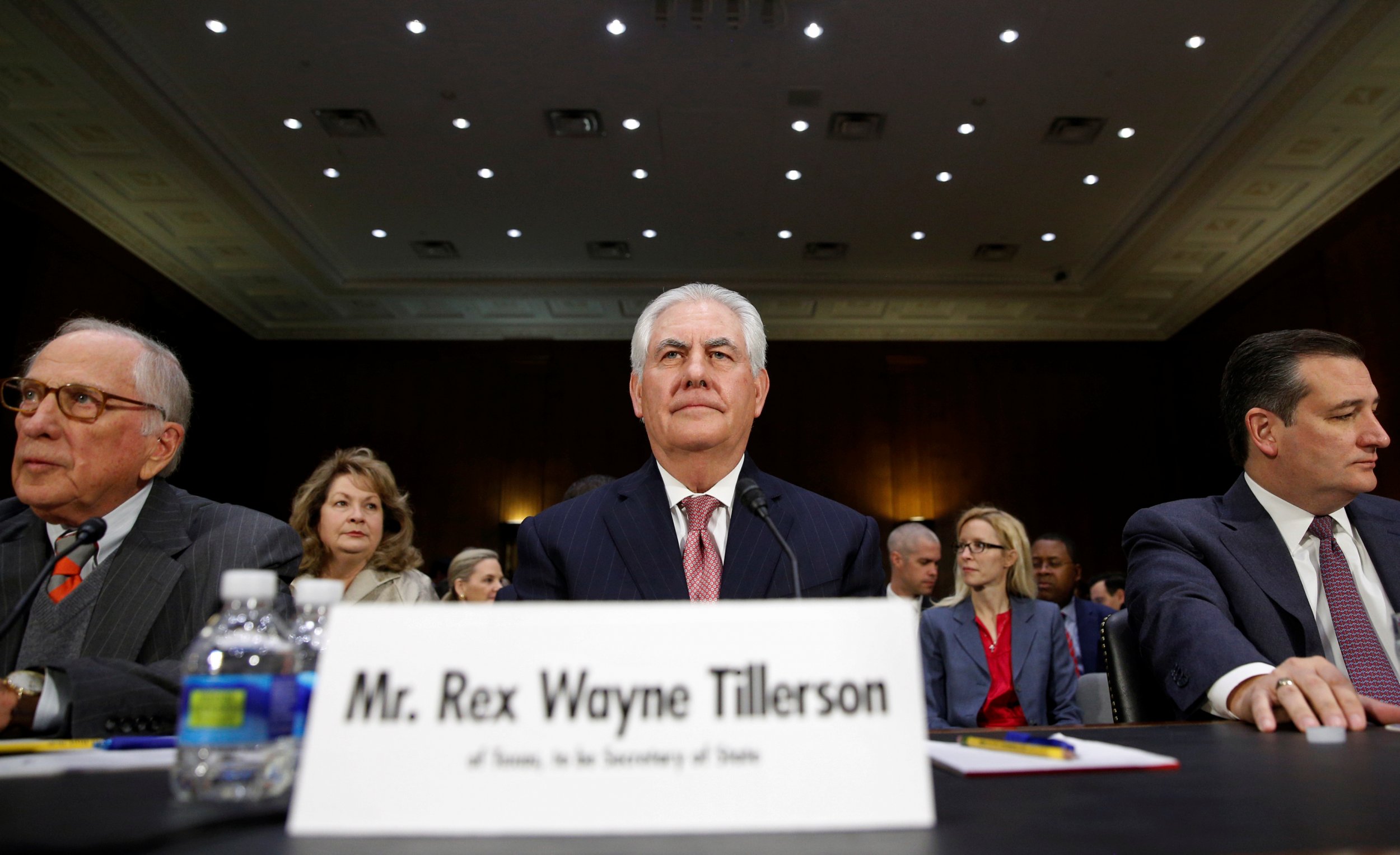 Rex Tillerson, U.S. President-elect Donald Trump's pick for U.S. secretary of state, has condemned the annexation of Crimea by Russia as a violation of international law and declared that NATO is right to "be alarmed" by Moscow's maneuvers on the global stage.
As ExxonMobil's chief executive Tillerson was given a Russian state honor and his relationship with the Kremlin has lead to intense speculation about how far he will maintain the U.S. government's criticism of Russia's military intervention abroad.
In his opening statement to the Senate Foreign Relations Committee at his confirmation hearing as secretary of state, Tillerson addressed the Russian issue, when he said that "Russia today poses a danger," but added that this danger was not "unpredictable."
"It has invaded Ukraine, including the taking of Crimea, and supported Syrian forces that brutally violate the laws of war," Tillerson said, statements that should reassure both the pro-Western government in Kiev and its closest partners in the EU and NATO such as Poland and Lithuania.
"Our NATO allies are right to be alarmed at a resurgent Russia," Tillerson added. "Our alliances are durable and our allies are looking for a return of our leadership. Our men and women in uniform are the world's finest fighting force, and we possess the world's largest economy. To achieve the stability that is foundational to peace and security in the 21st century, American leadership must not only be renewed, it must be asserted."
Tillerson was pushed by members of the Republicans and Democrats to take a notably tougher stance on Russia and Vladimir Putin than Trump, and he alluded to continued U.S. commitment to the NATO alliance, which is something Trump has been less enthusiastic to do.
One of the clearest examples of difference between the president-elect and his proposed secretary of state was on Russian hacking: Tillerson said that it is a "fair assumption" that Russian President Vladimir Putin was behind hacks on the U.S. political establishment and that "clearly is troubling." Trump, by contrast, has been publicly skeptical of suggestions of Russian hacking.
"Russia must know that we will be accountable to our commitments and those of our allies, and that Russia must be held to account for its actions," Tillerson added. However, he was less clear how he believed Russia should be held accountable and when.
Despite previously opposing sanctions on Russia in his position at ExxonMobil, Tillerson said he had never "lobbied against sanctions personally" and said they could be a "powerful tool" but said they must be "designed well." He suggested that he would have had a tougher response to the Crimea annexation, and would have bolstered U.S. military aid to Ukraine. He also said he would maintain current sanctions, for the time being.
Democratic Senator Ben Cardin and Republican Senator Marco Rubio, who lost out to Trump to become the GOP's presidential candidate, were among those who held Tillerson's feet to the fire most closely on Russia. Democrat Bob Menendez addressed the apparent discrepancy between Tillerson and Trump's views on the country, by asking Tillerson if the two men agree with one another.
"The president elect and I have not had the opportunity to discuss this particular issue or this particular area," Tillerson answered. When pushed on whether Russia was at "the very top" of the agenda, when Trump and Tillerson agreed on his nomination, Tillerson said this had not been the case. "That's pretty amazing," Menendez exclaimed.
He also refused to condemn Russia's actions in Syria as war crimes, saying he needed to view classified information to make up his mind. He conceded that the U.S. and Russia "are not likely to ever be friends" but said the two could work together in fighting radical Islamist groups.
"Where cooperation with Russia based on common interests is possible, such as reducing the global threat of terrorism, we ought to explore these options," Tillerson said. "We need an open and frank dialogue with Russia regarding its ambitions, so that we know how to chart our own course."
Tillerson highlighted he thought Russia's strategy could be understood, on the basis that the Kremlin was "very calculating" and "very strategic" but not "unpredictable."
"In my view the leadership of Russia has a plan and it is a geographic plan," he said, referring to Moscow's influence in former Soviet and former satellite states. "Russia, more than anything wants to restore its role in the global world order."
On China, Tillerson was more combative, accusing it of stealing U.S. "intellectual property" calling it "aggressive and expansionist in the digital realm."
"China's island-building in the South China Sea is an illegal taking of disputed areas without regard for international norms," he added, before also hinting that he expects China to curb North Korea more.