Tillerson Calls Mexico, Canada, Addresses Dissenters at State Department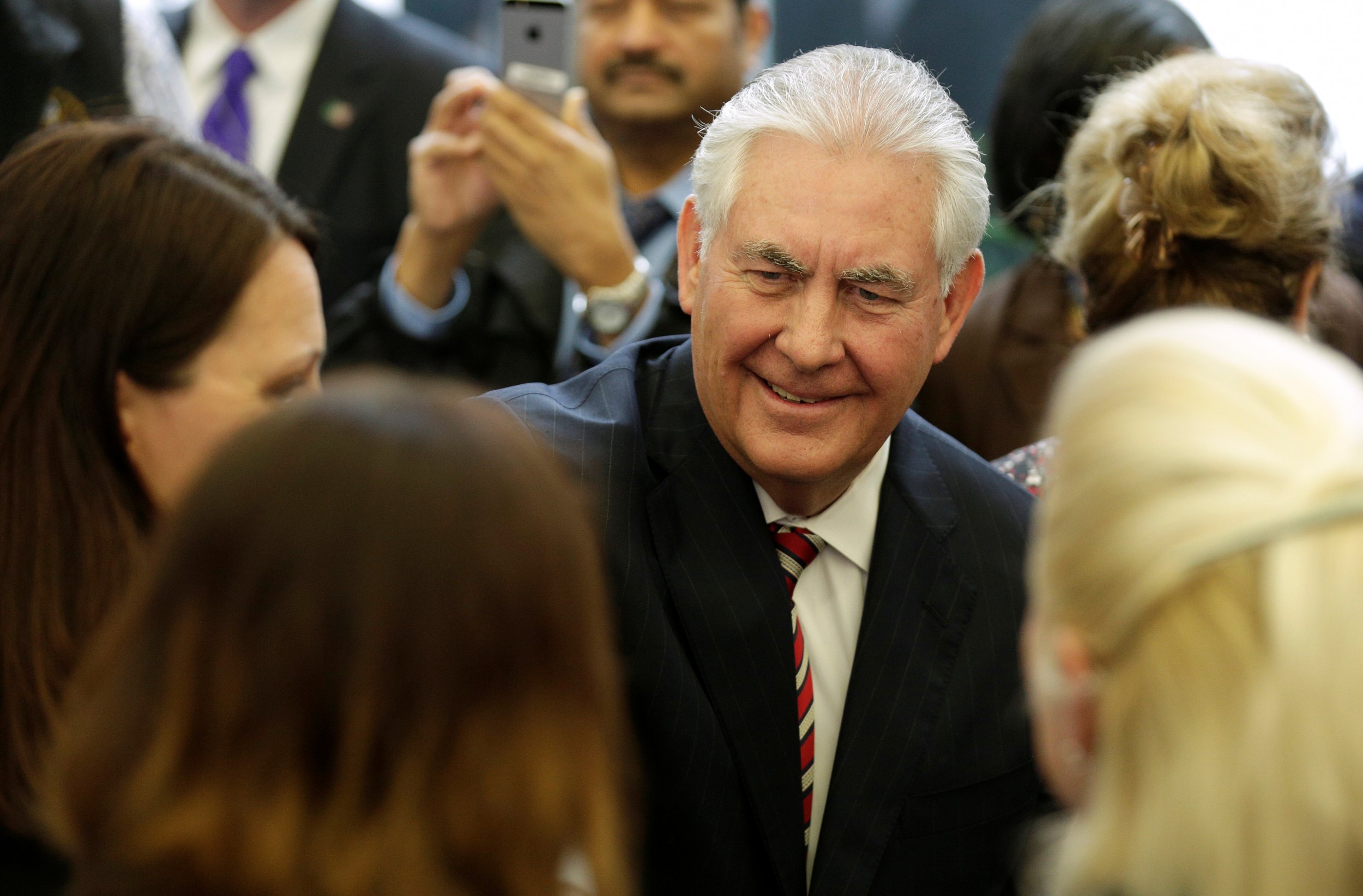 U.S. Secretary of State Rex Tillerson called for unity and understanding on his first day at the State Department amid internal dissent over policies of President Donald Trump, which have also antagonized a range of allies.
Within hours of starting the job, Tillerson reached out by phone to counterparts from Mexico and Canada, and met with German Foreign Minister Sigmar Gabriel, department officials said.
Hundreds of State Department officials greeted the former Exxon Mobil Corp CEO with applause as he entered the building. Louder cheers broke out when Tillerson thanked Acting Secretary of State Tom Shannon for standing in after the departure of John Kerry.
"Hi, I'm the new guy," said Tillerson, who was sworn in on Wednesday after the Senate confirmed him to his post despite concerns about his ties with Russia. Trump has called for closer relations with Russian President Vladimir Putin.
In remarks that did not touch on foreign policy specifics, Tillerson addressed the dissent within the department that emerged this week in a memo signed by more than 900 officials in protest against Trump's decision to suspend the U.S. refugee program and restrict most travelers from seven Muslim-majority countries.
"One of the great challenges and thrills for the State Department staff is deciding how to confront changing conditions in every corner of the world," said Tillerson, "I encourage all of you to use your natural and well developed skills to adapt to changes here at home as well.
"I know this was a hotly contested election and we do not all feel the same way about the outcome, each of us is entitled to expression of our political beliefs, but we cannot let our personal convictions overwhelm our ability to work as one team," said Tillerson.
He added: "Each of us is entitled to the expression of our political beliefs, but we cannot let our personal convictions overwhelm our ability to work as one team."
He also signaled he would impose changes to improve the functioning of the department and said the security of diplomats was a priority.
There was no readout after his meeting with Gabriel at the State Department, although discussions were likely focused on the NATO alliance, the future of the Iran nuclear agreement and trade.
His separate phone calls with foreign ministers from Canada and Mexico coincided with Trump saying Thursday that he wanted early talks on the North American Free Trade Agreement, which he wants to either renegotiate or repeal.
Tillerson inherits a messy globe with war in Syria and Iraq, nuclear-armed North Korea threatening to launch an intercontinental ballistic missile, and increased violence in eastern Ukraine.
Over the past 48 hours more foreign policy challenges piled up as tensions erupted between the U.S. and ally Australia over an existing refugee swap, which Trump called a "dumb deal."
Strains with Iran also increased after the White House said it was putting Tehran on notice for test-firing a ballistic missile and the new administration moved to impose sanctions on several Iranian entities on Friday, according to sources familiar with the matter.