Russia: Tillerson Makes Little Progress with Putin on Assad After Air Strikes in Syria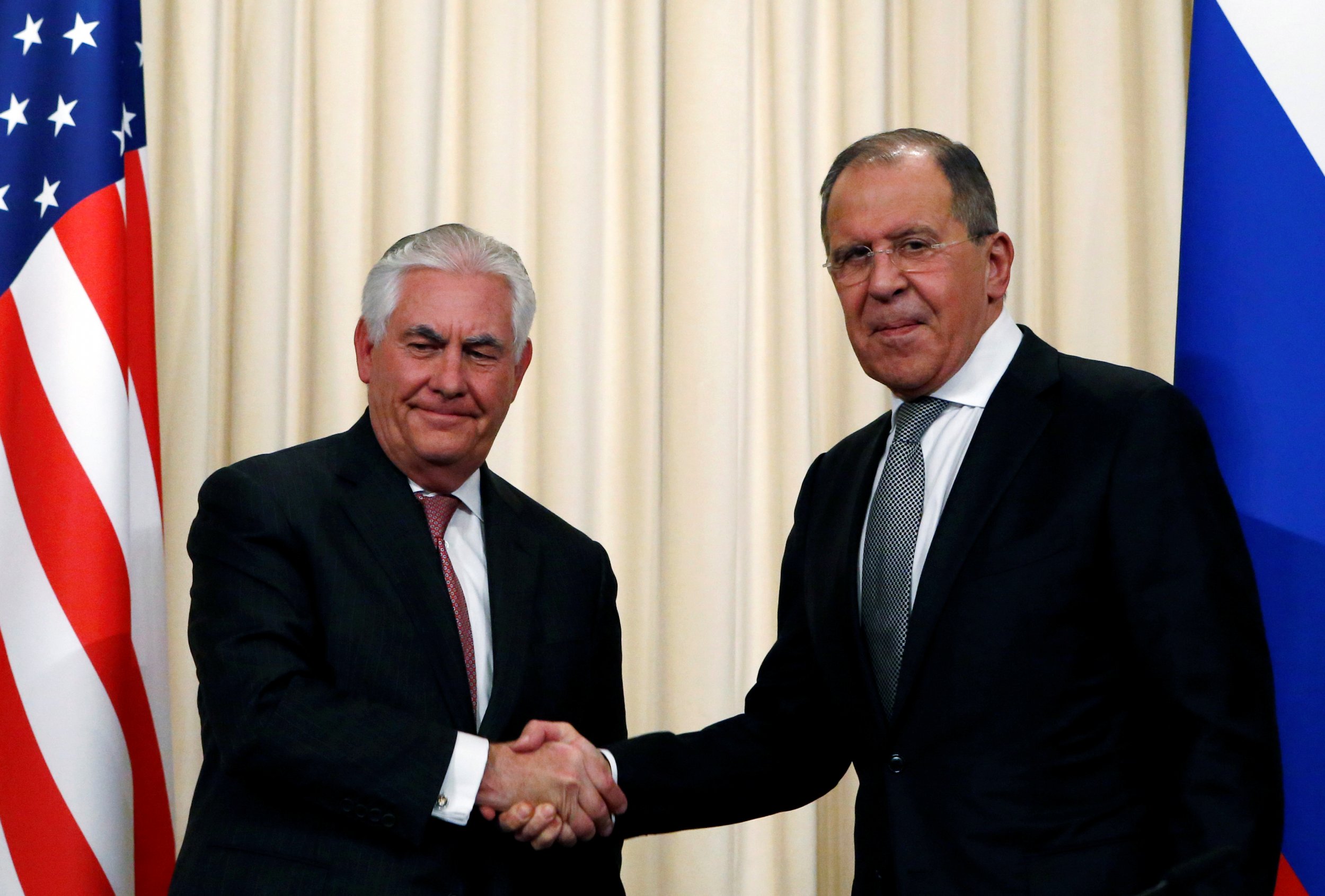 It seemed like a paradigm shift in the Syrian civil war, but perhaps it wasn't.
Last week, foreign policy observers hailed Donald Trump's decision to strike a Syrian air base, thought to have been the source of a deadly chemical attack on civilians in Idlib province. The move came years after President Barack Obama did not respond with force after a similar chemical attack, instead forging a much-criticized agreement with Russia to supposedly get rid of the Syrian regime's stockpiles of chemical weapons.
Yet on Wednesday, after a day's worth of meetings between Secretary of State Rex Tillerson and Russian officials, including with President Vladmir Putin, there was little sign that Trump's strike had changed Russia's calculus on the conflict.
Related: Russia Warns Ultimatums Are 'Futile' As Tillerson Arrives
In Moscow, Tillerson and Russian Foreign Minister Sergey Lavrov appeared as far apart as Tillerson's predecessor, John Kerry, on finding a political solution to the Syrian civil war, which for years has engulfed the Middle East. After a host of contradictory statements over the past week, Tillerson and the Trump administration appear to have coalesced around the principle that Syrian strongman Bashar al-Assad must no longer lead the country, though they haven't publicly stipulated when or how that should play out. "We leave that to the process going forward," Tillerson said at a press conference with Lavrov on Wednesday. "But the final outcome, in our view, does not provide for a role for Assad or the Assad family in the future governance of Syria."
On Wednesday, Tillerson reiterated the United States' long-running demand that Russia press Assad to step aside. But Lavrov more or less scoffed at the idea. Via translation, the Russian foreign minister noted at the press conference: "Rex said that he's a new guy and he prefers not looking into history but to deal with the matters of today. But the thing is the world is built in such a fashion that if we do not take lessons from the past we will hardly be able to achieve success in the present."
Lavrov then launched into a lengthy account of all the strongmen Western countries have worked to topple in recent decades, and the chaos that ensued. "There was another dictator Saddam Hussein who was hanged ... we know how this invasion was justified," Lavrov said, a not-so-subtle dig at the faulty intelligence the United States used to launch the war in Iraq. "As our president has stated on many occasions we are not trying to put our odds on anyone, Bashar al-Assad or anyone else," he added. "The most important thing is not to eliminate a political leader from the chessboard, so to speak, but to agree on how the country is going to be built."
As Moscow has done many times before, Lavrov paid lip service to a negotiated peace agreement, which has proven elusive despite years of meetings. But as long as Russia and Iran continue to prop up Assad—the Kremlin has set up multiple bases and deployed what observers believe are thousands of ground troops to support the Syrian military since 2015—Assad is unlikely to cut a deal, particularly one that would force him to give up power.
Russia, however, seems determined to defend the Syrian strongman, despite Lavrov's statements to the contrary. Putin and other senior officials continue to deny the Assad regime was responsible for the chemical attack, believed to have been sarin gas, that killed more than 70 people in Idlib on April 4. Lavrov on Wednesday suggested that some of Syria's former chemical stockpiles were now controlled by the "extremists" fighting the government. Later in the afternoon in New York, Russia vetoed a United Nations resolution demanding an investigation into the chemical attack.
And while Moscow has condemned last week's U.S. strike on Al Shayrat Airfield, officials don't seem overly enraged by it. Lavrov lectured Tillerson Wednesday about the inconsistent foreign policy messages coming out of Washington and said the "the illegal attack against Syria" was "alarming." But he also confirmed that Russia had reestablished an agreement to deconflict operations in Syria, after suspending cooperation in the wake of the American strike.
His confirmation came after Trump stated in an interview Tuesday that the United States would not escalate its involvement in Syria. The president told Fox Business News' Maria Bartiromo unequivocally, "We're not going into Syria," which makes it easier for Russia to brush off the harsh words from Tillerson, as well as U.N. Ambassador Nikki Haley, on Wednesday.
In a press conference at the White House Wednesday afternoon, the president reiterated his oft-stated belief that "It would be wonderful … if NATO and our country could get along with Russia." He did not directly respond to a question asking how he might change his approach to Moscow if leaders there continued to support Assad. "We're going to see how that all works out."
It was yet another indication that the prospects for a diplomatic solution in Syria remain slim.