RGIII Invites Washington Football Team to 'Make the Call' After Placing Fitzpatrick on IR
The Washington Football Team needs a quarterback, and Robert Griffin III is clearly open to a reunion.
Griffin expressed his interest in joining the team that drafted him after Washington placed starting quarterback Ryan Fitzpatrick on injured reserve Monday.
Fitzpatrick sustained a hip subluxation during Washington's 20-16 loss to the Los Angeles Chargers on Sunday and could miss the remainder of the season. Coach Ron Rivera said Taylor Heinicke would start against the New York Giants on Thursday with Kyle Allen backing up.
Griffin is calling college football games as an analyst for ESPN after spending the past three seasons backing up Lamar Jackson with the Baltimore Ravens. He's only 31 and looked serviceable and mobile in his lone start for Baltimore in 2020 against the Pittsburgh Steelers.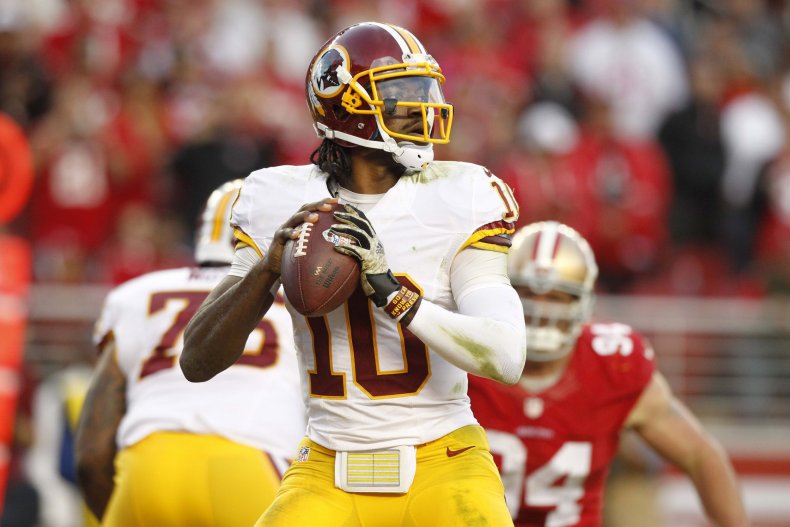 With Fitzpatrick's injury, Washington has just two quarterbacks on its roster—though it did sign Kyle Shurmur to its practice squad as insurance Monday—and Griffin is interested in filling the void.
He spent his first four seasons in the Beltway, after Washington chose him from Baylor with the second pick of the 2012 draft, and took the NFL by storm, winning the Rookie of the Year and guiding Washington to a surprising NFC East championship during his rookie season.
He also reminded fans of his capabilities while sharing a highlight from that season on Twitter.
Injuries and inconsistency were hallmarks of Griffin's first go-around in Washington, and time may have made Griffin forget that. He may also have forgotten that the turf at FedEx Field shredded his knee—Griffin tore his ACL, LCL and meniscus during Washington's 24-14 loss to the Seattle Seahawks in the playoffs that year in his first catastrophic injury in a career full of them.
But Griffin may also sense some unfinished business given the injuries and organization's dysfunction during his four seasons there. Rivera is much more consistent than former Washington coach Jay Gruden, who famously left Griffin in with a concussion during a preseason game in 2015 then benched him for Kirk Cousins that season.
Whatever the case, Griffin clearly feels he has something left to give on the field.
Signing with Washington, or any other NFL team, would also deter Griffin from making bizarre jokes on social media like he did at Jameis Winston's expense on Sunday. Winston led the New Orleans Saints with five touchdowns in their 38-3 win over the Green Bay Packers, but Griffin was more interested in making crab-related jokes at Winston's expense—Winston was accused of shoplifting crab legs from a Florida supermarket as a freshman at Florida State in 2014.