Rhino Horn Discovered in Shipment of Chocolate En Route to China, Police Say
Police in South Africa have arrested a 46-year-old man accused of attempting to transport rhinoceros horn to China inside boxes of chocolate, police said.
The suspect hasn't been publicly named by police.
Security officers at OR Tambo International Airport near Johannesburg, South Africa, contacted police after scanning the man's packages before shipment. Six pieces of rhino horn were found inside two boxes marked as Ferrero and Cadbury chocolates, police said.
The parcels were meant to be shipped to China's Shandong province on the country's eastern coast, just across the Yellow Sea from North and South Korea, authorities said.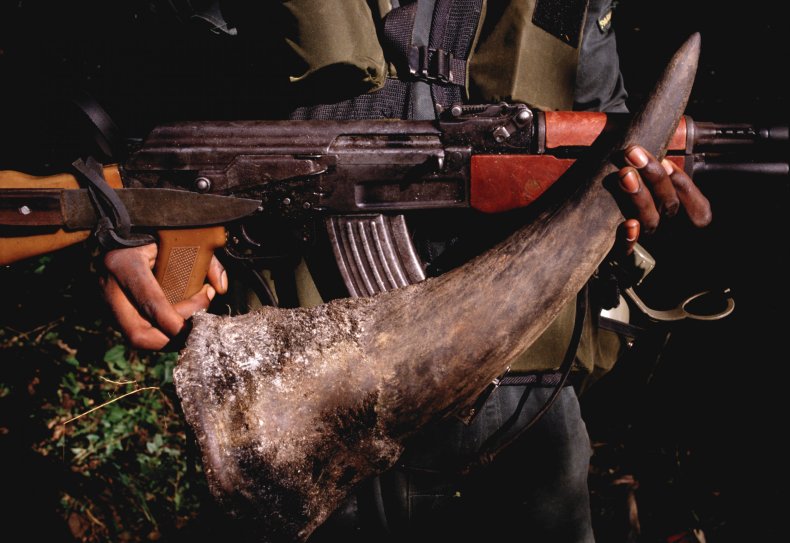 Airport security officers contacted the South African police group division known as the Directorate for Priority Crime Investigation (DPCI), or the Hawks for short. They also contacted agents with the country's Department of Forestry, Fisheries and the Environment, who came to the scene.
After arresting the suspect, the Hawks found an undisclosed amount of money under the driver's seat of the suspect's vehicle, DPCI Lieutenant Colonel Philani Nkwalase said in a statement.
China and Vietnam are the largest markets for rhino horn in the world, Scientific American reported. Rhino horn is used in traditional Chinese medicine to treat fever, rheumatism and gout, according to the Office of Law Enforcement in the U.S. Fish and Wildlife Service.
Rhino horns are primarily made of keratin, a bodily protein that makes up hair and nails. Keratin has no known medicinal properties and is highly resistant to being digested in the human body. Despite this, some believers think that rhino horns can cure ailments such as hangovers and even cancer.
Rhino horn is also regarded as a wealth status symbol in China and Vietnam. The horns are often polished and sometimes turned into statues, cups or jewelry.
Poachers in South Africa and other countries use tranquilizer darts on the animals and then saw off their horns when they're asleep. When the rhinos awaken, they slowly and agonizingly bleed to death, according to Save the Rhino, an England-based rhinoceros preservation group.
Of the five species of rhinoceros, all are in danger of being hunted to extinction for their horns, the group added. Rhinos are also protected globally under the Convention on International Trade in Endangered Species.
The declining number of rhinos drives the price for their horns even higher, compelling poachers to hunt and kill the few remaining creatures.
In 2019, researchers at the University of Oxford and Fudan University in China discovered a way to manufacture fake rhino horns cheaply out of horsehair. But while they hoped the fake horns would disrupt the black market for horns, wildlife advocates worried that the availability of fake horns would drive up the desire for real ones.
Newsweek contacted the World Wildlife Fund for comment.