Rhino Poachers Massacre Dozens Including Pregnant Female in 'Horrific Scene'
Rhino poachers have killed dozens of animals over the last week, with one attack on a private game reserve seeing four massacred, including a pregnant female.
Shocking images released by the Inverdoorn Private Game Reserve in South Africa show the animals shot dead with their horns hacked off. A fifth missing rhino was later found alive. She had been shot in the face, but is currently receiving care and was described as "strong" by the reserve's senior vet Louis Greeff.
A statement from the Aquila Collection, which acquired Inverdoorn in 2018, said staff had been left "traumatized" after they found the four rhinos at the "horrific scene" on December 8. Two of the four rhinos were already dead, while the other two later succumbed to their wounds. They found large caliber rifle rounds from silenced weapons on the scene.
Before it was bought by Aquila, Inverdoorn had dehorned many of its rhinos and replaced them with synthetic ones. This is a technique sometimes used to deter rhino poachers. Aquila confirmed one of the rhinos slaughtered had a fiberglass horn that would have had no value to the poachers.
Four suspected poachers were arrested in relation to the Inverdoorn rhino killings on December 13. A police spokesperson confirmed they are expected to be charged. In a statement, Searl Derman, owner of Aquila, said: "We have been made aware of the arrests that happened very shortly after the crime, and although we have made reference to positive and exciting developments, we were not in a position to make announcements in fear of it handicapping the investigation, future arrests, etc.
"We are hoping that there is enough evidence and that the court does not release them or grant them bail. Everyone continues to work day and night to solidify their case and to bring all the perpetrators to justice."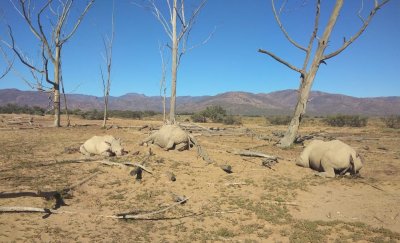 Rhino poaching carries severe sentences in South Africa. In September, three poachers were found guilty of killing rhinos in Kruger National Park (KNP). One of them was sentenced to 45 years in prison, while the other two were each handed 30 year sentences. In 2014, a poacher was sentenced to 77 years in prison after killing three rhino calves and his accomplice in another attack in KNP.
The Inverdoorn rhinos were four of 22 that were poached in South Africa over just two days, wildlife vet William Fowlds, whose work focuses on rhino conservation, said on December 12.
"While the run up to Christmas has historically been a time of year when poachings spike, this recent spate is deeply concerning," he said. "The initial number of 22 is shocking in itself, but it's the knock-on effect for the population that is truly disturbing. When we lose a rhino, we don't just lose that single animal; its reproductive potential and genetic diversity is gone from the population forever. For every rhino we lose, we lose the future generations that rhino would have helped to create."
South Africa National Parks (SANParks) also said it has been made aware of a poaching incident where a female rhino had been dehorned. It said distressing video had been circulating showing the animal. A veterinarian with SANParks said the rhino had been shot several days earlier, with bullet wounds visible on her head and leg. "There were open wounds on her nasal cavity where her horn had been brutally hacked off."
A statement from SANParks said they made the decision to euthanize the rhino because of the extent of her injuries. It said heavy sentences imposed on poachers are welcomed by the park. "This horrific incident has left our rangers and colleagues traumatized as they are doing everything they can to protect these magnificent animals and threatened species," KNP managing executive Gareth Coleman said in a statement.