Rhino Trapped in Tire Rescued by Fire Service After 2-hour Ordeal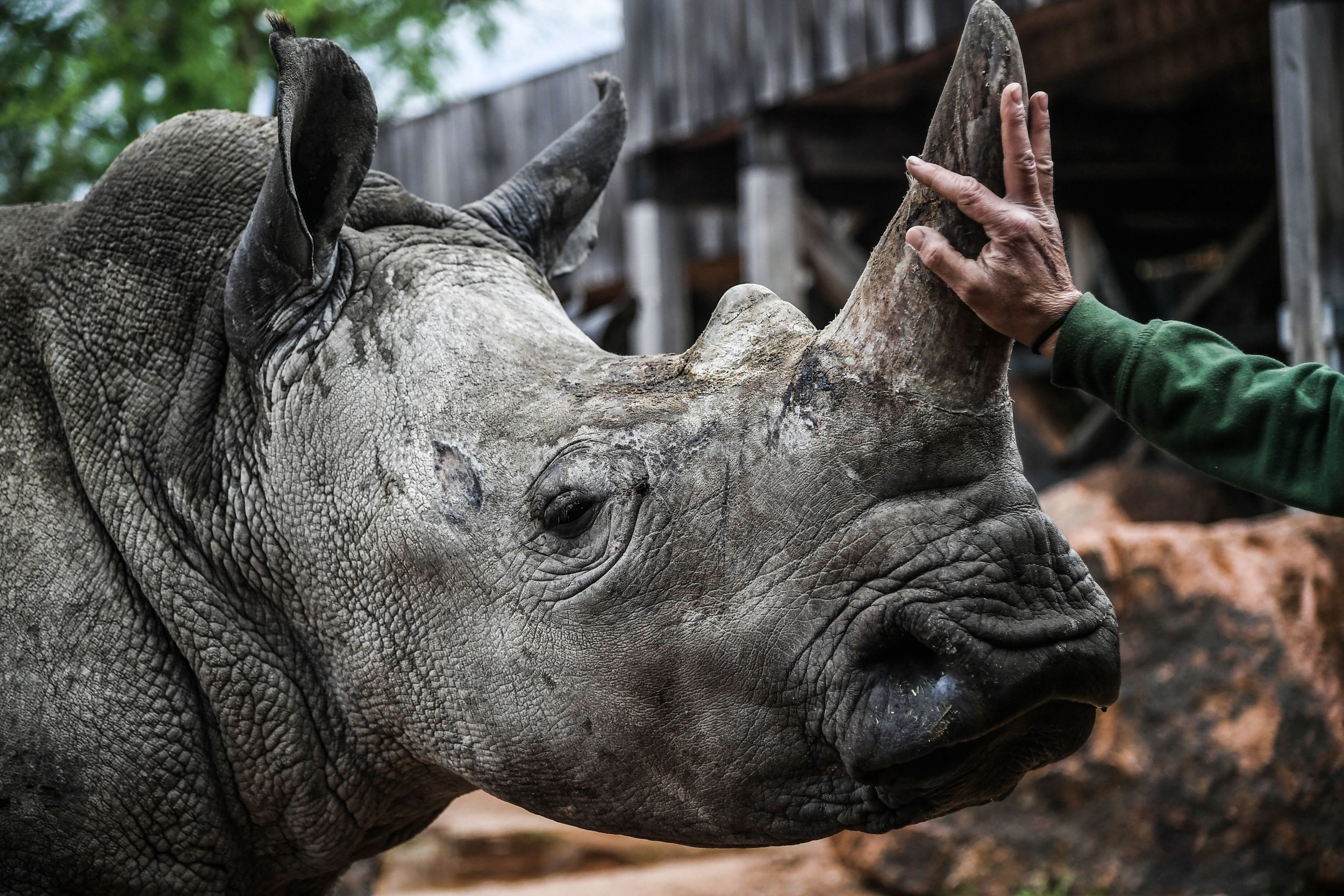 A 2-year-old rhino has been rescued after getting stuck in a tire in a zoo in the U.K., requiring firefighters to cut the stricken animal free with emergency tools.
Qabid, a male rhino at Edinburgh Zoo in Scotland, became stuck on Sunday having managed to trap his head and one leg inside the tire, the BBC reported.
Scottish Fire and Rescue Service (SFRS) group manager John Hanlin said that according to zoo staff, this was not the first time Qabid had gotten himself in a pickle. Though he "usually manages to get himself out," Hanlin said, "he very clearly wasn't so nimble or lucky on this occasion."
An SFRS spokesperson quoted one zookeeper as saying they had tried everything they could safely do, thus "the fire service were their last hope." According to The Guardian, zoo staff tried to free Qabid for an hour before relenting and calling in the emergency services.
Hanlin said the crew managed to free Qabid despite the unusual nature of the job and the potential risks associated with working on a distressed rhino. "It's not every day that our crews come into contact with such a beautiful animal," he said.
"The crew did a great job in a very unusual situation," Hanlin added. "The rhino was stuck tight in the tire and had to be sedated by the zoo vets as he was becoming distressed."
Once Qabid was freed, zoo veterinary staff were on hand with a drug to counteract the sedative and bring him back around. "He was quickly back to his mischievous self," Hanlin said.
Darren McGarry, head of living collections at Edinburgh Zoo, released a statement explaining the saga. "Our greater one-horned rhino Qabid loves to play with his tire, it's one of his favorite things to do. He managed to get his head and a leg stuck while playing and we had to contact the fire service for assistance to use their specialist cutting equipment."
He added, "The tire was safely removed and Qabid is doing fine. We would like to thank the fire service for their help."
Qabid's quandary was not the first time local firefighters have been called to assist one of Edinburgh's rhinos. In 2016, a team was called out to help 8-year-old 2-ton Bertus, who was suffering from toothache.
Their expertise and equipment were needed to move Bertus, who had been anesthetized, into a safe position so vets could operate to relieve his dental pain. The crew described the job as "one of the strangest special services" they have ever provided, the BBC reported.