Suspected Rhino Poachers Killed After Crashing Into Goat While Trying to Escape Game Rangers
Two suspected members of a wildlife poaching gang have died in a high-speed car chase after their vehicle crashed into a goat.
Police and game rangers spotted a group of four apparent poachers tracking fresh rhino spoor at Bubye Valley Conservancy near Beitbridge, Zimbabwe, on June 12, Nehanda Radio reported.
When the men were spotted, they tried to speed off in a Toyota Wish. However, they lost control of the vehicle after it hit a goat. The Toyota veered off the road and then overturned.
"Acting on a tip-off, a police mobile unit saw the suspected poachers coming out of Bubye Valley Conservancy and heading towards a nearby Jopembe village and pursued them," a prosecutor told the court in Beitbridge.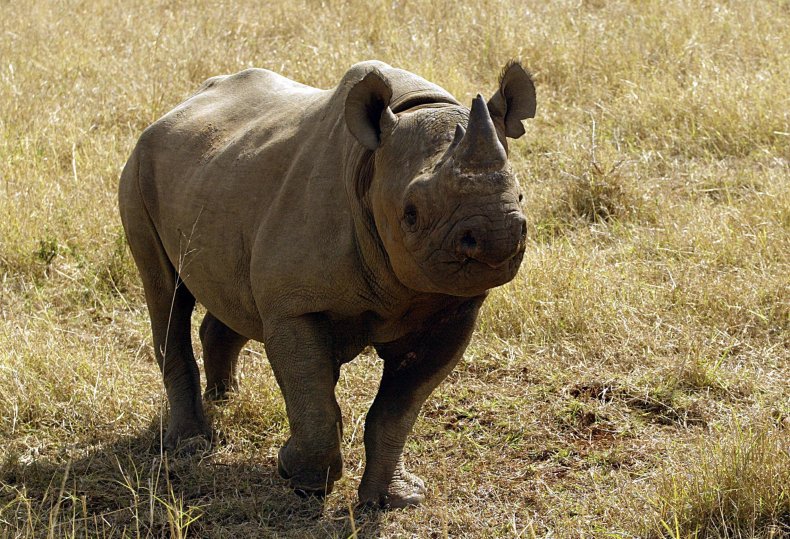 All four men were found in the wreckage. A telescopic sight rifle was also discovered in the car. Two of the men, Godfrey Makechemu and Charles Runye, died before they got to hospital.
James Mauto (41) of Zaka in Masvingo and Celestino Shate (35) of Soshangane Flats in Bulawayo were charged with unlawful hunting of a specially protected animal in violation of the Parks and Wildlife Act. They were remanded in custody until June 28, The Chronicle reported.
This is the latest run-in between police and rhino poachers at the closely guarded Bubye Valley Conservancy, which has the world's fourth largest black rhino population.
In May, two rhino poachers in the same wildlife sanctuary were shot dead in an exchange of fire with game rangers, Eyewitness News reported. The previous month, two rhino poachers had to abandon a rifle in the reserve after they were intercepted by game scouts.
The rhino is targeted for its horn, which can fetch tens of thousands of dollars in illegal wildlife markets.
According to data from the International Rhino Foundation (IRF), more than 750 rhinos have been killed by commercial poachers in Zimbabwe since 2000, Zimbabwe's Herald reported.
It pointed to a report by The African Conservation Telegraph that Zimbabwe's black rhino population now numbers around 475. There were fewer than 400 in the country in 1993 before poaching was put under control.