A Deal's a Deal: RHOBH's Camille Grammer Wanted $30 Million and the Last Name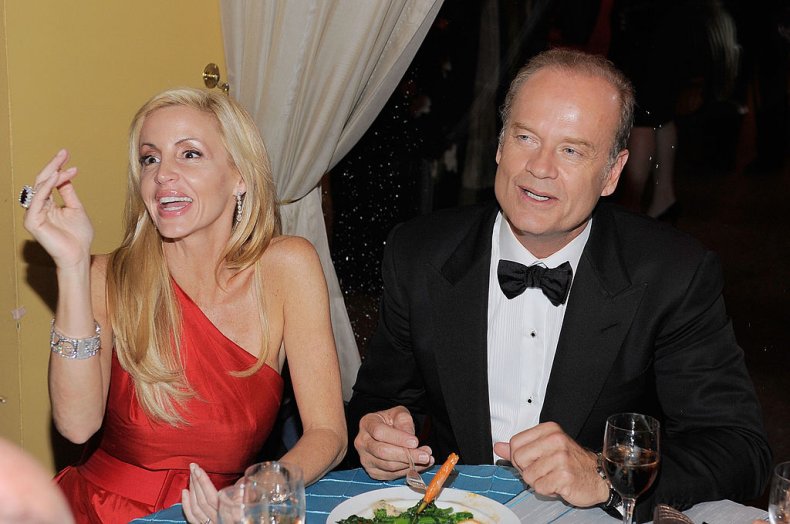 It's been eight years since Camille and Kelsey Grammer divorced, but the Real Housewives of Beverly Hills star is still defending her motives during and after the divorce. Specifically, the $30 million settlement she received and her decision to keep the Grammer name despite her marriage to David Meyer in 2018.
"I took Grammer off my social media," she told Andy Cohen during the Real Housewives of Beverly Hills reunion. "It's still on my passport ... David is all for it. He said, 'Your kids — both of your kids' last name is Grammer. I understand that.' He has no problem."
Camille and Kelsey had two children during their 13-year marriage, Mason Olivia, born in 2001, and Jude Gordon, born in 2004.
Cohen prompted Camille during the reunion by comparing her parenting style with that of her co-star, Denise Richards, who shares children with ex-husband Charlie Sheen.
"A little bit earlier, I was talking to Denise [Richards] about her philosophy about raising kids with an ex-husband who's always in the news," Cohen said.
Camille responded by sharing how her own mother reacted to the way Richards talks about co-parenting with her ex, saying that she always makes it about the kids and said, "That's the classy way to do it."
But when confronted about the $30 million settlement she received from Kelsey while Richards refused to go after Sheen's money, Camille said that the big difference was the length of her marriage.
"I was married for 13 years. That's a long time... I just felt that, you know, working—and I worked hard. I just didn't sit back, buying fancy clothes and shoving bonbons in my face. I mean, I worked hard," she told Cohen.
"Do you like bonbons" RHOBH co-star Dorit Kemsley asked Richards in response to Camille's comment.
"I've never had one," Richards replied.
Tensions between Camille and Kelsey still run high, with the two refusing to communicate. Their daughter, Mason, told Genlux in 2018, "My parents still don't talk. At all. Ever."
But Camille told Cohen on Watch What Happens Live that the two have found a way not to co-parent, but to "parallel-parent."
"We're parallel-parenting, and what that is is we don't communicate, we communicate through a second party. But he is there for the kids," she said.
Shortly after the divorce in 2012, Kelsey revealed in an interview with Oprah Winfrey that their marriage was "over as soon as it began."
"I stayed because I'm a stubborn cuss. I was not in it, or happy in it for a long time. It was pretty much over as soon as it began," Kelsey said.
Even though Kelsey refused to say Camille's name during the interview, his feelings about her were clear.
"She always wanted to be famous," he said. He claimed Camille felt she put her path to fame on hold when two married and that he felt like he "owed something" to her because of that. This led to his involvement in getting her cast on the first season of Real Housewives of Beverly Hills.
When Winfrey mentioned Camille seemed to be "blindsided" by the split, Grammer denied it.
"That was stuff," he said. "That was 'reality.' It's a reality show, so it's a show. I made a couple of quick appearances to honor that deal of it and bequeathed to this person because obviously that was a kind of ending. Kind of a new life. Go off and play that part you've always wanted to play," Grammer said, referring to Camille.
Real Housewives on Beverly Hills airs Tuesday nights on Bravo.