Rhode Island Activates National Guard as Doctor Says Hospitals 'Breaking Apart' From COVID
Rhode Island Governor Daniel McKee announced in a tweet on Tuesday that 180 members of the state's National Guard have been mobilized to assist at overwhelmed testing sites as COVID-19 cases rise across the country, with one Rhode Island doctor saying last week that the state's hospitals are "breaking apart."
McKee tweeted that he toured the emergency department of Rhode Island Hospital on Tuesday morning, and said his administration is finalizing the details of other hospitals where the National Guard members could be deployed to provide the most necessary assistance to hospitals suffering from staffing shortages across the state.
The state has seen rising COVID cases in recent weeks and hospitals are feeling immense pressure. Dr. Megan Ranney, an emergency physician and researcher, tweeted last week a request to McKee to deploy the National Guard, saying of health care workers and the state's hospital system: "We are breaking apart at the seams."
McKee's announcement came a day after the state's health department publicly defended its policy that would allow COVID-positive, vaccinated health care workers to continue working if their facility is experiencing a critical staffing shortage.
The health department said it would allow those employees to work rather than re-hiring workers who lost their jobs or were placed on unpaid leave for refusing to comply with workplace vaccine mandates because vaccinated individuals are less likely to develop symptoms and less likely to pass COVID to another person.
Elsewhere in the U.S., Maryland declared a state of emergency on Tuesday because of spiking COVID cases. Governor Larry Hogan also signed an order on Tuesday deploying 1,000 National Guard members to assist hospitals across the state as Maryland is another state facing extreme pressure due to the increase of COVID cases and staffing shortages.
Last week, Ohio Governor Mike DeWine deployed another 1,250 National Guard members as the state set a pandemic record for new cases and hospitalizations.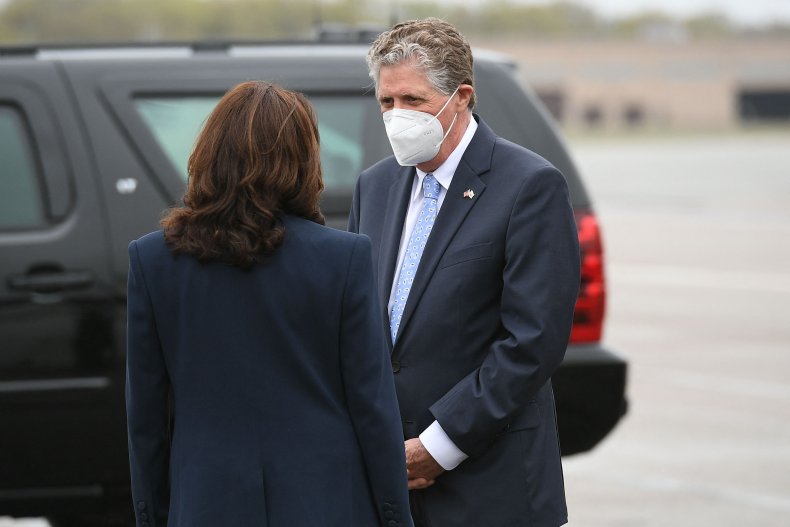 The guard "is supporting vaccination and testing throughout RI, including being on the ground in Central Falls today," McKee tweeted.
A Central Falls testing site has been plagued with long lines and long waits.
Some hospital leaders last month called on McKee to deploy the National Guard to help at hospitals, as has been done in several states, including neighboring Massachusetts, where guard members are providing nonclinical support to free up medical professionals.
A spokesperson for McKee said the guard would have a similar mission in Rhode Island, providing nonmedical support for testing, vaccination and supply management.
McKee also announced that six more community vaccination clinics have been scheduled for Wednesday, in Little Compton and East Providence, and two each in Providence and Pawtucket.
The Associated Press contributed to this report.